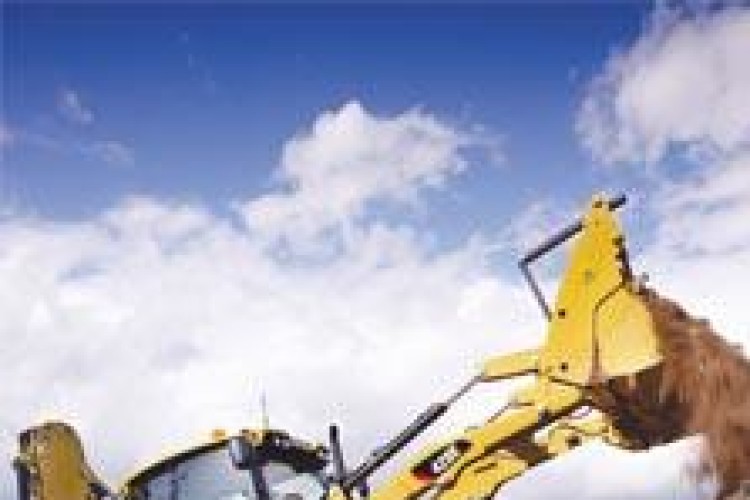 The standard manual shift transmission will remain available for those customers who prefer it, while the power-shift box, already proven on higher specification E Series Caterpillar models, promises reduced operator effort and increased machine productivity. 
Smooth modulation and automatic selection
Caterpillar's power-shift backhoe loader transmission provides four gear selection positions on the control lever. The operator simply selects the highest gear that is required by rotating the barrel of the steering column mounted directional lever. At higher forward travel speeds the transmission will automatically select a fifth ratio for a maximum 40km/h capability. 
The transmission features hydraulic clutch pack modulation, to ensure that drive is taken up smoothly. This improves the ride for the operator on all types of terrain and reduces fatigue during travel between job sites. 
With no conventional gear lever mounted on the cab floor, there is improved access for the operator through the right hand door, along with more floor space for those with larger work boots. 
Designed to perform
The performance and productivity of Caterpillar's British-built E Series backhoe loaders was improved further recently with the introduction of a redesigned extending dipper stick, revised wear pads in the dipper and the stabiliser legs, a new roof cap and an improved instrument cluster in the cab. 
The popular 428E also benefits from a robust loader arm redesign that boosts durability and reliability in the toughest operating conditions. Front end breakout has also been increased and this, in combination with the smoother gear changing of the power-shift transmission, results in improved productivity and lower operator effort. 
25 years of backhoe success
Caterpillar is celebrating 25 years of backhoe loader production in 2010. The company has recently moved all backhoe loader manufacture to the Desford plant in Leicestershire, making this site a centre of excellence for backhoe loader design and manufacture worldwide. 
Basic Specs 
Caterpillar 428E Mechanical

Caterpillar 434E Mechanical

Engine

Cat C4.4 turbocharged and after cooled

Net power

67kW (91hp) @ 2,200rpm, 71kW (97hp) optional

67kW (91hp) @ 2,200rpm, 71kW (97hp) optional

Operating weight

7,570-10,200kg

8,370-10,700kg

Backhoe digging depth

4,913mm standard stick,

5,853mm extending stick

4,919mm standard stick, 5,863mm extending stick

Transmission

Power-shuttle four-speed synchromesh (std) five-speed power-shift transmission (optional)

Top speed

40km/h

Hydraulic oil flow

125 litres/min

Loader bucket capacity

1.035m3

1.15m3

Loader breakout force

61kN

56kN

Backhoe dipper stick tearout force

36kN

Backhoe bucket tearout force

63kN
Got a story? Email news@theconstructionindex.co.uk