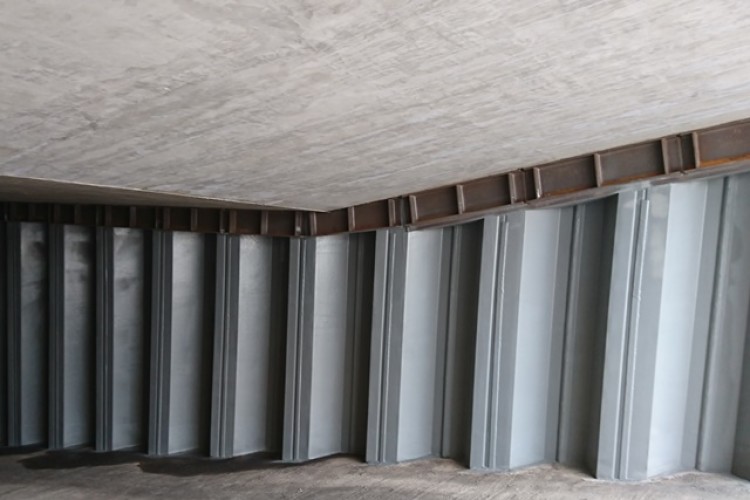 Cemprotec E942, an anti-corrosion cementitious coating, has been specified by Sir Robert McAlpine to protect 1,500m2 of new steel piling to ensure that the 20-year design life of the steelwork is achieved.
E942 is made by Flexcrete Technologies, recently taken over by AkzoNobel. Cementitious technology was chosen for this project due to the ability of Cemprotec E942 to provide enhanced chemical and abrasion resistance while allowing rapid completion of the coatings work due to limited preparation requirements of the steelwork.
Originally constructed in 1972, Lynemouth Power Station is being converted from coal-fired to a biomass-fuelled power plant. Sir Robert McAlpine is constructing the materials handling facility at the power plant and an anti-corrosion coating was needed to protect sheet piling in the new rail offload areas.
Specialist repair and coatings contractor CSC Services UK carried out the application work. The interlocks between the sheet piles and any voids were first filled with Cemprotec Clutch Filler, a cementitious material for sealing the surface gaps between piles prior to application of a cementitious anti-corrosion coating. A 1mm stripe coat of Cemprotec E942 was then applied over welds, flanges, cut edges, plates and all fixings including nuts and bolt heads.
Cemprotec Edge Scrim was embedded on all welds and cut edges before a 1mm coat of Cemprotec E942 was spray applied to the complete surface area of the sheet piles.
Cemprotec E942 is a waterborne, epoxy and cementitious modified polymer coating that provides innovative stand-alone, anti-corrosion protection.
Got a story? Email news@theconstructionindex.co.uk