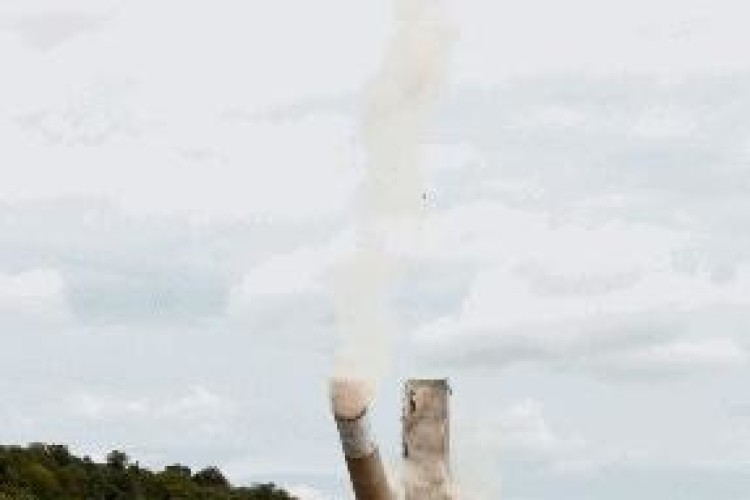 It also marks the end of an important chapter in the social and economic life of the county.
The demolition culminated with a controlled explosion to flatten the 375 foot (114 metres) reinforced concrete chimney stack. The chimney, which is taller than St Paul's Cathedral in London (365 foot) dates back to the late 1970s. It originally took nine months to build, but will only take nine seconds to come down.  Approximately 10 kg of a nitroglycerine-based explosive will be used to demolish the chimney around which will be a 250 metre exclusion zone.
Hundreds of local people turned out to watch the event, and the button was pressed by former plant employee Dave Dark who won a competition to raise funds for the Wisdom Hospice in Rochester, a local charity, which provides palliative and end of life care for patients with life-limiting illness.
Demolition of the plant, which covers 11 hectares - the equivalent of more than 15 football pitches -, began last March. It is being managed by Hydrock and undertaken by the Armoury Group, and will make way for a mixed-use lakeside community of more than 500 homes, which has been granted planning permission by Medway Council.
CEMEX began consulting with the local community early in 2006 over plans to demolish the works and to replace it with a vibrant new waterside community, after deciding to open a new, modern and low carbon cement grinding and blending plant at the Port of Tilbury in Essex, just 25 miles from the heart of London.
President of CEMEX UK, Gonzalo Galindo, said: "This marks the end of end of an era for our cement manufacturing in Kent, at a plant which has provided employment and a livelihood for many local people for more than a century, but our Tilbury plant now provides a more environmentally friendly option for cement making. We also hope the new mixed-use lakeside development will be of great benefit to the local community."
According to Mike Higgins, Director from Hydrock, project challenges have included demolishing major industrial structures around constraints such as an oil pipeline and high voltage overhead power lines which lie within the site. Mike said: "We have been working as lead remediation advisor and principal contractor for the demolition and remediation works for CEMEX since 2008 to ensure a seamless transition from a working plant, through to closure and redevelopment." 
Got a story? Email news@theconstructionindex.co.uk