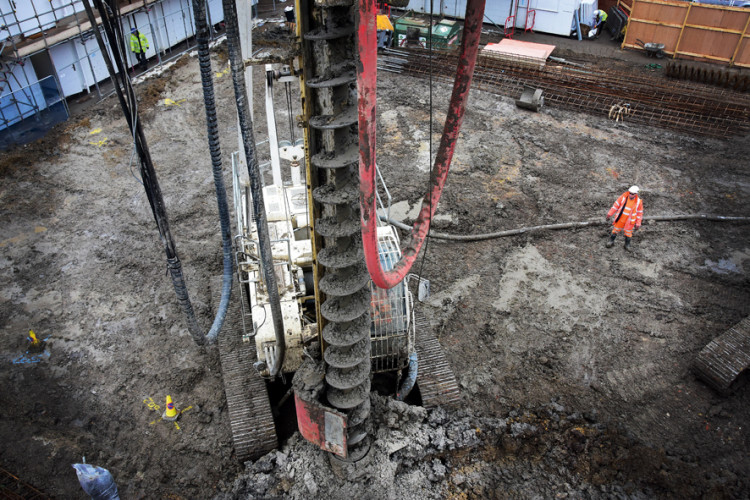 Despite the company's name, Central Piling is neither headquartered in the middle of the country nor active in all regions. Central Piling is so-called because when it was launched 40 years ago its founders observed that their new company was neither Westpile nor Eastern Piling – both existing businesses.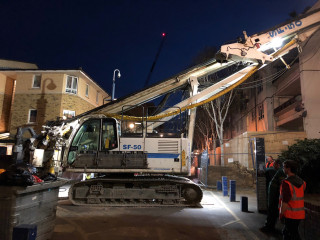 The name might have been a lame joke, but the Essex-based company has proved itself successful and resilient over four decades during which most of its activities have been focused on London and the south-east of England.
Only now is the company beginning to extend its reach beyond its home turf, having recently established a foothold in the north with a regional office in Knaresborough, North Yorkshire.
"Manchester's now like London was 10 years ago," observes managing director Steve Hadley. "There are so many tall buildings going up."
It is, coincidentally, about 10 years since Hadley took control of Central Piling from its original owners. He joined the company, which started life in the Suffolk town of Sudbury, in 2006 with the specific aim of purchasing the business from owners Roy and Lin Rawden. Previously he had worked with rival firm Rock & Alluvium.
"The current owners needed someone to come in and revive the business – basically they were looking to retire," explains Hadley. He was joined by Roger Cox, then operations director at Rock & Alluvium, who helped complete the purchase.
The business at that time was effectively flat-lining. Having moved in 1989 from Sudbury to new premises in Halstead, Essex, Central Piling had an old but serviceable fleet of rigs, a portfolio of loyal clients and a decent enough order book. But it was only really ticking over.
Hadley naturally wanted to grow the business and was keen to invest. "We had 12 months of good trade and then disaster struck," he recalls. The global economy slid rapidly into recession and construction work started to dry up.
Central Piling's main business focus was – and still is – the residential construction sector; not house-building (which stopped dead during the recession) but tower blocks. "Our core market is inner city residential development: deep basements and up to 50 storeys," says Hadley.
"During the recession we had to do a lot more varied work, although traditionally we've never done a lot of civil engineering or infrastructure work."
Despite this, Central Piling secured work on both Crossrail and the 2012 Olympic development and managed to win enough work to keep its head above water until the market began to pick up. It even managed to invest in new equipment throughout the lean period.
"It was a very difficult period for us but we got through it. Lots of others didn't make it," says Hadley. "It helped that we were very efficient. We had no middle management and we had very low overheads. That helped us to win work," he adds.
Slowly, Hadley began to replace Central's ageing fleet, being careful not to borrow too heavily or attempt rapid, unsustainable growth. His approach is decidedly cautious. But the result is that in the past decade, Central Piling has increased its annual turnover from less than £4m to its current £16m.
The company now operates a modern fleet of 15 rigs – nearly all of them Italian-made Soilmec machines – ranging in size from 2.5 tonnes to an 80-tonne Soilmec SR75. Most are continuous flight auger machines, with a few rotary rigs. The fleet also includes a low-headroom SM12 Soilmec rig capable of installing 600mm-diameter piles to 20m depth. This machine is ideally suited to the still-buoyant London market for basement extensions.
The decision to reach out beyond London and the south-east was taken a couple of years ago after construction activity in northern cities – especially Manchester and Leeds – started to pick up.
Nick Sharp, formerly with May Gurney's piling division, was keen to get back into the ground engineering sector. After May Gurney closed its piling business in 2011, Sharp was moved sideways to work on rail and water sector projects; shortly afterwards, May Gurney was snapped up by rival Kier.
Sharp's knowledge and experience of the piling sector, plus the fact that he lived up in Knaresborough, made him the ideal person to spearhead Central's foray into the northern region, says Hadley.
"We opened our first regional office to improve the lines of communication with the client, supervise on site and to take clients to site and in Nick's extremely capable hands this approach is reaping dividends for us," he says.
Projects in the north of England already completed include a £150,000 contract to install 289 piles – in 300mm and 400mm diameters to a depth of 14m – for a new mental health hospital in Southport.

And at a school near Northwich, Cheshire, Central Piling has installed 188 piles for a new sports hall. Projects have also been carried out in Manchester and Liverpool.
Although Central Piling is successfully chasing new opportunities in the north, all of its plant and equipment is still based in Essex. "We don't need to keep a fleet of rigs up there," explains Hadley. "Once a job gets above £50,000 the extra mobilisation costs are insignificant. Labour's basically the same cost, so we can still be competitive.
"It's mainly about getting face-to-face with people, and that's what Nick's good at," he adds.
"So far, every job we've undertaken in the region has been for a different client," continues Hadley. Repeat work is desirable, of course, but Hadley says it's good to forge links with a number of different clients and concentrate on winning repeat work with as many as possible. "No more than 15% of our turnover is with any one client," he says.
While developing its business in the north, Central has continued to invest at home, having recently spent £2.2m on a new headquarters building. The move was not entirely of its own choosing, Hadley admits: "The original building was still owned by the company's founder [the Rawdens] and they wanted to redevelop the site for new housing".
Although the move from the grandly-named Central Park was in some ways poignant,  Hadley acknowledges that the move was long overdue. "[The move] has inspired our engineers and managers to push on with the expansion of the business," he says. "We also anticipate that it will help us recruit and retain the best in the industry."
The new two-acre site, on Halstead's Bluebridge industrial estate, now boasts a brand-new office building and improved yard facilities.
The new offices also provide an ideal environment for Central Piling's growing design team. Over the past few years the company has been building up its in-house engineering design capability to offer a more complete ground engineering service employing a variety of geotechnical, structural and CAD software packages.
 "The ground investigation and technical service side of things is getting bigger," says Hadley. One major growth area is in basement impact assessments which are now invariably required during the design of basement excavations and extensions.
This capability recently came to the fore on a tricky piling job for contractor HG Construction, a long-standing client of Central's that has recently invested in the firm and now owns a 25% share.
The scheme, a multi-storey student accommodation building on Long Street, Hackney, required Central Piling to install 241 piles in very close proximity to both a brick railway viaduct and, 8m down, a Victorian brick sewer owned by Thames Water.
Seventeen of the piles were 750mm-diameter rotary bored piles alongside the sewer; 111 continuous flight auger (CFA) piles, each 600mm in diameter, were used to create a contiguous piled wall alongside the viaduct. The remainder are 450mm-diameter CFA load-bearing piles.
Special permissions from Thames Water and Transport for London were required before work could commence near these fragile structures. Central designed the piling and carried out an impact assessment on the sewer and viaduct. This involved finite element analysis to determine the risk of displacement and the design of a suitable piling method that would minimise the effects.
The original design called for only six 750mm-diameter rotary piles alongside the sewer to a depth of 40m. Central increased the number of piles but reduced their depth to about 26m.
"The solution was to install the piles in temporary slip-sleeves inside permanent steel tubes," says Hadley. "Then after the rebar cages and concrete were in place, we withdrew the slip-sleeves." The annular space, approximately 50mm wide, around the piles was then back-filled with fine gravel to reduce the risk of lateral loads being transferred to the surrounding structures.
 Hadley considers the Long Street project a major feather in his cap: "Our design capability adds value to our contracts.
"Most of our competitors can't offer that," he says.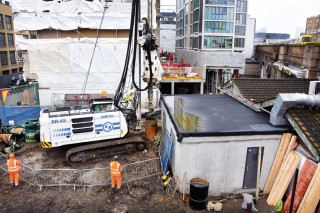 This article was first published in the June 2018 issue of The Construction Index magazine, which you can read for free at http://epublishing.theconstructionindex.co.uk/magazine/june2018/
UK readers can have their own copy of the magazine, in real paper, posted through their letterbox each month by taking out an annual subscription for just £50 a year. See www.theconstructionindex.co.uk/magazine for details.
Got a story? Email news@theconstructionindex.co.uk