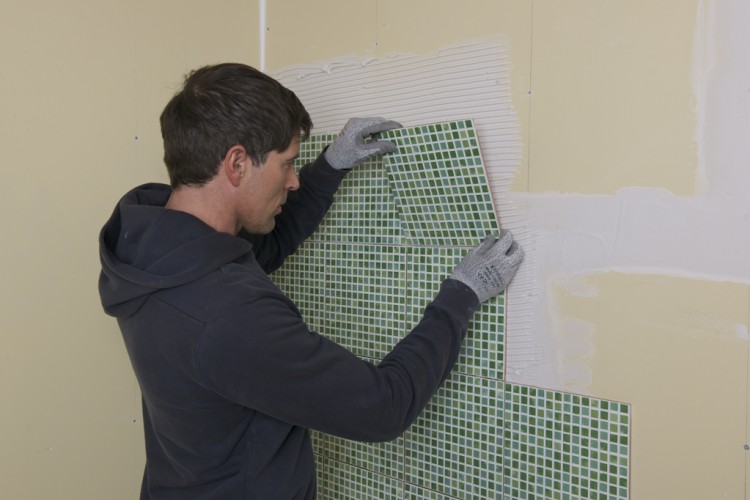 Jo Marshall, product manager at British Gypsum, explains how this technology works and the difference it is set to make to the industry.
"Despite gypsum-based boards having advantages over conventional tile backing boards, such as speed and simplicity, their usage has been restricted to interior walls or ceilings that only intermittently come into contact with water.
"British Gypsum's Glass Reinforced Gypsum (GRG) technology, a well-known advancement that combines gypsum with high strength glass fibre matting, led to the production of Glasroc F - a range of high performance boards  with exceptional strength, fire protection and surface finish. By taking this technology and developing it further, enhanced Glass Reinforced Gypsum (eGRG) was created, which has the supplementary quality of being water resistant.
"Its development, which has taken place over a period of 11 years, extensively tested the technology with a rigorous programme that included total water absorption and surface water tests.  As a result, eGRG is proven to address three key customer requirements when it comes to using a gypsum-based board in these environments; water resistance, ease of use and strength.
"Using eGRG technology British Gypsum has created Glasroc H Tilebacker, a backing board that can be used in bathrooms, wet rooms and similar high moisture environments. Its structure is made up of gypsum incorporating glass fibres within the core and special additives that provide a high level of water and mould resistance. A unique layer of fibre glass matting is inserted just below the surface on both sides, providing additional strength, and to complete the process a high quality yellow acrylic coating is applied to the face of the board.

"The acrylic coating means that the boards are all pre-primed and creates the perfect surface for direct tiling. There is no need to for any additional primer, the installer can simply begin tiling as soon as they've fixed it in place.
"Also, at up to 20 kilogrammes lighter (per board) than the average competitor, Glasroc H Tilebacker offers a safer and more convenient solution for tradesman to work with. The fact that each board weighs just 30 kilogrammes makes it
easier to lift and transport taking some of the strain off those who are working with it. In the long run this has the potential to provide health and safety benefits for installers.
"Another advantage is that the board is exceptionally easy to cut – it takes just a single score before it can be snapped cleanly along the cut line. This reduces the margin for error, resulting in less waste and less need for re-cutting. There's no need for any specialist cutting, power tools or additional labour to complete the job, saving both time and money.
"Undoubtedly eGRG technology is a huge step forward for the backing board industry and is set to make big changes to the way rooms are constructed within high moisture environments, such as bathrooms, kitchens, changing rooms and wetrooms."
Got a story? Email news@theconstructionindex.co.uk