Just over four years ago, in February 2011, a magnitude 6.3 earthquake hit the Canterbury region in New Zealand's South Island. Centred just 10km south-east of Christchurch, the country's third-most populous city, the quake came only six months after a previous major earthquake had caused extensive damage to buildings in the city and surrounding area.
This time, though, it was much worse. Not only did the 2011 earthquake add massively to the damage not yet repaired after the previous event, this one proved lethal – 185 people were killed.
The damage was concentrated in Christchurch's central business district (CBD) which was almost totally destroyed. Here, the modern high- and low-rise buildings, designed to survive earthquake conditions, fared no better than the city's historic 19th century gothic revival buildings. All were rocked to their foundations.
More than 1,100 buildings in the CBD were destroyed or so badly damaged that they had to be demolished. Elsewhere in the city up to 500 commercial buildings and 10,000 or more domestic dwellings have been demolished or, in some cases, face a piecemeal deconstruction in a delicate operation scarcely seen before. The damage is likely to take decades to mend. At a conservative estimate, it will cost more than NZ$40bn (£20bn) to rebuild Christchurch and its environs, and some economists estimate it will take the New Zealand economy 50 to 100 years to recover from the destruction.
In the immediate aftermath of the quake, the authorities cordoned off vast areas of the city into no-go 'Red Zones', the biggest being the CBD. Its reopening in June 2013 was a top priority for the Canterbury Earthquake Recovery Authority (CERA), the organization endowed with unprecedented emergency powers to oversee the city's rebuilding. But Red Zones remain elsewhere.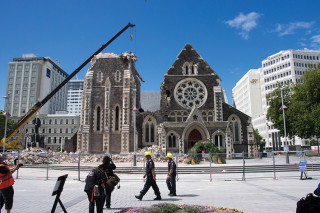 The glacial speed of insurance settlements has been a bone of contention in the aftermath of the disaster, hampering both demolition and rebuild. But progress is being made. A new NZ$53m (£26.5m) bus interchange is springing up in the heart of the CBD, and is due to be open for business mid- 2015. Five new retail 'pods', ranging from 30m2 to 92m2 in size, are being offered for lease from this summer.
Numerous other projects will also begin this year, such as the Convention Centre Precinct, the East Frame and the Canterbury Earthquake Memorial. Other 'anchor projects', designed to get the city back to some semblance of business normality, such as the Avon River Precinct and the Justice & Emergency Services Precinct, will continue to take shape alongside numerous private developments.
Yet there are some sites that will not be redeveloped, such as that of the CTV building which once housed the city's television broadcaster and in which 115 people perished. This site has since been cleared and is now a garden of remembrance.
John Cumberpatch is general manager of operations at CERA. It is his job to oversee clearance, relocations, debris and waste management in the red zones. "After the earthquakes, we were faced with the prospect of so much demolition, it was a nightmare, frankly," he says. "But the Canterbury Earthquake Recovery Act of 2011 gave us far-reaching and very necessary powers to secure the city."
Those powers included a raft of measures requiring building owners to act quickly and responsibly to return the Red Zone to a stable and safe environment. The government set aside an initial sum of NZ$120m (£60m) to ensure urgent demolitions were undertaken and so far, according to Cumberpatch, some NZ$107m (£53.5m) has been recovered from building owners or their insurers.
Demolition on such a scale has presented the authorities with an unprecedented challenge, explains Cumberpatch. "After the [recovery] plan was established, we were faced with dealing with what would otherwise be 40-50 years' worth of demolition arisings in just 12 months. We had to move fast," he says.
The solution was found at a large but disused landfill site nearby. Burwood Landfill operated from1984 until 2005, but reopened following the 2010 earthquake as a safe place to temporarily hold waste. After the 2011 earthquake, demolition rubble was also sent there and to three other smaller sites in the surrounding Bottle Lake Forest on the authority of the Civil Defence National Controller. Without this there was a risk that rubble would be left in the centre of the city or, worse still, dumped in fields and rivers, says Cumberpatch. Since renamed Burwood Resource Recovery Park (BRRP), this facility is now under the ownership of Transwaste Canterbury, a joint venture between the municipal waste management authority and five Canterbury councils: Christchurch, Ashburton, Selwyn, Waimakariri and Hurunui. Transwaste Canterbury also owns Kate Valley Landfill, which takes all municipal solid waste from the five council areas. Around 4.25 million tonnes of recyclable demolition material are destined to come here from the demolition of buildings in the Christchurch area.
The BRRP operation is aiming to recycle 50%of the debris material it will receive from the city's quake-damaged commercial and residential buildings, the equivalent of around 20 years of normal municipal solid waste. Up to a quarter of this demolition material is expected to be taken to Burwood for recycling, making it the largest recycling undertaking of its type in Australasia.

Following high initial volumes immediately after the 2011 earthquake, Burwood has been receiving material at a rate of up to 300 tonnes a day in an intensive resource recovery phase that is likely to last five years. Investment in plant and equipment suited to the mixed debris material being received at Burwood has resulted in the most sophisticated material sorting process ever seen in Australasia, according to CERA.
Environment minister Nick Smith says: "There is the potential to recover up to a million tonnes of aggregate, concrete, timber, metal, plasterboard and plastics from this initiative. Our objective is to recover as much as is practical without excessively adding to the costs of the earthquake recovery," he continues. "It will not be possible or economic to recycle all of the earthquake waste. Any contaminated waste is being disposed of at the Kate Valley landfill."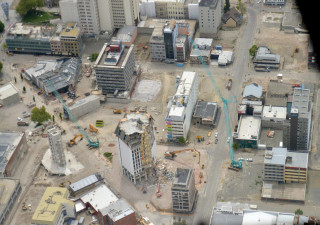 A lot of the clean demolition waste is being used at the Lyttleton Port of Christchurch reclamation project at Te Awaparahi Bay, a few miles from Christchurch and the epicentre of the 2011 quake. Following the earthquake, the government approved a 10ha land reclamation scheme to improve port infrastructure and support the Christchurch rebuild programme. Aside from the CBD, there has been large number of demolitions in the residential red zone – some 5,227 dwellings having been cleared by CERA and insurers from Crownowned properties in the residential Red Zone. An additional 517 properties have been tendered, awarded and/or scheduled for demolition or clearance by contractors on behalf of CERA. Of these, CERA reports it has received offers from interested third parties to relocate 334 houses, of which 221 have signed a relocation agreement. There are 453 properties that have been scheduled for clearance or demolition on behalf of insurers, and insurers have also received a number of offers from interested third parties to relocate more houses.
A number of key landmarks in the CBD await demolition. Among them is the police station, a 13-storey monolith built in 1973 whose fate was sealed in April 2014 when CERA awarded the contract for its demolition to contractor Ceres NZ in joint venture with US-based specialist Controlled Demolition Inc. This building, which is owned by Ngāi Tahu Justice Holdings, is to be imploded on 18th April.
"Implosion was chosen over conventional demolition for a number of reasons," says Ngāi Tahu's general manager Ian Dewar. "It means a shorter demolition timeframe, less disruption to neighbours, reduced traffic disruption and improved worker safety because contractors are not in the building for as long. And implosion is the more costeffective method," he explains.
Ceres also recently completed the demolition of another famous Christchurch landmark, the former Millers department store, to prepare the site for the city's new bus interchange. "The building was first stripped back to a concrete shell prior to demolition. All the exterior lead paint was stripped from the building and asbestos was removed from all floors," explains Ceres director David Leonard. Christchurch has seen some pioneering solutions to demolition. Take, for example, the Clarendon Tower, an 18-storey reinforced concrete frame building designed and constructed in the late 1980s. It was deemed to be so dangerous that it had to be strengthened before it could be declared safe enough for dismantling. The work was designed by Dunning Thornton of Wellington and Opus International of Christchurch. Alistair Cattanach, director of the former, explains: "Damage included significant loss of vertical support and sliding shear failure of the floor diaphragms, some gravity beam shear cracking, collapse of four sets of stairs inside the building, some de-seating of the surrounding car parking structure, and damage in both the precast and retained façades. "Instead of demolition, a programme of temporary strengthening was embarked upon to allow recovery of the tenant fit-out and greater salvage of building materials. Through this deconstruction philosophy, over 95% of the building was able to be sorted and recycled. The building was monitored and performed satisfactorily through aftershocks during the deconstruction process." The temporary strengthening involved a topdown sequence of retrofit of the floors, some of which had slipped by as much as 30mm down the faces of the beams. This retrofit provided vertical and tying/diaphragm capacity to allow crews to move down to work on the floor below. The deconstruction allowed close examination of the damage, and provides useful lessons for the detailing and retrofit of reinforced concrete frame structures, says Cattanach.
Rebuilding civic pride
In 2012 the Christchurch Central Development Unit, set up under CERA, published the Christchurch Central Recovery Plan (CCRP), essentially a blueprint for the future of the city. This prioritised the development of 'anchor projects' which include the provision of justice, health and emergency facilities, a new central library and other essential buildings. Not all of its plans are universall popular. Controversially, Christchurch City Council passed a resolution last year to fully conserve the Town Hall against the wishes of the majority of council staff. Designed by celebrated New Zealand architectural practice Warren & Mahoney and erected in 1972, the Town Hall is considered of significant architectural value. And as the city's premier performing arts facility it has played an important cultural role in the community. Badly damaged as a result of liquefaction and the related lateral spreading of the ground towards the Avon River, the building was further damaged by catastrophic flooding, followed by contamination with pathogenic mould. Contractors are currently engaged in stripping out the building's fixtures and fittings, many of which (such as architectural panels, wall hangings and flooring) are regarded as 'heritage' items, ready for reinstallation at a future date. Meanwhile, the City Council is hoping to appoint a contractor soon for the reconstruction work. Work is likely to take three years, with the project due for completion in early 2018, says Liam Nolan, the council's unit manager for the anchor projects. A sum of NZ$127.5m (£62.5m) for the conservation of the Town Hall includes repairing it to 100% of the New Building Standard.
Cardboard Cathedral
Christchurch Cathedral, severely damaged in the earthquake, has a temporary replacement – the Transitional Cathedral in Latimer Square – or as it is more commonly known, the "Cardboard Cathedral". Not surprisingly, it is the world's only cathedral made substantially of cardboard. The designer, Japanese architect Shigeru Ban, received the coveted Pritzker Architecture Prize last year in recognition of the building's contribution to the city's recovery. Ban, a Tokyo-born architect with offices in Tokyo, Paris and New York, designs elegant homes and offices for private clients, but has earned a reputation for using paper and cardboard (particularly recycled cardboard tubes) to quickly re-house disaster victims. Over the past 20 years Ban has travelled to sites of natural and manmade disasters around the world to work with local people, volunteers and students, to design and construct simple, low-cost, recyclable shelters and community buildings for the victims of these events.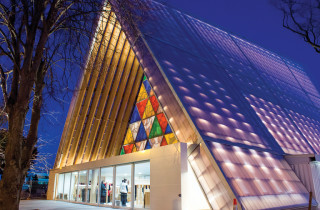 This article first appeared in the April 2015 issue of The Construction Index magazine. To read the full magazine online, click here.
To receive you own hard copy each month in traditional paper format, you can subscribe at
http://www.theconstructionindex.co.uk/magazine#
Got a story? Email news@theconstructionindex.co.uk