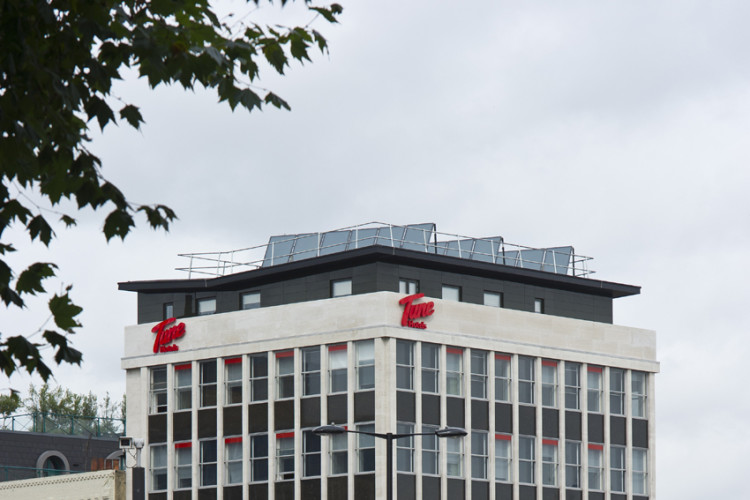 Chromatics RS from specialist cladding systems developer, Cladding Solutions Limited (CSL), has been specified and installed as the cladding of a new top floor of the first UK hotel from Tune. 
Tune Hotels was founded by Tony Fernandes, who runs the low-cost airline Air Asia. There are Tune hotels all over Malaysia and Indonesia and whilst they don't offer pools, spas, saunas or room service, you do get comfortable beds, power showers, central locations and round the clock security. London's Tune Hotel features 75 rooms and 4 special needs rooms with costs from as little as £9 per night. It is the first of a planned 15 hotels being built across the UK over the next 5 years. 
Designed by Architects Network, the new hotel at Westminster Bridge Road saw the conversion of a 1960s bank building.  As part of the project, the building's penthouse was demolished and a new timber structure built that extended to the front of the building's footprint to provide additional space. For the exterior of the new structure, Architects Network specifiedChromatics RS from Cladding Solutions.
The result of 15 years of research and development, Chromatics RS has been specifically developed for use in rainscreen cladding applications. A unique system, it enables the creation of exterior facades that provide outstanding aesthetics.
An opaque glass, Chromatics RS is unlike other coloured glass systems as it does not suffer from roller wave distortions, pinholes or transparency variation. As the organic pigments are processed at low temperatures, they retain their tone without discolouring or burning. This ensures high grade and design faithful cladding can be installed every time.
Able to be produced to any RAL colour, Architects Network specified the cladding in RAL number to match the existing marble of the building.  Rather than marble, Chromatics RS was chosen for its sheer aesthetic qualities and ease of specification and installation. 

"This is the first time we have specified Chromatics RS and we are really impressed with the outcome," commented Lee Pickering of Architects Network. "The Tune Hotel offered us the ideal opportunity to try this new materials and it really has provided the perfect modern looking finish to the newly created top floor of the hotel." 
Chromatics RS is highly versatile and exceptionally lightweight at just 15 kg m². As well as available in any RAL colour or with imagery on it, it can be supplied cut to size and edge finished. It can also be cut after processing, unlike toughened glass, easing installation and owing to its unique molecular makeup, a result of the laminate of float glass, colour layer and metal foil that distinguishes it from toughened glass, it is very durable. 
The Chromatics RS cladding, cut to fit the roof line of the new hotels, was fixed into place on an MTK cladding support system from Eurofox Engineering and adhered using SikaTack, secret fix adhesive system from Sika. Both systems have achieved BBA accreditation and help to provide a completely seamless and secure method of holding the Chromatics RS cladding in place. 
Thoroughly tested at Taywood Vinci, Chromatics RS is classed as a safety glass (BSEN 12600), and if fractured by a significant point impact, the panel remains intact, waterproof and functional until replaced. In addition, the aesthetics of the system does not diminished over time as Chromatics RS uses pigmentation that  are UV stable for over a decade (CIELab standard). UV degradation is further negated by encapsulating the colouring under glass. 
Now complete, the Tune Hotel is set to make its mark on London and thanks to its new Chromatics RS glass rainscreen facade, its new top floor will provide the shining glory.
Got a story? Email news@theconstructionindex.co.uk