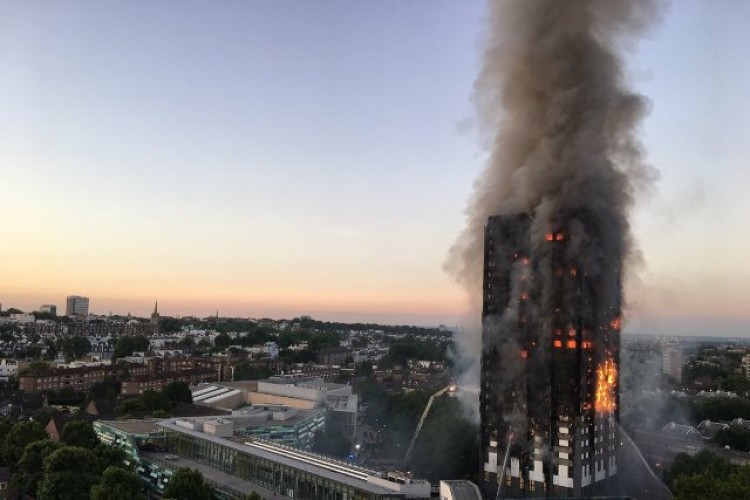 Martin Brown has been following press coverage of the Grenfell Tower fire and its repercussions. Since the 24-storey block of flats burned out on 14th June, killing at least 80 people, the Building Research Establishment has conducting flammability tests on hundreds of similar aluminium composite material (ACM) panels that covered Grenfell Towers. Every sample tested has failed.
Larger scale tests are now planned, on the recommendation of government's expert panel on safety that was set up in the wake of the fire. This will help establish how different types of aluminium composite material (ACM) panels in combination with different types of insulation behave in a fire.
However, while the Research Institutes of Sweden has independently assured the UK government that BRE's testing is sound, Construction Index reader Martin Brown is not so sure.
"I looked up ISO 1716:2000 from the BRE website link and found it is a calorific determination of the heat output from burning a sample in pure oxygen at constant volume. This is a strange test for materials that will be exposed to a normal 21% oxygen atmosphere and will pretty much guarantee 100% failure rate of anything that will burn," he says.
"Materials that would just smoulder slowly in air will burn vigorously in pure oxygen. Example test kit: www.fire-testing.com/en-iso-1716-bomb-calorimeter"
He continues: "It measures the total energy of combustion under very extreme conditions. It won't discriminate between slow and fast burning as its purpose is to obtain the total energy released on complete combustion – a different thing altogether.

"The test they are doing is just a long winded way of asking is it PE or other organic plastic (which could be done more easily and quickly by simple lab analysis). It would be interesting to submit a sample of PVC foam and see if that also fails. I think any flammability testing of cladding materials should be in normal composition air at constant pressure."
Martin Brown, who describes himself as "not an expert in the field of fire testing, just an interested scientifically trained individual" says he would like to know more about the actual test protocol being used by BRE and why it is not following "a more reasonable test protocol" (his words) like the Australian CSIRO AS 1530.1. He cites section 3.2.1 of  www.csiro.au/~/media/Do-Business/Files/Services/CSIRO-External-Wall-Safety-Guide-18-04-2016-PDF.pdf
"I suppose it depends on what the UK definition of 'limited combustibility' is but on the face of the information publicly available it is hard to have any confidence in their results. I'd expect at least some cladding tested to have been FR or A2 by now (and samples of them should be tried as a control to show that they do pass this test). I think unnecessary worry is being generated by a testing regime that fails everything that it tests because the methodology is fundamentally flawed. "
He concludes: "The questions that need answering are:
In what ways are they deviating from ISO 1716?
Why is ISO 1716 on just the core the right test?
Can either of FR or A2 cores pass the ISO 1716 test?
Why not test samples in air at 1 atm pressure?
Why not use AS 1530.1 to test whole cladding panel samples?
We invite a response to these points from BRE and others who may have a view.
editor@theconstructionindex.co.uk
Got a story? Email news@theconstructionindex.co.uk