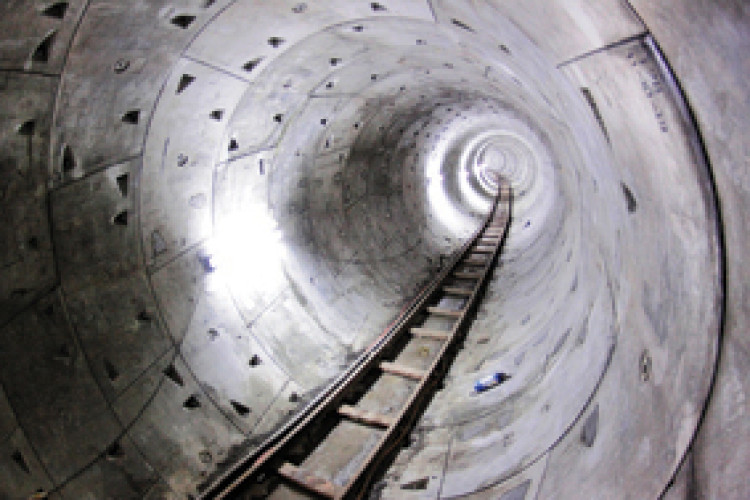 Home to almost 7.2 million people packed in at an average of 6,500 per square kilometre, Hong Kong is one of the most densely populated cities on the planet. Indeed, with a density of 130,000 people per km2, its bustling Mong Kok district is reckoned to be the most crowded place on earth.
And yet despite the overcrowding, this 1,104km2 metropolis is still developing at breakneck speed, putting a massive strain on its transport and utilities infrastructure. The Hong Kong government's response to this burgeoning need for sewerage and waste disposal is the Harbour Area Treatment Scheme (HATS), a massive infrastructure project that is being implemented in stages to process both foul sewage and rainwater run-off while reducing pollution in Hong Kong's famous Victoria Harbour.
Stage one of the HATS project was commissioned as long ago as December 2001. This completed section treats about 75% of the sewage from Kowloon, taking in Tsuen Wan, Tsing Yi, Tseung Kwan O and Hong Kong Island East. Using chemically enhanced primary treatment (CEPT) at Stonecutters Island Sewage Treatment Works, HATS Stage 1 processes around 1.4 million cubic metres of waste per day. The second stage is subdivided into Stage 2A and Stage 2B. Stage 2A is currently underway and is expected to be completed by 2016. Stage 2B will upgrade the existing plant to incorporate biological treatment for all the effluent, thus improving water quality further. After the completion of Stage 2, the whole HATS system will be able to treat all the sewage generated from the Harbour area, ultimately serving a total population of 5.7 million.
Upgrading the Stonecutters Island STW, located on reclaimed land covering 10ha, forms the core of Stage 2A. This is being carried out by a joint venture of Sun Fook Kong (SFK) and Biwater under a contract worth HK$2.38bn (£182m).
The contract, awarded in March 2011, will double the size of the existing works with the construction of a new pumping station, additional CEPT facility and associated infrastructure.
"Essentially, we're boosting the treatment capacity of the existing sewage treatment works from 1.7 to 2.45 million cubic metres of waste water per day," says Jeremy Sparrow, resident engineer for Arup, the client's consultant supervising the Stonecutters Island works.
"The entire works will be equipped with an advanced odour control system. In addition, efforts are already underway to disinfect the treated sewage to bring about early improvements to the water quality of the western harbour and the beaches at Tsuen Wan. It will bring significant improvements to the Harbour," says Sparrow.
The new pumping station is housed in a 50m diameter reinforced concrete cylindrical structure extending some 40m below ground and 20m above it. It is linked to the existing pumping station on Stonecutters Island via a 250m long, 3.9m diameter interconnection tunnel constructed by the China State/Shanghai Tunnel JV under a HK$613m (£47.2m) contract awarded in September 2009. The interconnection tunnel allows flexibility for the diversion of sewage flow from HATS Stage 1 to Stage 2A and vice-versa, the idea being to enhance the reliability of the sewage treatment system as much as to increase capacity.
This tunnel was excavated and lined by 'Victoria', an earth balance TBM equipped with technology designed to prevent the ingress of groundwater during tunnel excavation. To support the weak launch and breakout zones, the contractor froze the ground solid with super-cooled brine circulated through a network of pipes – the first time this technique had been used in Hong Kong.
The tunnelling work itself took only around four months to complete and the contract was substantially completed by the end of May 2012. At its peak, the TBM was advancing 4m per day. The tunnel is lined with 236 precast concrete rings, each 1m wide and 0.28m thick.
Excavation of the 23.5km of tunnelling for Stage 1 of the project was all carried out by TBMs. But problems with variable ground conditions meant that when the works were completed at the end of 2001 they were some four years behind schedule and, at HK$2bn (£154m), almost 100% over budget.
Consequently when it came to Stage 2A the client, Hong Kong Drainage Services Department, specified drill-and-blast tunnelling methods for almost all the tunnels.
"The Sun Fook Kong-Biwater contract is perhaps the most visible element of the Stage 2A works, but there are other aspects of the scheme that are equally challenging," says Sparrow. "Not surprisingly, most of this is tunnelling work."


Besides the interconnection tunnel, now completed, there is also an 880m long tunnel to convey the treated effluent from the Stonecutters Island STW to an existing outfall. This 8.5m diameter tunnel is being driven through hard rock at a depth of 90m using the drill-and blast method. The contractor is another joint venture, this time between Chun Wo and Continental Engineering Corporation which is also building disinfection facilities for the treatment plant as part of its HK$680m (£52m) contract. This tunnel is due for completion in early 2015.
Tunnelling through the granite bedrock is heavy-going, says Sparrow: "The average compressive strength encountered is approximately 120MPa. It represents a significant challenge for the contractor, especially since part of the tunnel passes immediately below a recently-constructed and very important road viaduct, and adjacent to an Army barracks."
The typical blast profile of the tunnel is horseshoe-shaped, and each blast has a "pull" length (the amount of tunnel excavated) of 4.5m. This yields an average of 25m3 of arisings which are transported from the tunnel face to the base of the access shaft for removal. This material is crushed, screened and graded for use in a number of applications, including high quality concrete aggregate. By early May 2014, Chun Wo/CEC had excavated nearly 740m of the total 880m tunnel and breakthrough is now imminent.
Concreting of the tunnel lining began in late May, using 8m-long steel shutters to form the kicker, crown and invert lining. Each pour consumes approximately 27m3, 107m3, and 35m3 respectively. The shutter is being stripped and tracked to the next bay as soon as the concrete achieves the design compressive strength of 6MPa. At the same time as the tunnel, Chun Wo/CEC is building the disinfection facility that will upgrade preliminary treatment works around the northern and southwestern shores of Hong Kong Island and permit the once-popular Tsuen Wan beaches (long since closed to bathers due to pollution) to be re-opened.
The disinfection facilities include a chlorination system incorporating sodium hypochlorite solution storage and ancillary dosing system. It will also include a dechlorination facility incorporating sodium bisulphite storage and dosing system. Sewage is delivered to the treatment works on Stonecutters Island by the Deep Sewage Conveyance system (SCS), a network of interconnected sewage tunnels and vertical shafts. The vertical shafts collect sewage from eight preliminary treatment works (PTWs) and deliver it to Stonecutters Island via a total of 21km of deep tunnels with depths varying from 70m to 160m below sea level. The system essentially operates as a siphon.
These tunnels – again, excavated mainly using drill-and-blast – are being constructed under two contracts worth a total of HK$6.3bn (£485m). The first, consisting of a total of 12km of tunnelling, is divided into three drives of up to 165m deep and includes eight deep shafts. This HK$3.76bn (£290m) package was awarded to Gammon Construction. It stretches from North Point in the east and includes the undersea connection to the treatment works at Stonecutters Island.
The second contract, worth HK$2.54bn (£196m) is for 7.5km of tunnel from Aberdeen on the south side of the Island to Sai Ying Pun on the north where it joins Gammon's undersea crossing. This contract was awarded to a Norwegian joint venture of Leonhard Nilsen and Sonner AS (LNS).
Vertical shafts connected to the tunnels collect sewage from the eight preliminary treatment works (PTW) along the route. These PTWs – at North Point, Wan Chai East, Central, Sandy Bay, Cyberport, Wah Fu, Aberdeen and Ap Lei Chau – will be upgraded to allow them to remove large solids and grit to avoid deposition in the deep tunnels and to protect downstream facilities from damage or blockage.
Some of these PTWs have been in use for more than 20 years and their capacities and facilities have had to be upgraded to cater for the technical requirements of HATS Stage 2A. The above-ground facilities are also due for a make-over to improve their appearance, while process engineers are developing a new system to reduce odours. The SCS tunnels themselves range in diameter from 0.9m to 3.0m. The smaller diameter tunnel from Ap Lei Chau to Aberdeen is constructed using horizontal directional drilling with remote steering to control the alignment of the tunnel during construction.
The use of a tunnel system at an average depth of 100m to transfer sewage helps avoid opening up many kilometres of roads on the surface which would otherwise have caused serious traffic and social disruptions. It also minimises disturbance to buildings and buried services along the tunnel route. Besides collecting and processing foul sewage, HATS Stage 2 is also designed to intercept surface stormwater run-off from an upper catchment area at the mid-level area of Hong Kong Island, discharging up to 240m3 per second at the final outlet portal to the west. Stormwater will pass through a drainage system of horizontal shafts with 32 dropshafts up to 195m deep, an eastern inlet portal structure and over 30 other intake structures.
"Most of the drop-shafts are constructed using raise boring," explains Arup's senior engineer, Harry Lee. "They were designed that way for the same reason we chose deep tunnels for the SCS - essentially to minimise disruption at the surface. This project is being undertaken in an extremely busy district of the city." Disturbance at ground level is minimised by drilling a small shaft from above that is then expanded to the required dimensions from below using the raise boring method. Ongoing works include a HK$1.358bn (£105m) sludge dewatering scheme being carried out by a China State/ATAL joint venture.
This contract – which started on site in November 2010 and is due for completion two years from now – is for the upgrading of existing sludge dewatering facilities with the installation of 14 new centrifuges, extensive associated process plant and M&E equipment. The new facility is designed to produce up to 1,000 tonnes of dry solids
 [This article first appeared in the June 2014 issue of The Construction Index magazine, which can be viewed in full at: http://epublishing.theconstructionindex.co.uk/magazine/june2014/
While the magazine is free to view online, a subscription is required to receive you own hard copy every month. This can be purchased for just £35 a year at http://www.theconstructionindex.co.uk/magazine
Got a story? Email news@theconstructionindex.co.uk