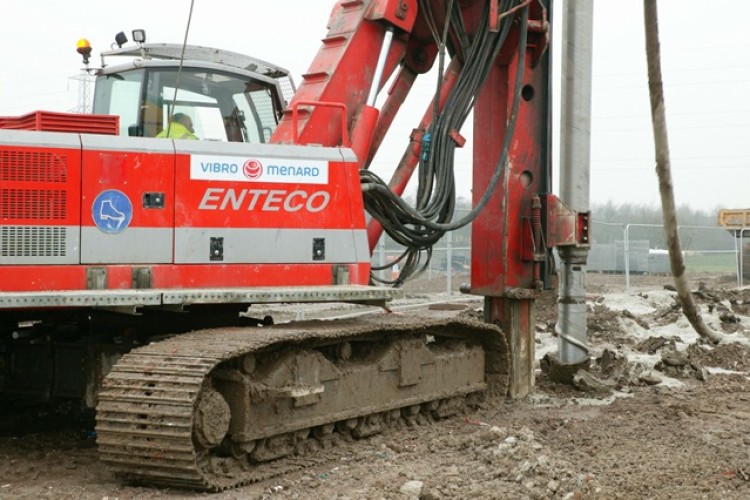 Ground improvement specialist Vibro Menard has completed its work for the new Greater Manchester Waste private finance initiative (PFI) building in Bolton. The contract, for main contractor Costain, used Controlled Modulus Columns, a technique that is still relatively new for the UK market.
The geotechnical contractor has now moved on to a wind farm site in Yorkshire.
Vibro Menard specialises in ground improvement for sites with poor soil. Like so many foundations contractors, such as Bachy Soletanche, Simplex Westpile, Roger Bullivant and Soil Engineering, Vibro Menard is part of Vinci's Soletanche Freyssinet subsidiary.
Controlled Modulus Columns, or CMCs, are used to improve the soils characteristics of weak ground and to reduce imposed settlements caused by the proposed structure. CMCs are installed using a specially designed auger that displaces the insitu soils laterally, with virtually no vibration or spoil, and reduced risk of contamination.
The auger is screwed into soils to the designed depth, this increases the density of the surrounding soil, and as such increases its strength and bearing capacity.
When the auger is withdrawn, a CMC is formed by pressure grouting, at less than 5 bar, to improve the surrounding soils. The result is a 250mm-450mm diameter composite soil-cement column that improves the load bearing capacity of the soil. The CMCs are then covered by a specially designed load transfer platform, between 400mm and 800mm thick.
CMCs were developed in France by Menard in 1994. Previous UK projects where they have been used include Section 310 of the Channel Tunnel Rail Link to support a bridge access embankment on Thames marshland.
On the recent Costain project in Bolton, Vibro Menard installed 1,793 CMCs, up to 12m deep and 320mm in diameter. Approximately 90,000 square metres of ground needed to be improved.
In the area where the buildings are now being built, some earthworks cut and fill was required, with a maximum fill of approximately 3.5m and a maximum cut of 3m. Construction of the structures without soil improvement or soil replacement would lead to unacceptable post-construction settlements and deformation. The completed slab at the Bolton site measures 89m by 260m. The 250mm thick concrete slab is built on a 600mm thick load transfer platform, formed in two layers of high-quality granular fill with the first 300m placed ahead of the ground improvement work to act as a working platform for Vibro's rig. Vibro Menard's contract price was £250,000.
Vibro Menard general manager Gerry Crawford says: "Using ground improvement was more cost effective for the client; a piled solution would have required spoil disposal and a suspended floor slab that would have had to have been thicker and need more reinforcement. We were also extremely confident that the work could be delivered in three weeks rather than the originally proposed seven, representing an additional time saving benefit."

Senior estimator Gabriel Portillo adds: "Costain originally asked us to price a conventional vibro stone column solution for the site but analysis showed that the differential settlement from this approach was too much. We offered the CMC solution to help reduce the settlement by transferring load to the stiffer layers within the underlying geology."
Vibro Menard is now working on a CMC project with sister company Simplex Westpile at Roos Wind Farm, 15 miles to the east of Hull in the East Riding of Yorkshire.
The main civils contractor, for whom Simplex Westpile is undertaking the piling work, is Forkers Ltd, working on behalf of renewable energy company, RES.
Simplex Westpile has a £569,000 contract to install piles for five of the nine wind turbines and for a meteorological mast. On completion, Roos Wind Farm will have a total of nine turbines.
The foundations have been installed using a CFA rig and the depth of the piles, which were installed to RES' specification, range from 25m to 30m, depending on the locations of each turbine. Between June and September, Simplex Westpile bored 122 piles, of which 92 were 600mm diameter and 30 were 750mm diameter.
Vibro Menard's ground improvement expertise was called on to install CMCs to achieve a bearing capacity of 200kPa for crane hardstandings with a total settlement no greater than 20mm. Vibro Menard's £900,000 contract has involved the installation of 5,000 CMCs of 320mm diameter to achieve an overall grid pattern of 1.2m centres, at depths ranging from 7m to 21m. Testing involved one preliminary zone test to 180t and, when works commence, a further 1% of CMCs will be plate tested to 30t.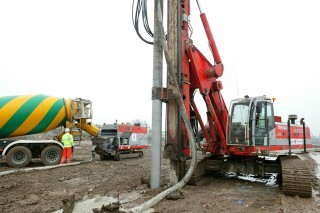 Bi-Modulus Columns
A variant on CMCs that Vibro Menard is installing at Viridor's waste plant site in Avonmouth is Bi-Modulus Columns, which combine CMCs with stone columns. A rigid inclusion/column is topped with a compacted granular material. The upper granular part improves the load transfer and stress distribution from the structure or building to the rigid inclusion. This system allows the ease of stone column footing excavation during foundation construction, without the limitations of the use stone columns in very soft soils.
The bottom part is installed using a process similar to a CMC, using a 250mm-450mm displacement auger. At the design depth the column is then grouted under moderate pressure to form the grouted inclusion. After four to 10 hours, a vibratory probe is inserted 1-3m into the grouted inclusion. Stone is then added, and on extraction and re-penetration the interface and the stone column are formed. The quality of the transition zone/stone column interface is key to the effective distribution and transfer of loads from the structure to the soil layers below.
Got a story? Email news@theconstructionindex.co.uk