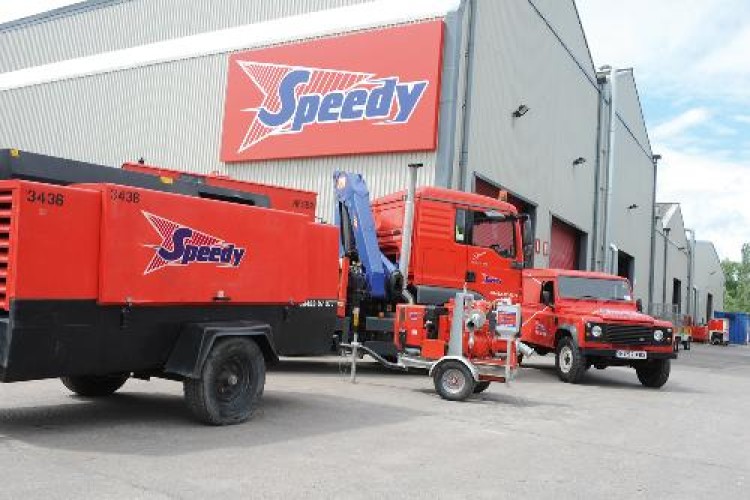 The solution includes electronic proof of delivery (ePOD), satellite navigation and real-time tracking software running on Motorola MC55 rugged mobile computers, delivering imaging capability, GPS and GPRS connectivity.
"An efficient ePOD system is key to the smooth running of our business.  By deploying Codegate's integrated solution, we now have a mobility solution that will complement our existing paper-based system by enabling us to answer our customers' queries more quickly and efficiently.  We are now able to make ePOD data instantly accessible to our customers so that they can monitor the status of their accounts online and, where possible, resolve issues themselves.  Importantly, we plan to leverage this investment by improving our operations across our business," explained James Fleming, Group IT Director, Speedy.  Speedy are the UK's leading provider of equipment rental and support services.
Following a tender process, Speedy chose Codegate as its mobility solutions provider based on its proven experience in the mobile data marketplace and specifically its experience in delivering bespoke mobility solutions within the construction/hire industry.
Codegate has worked closely with Speedy to understand its exact requirements from an ePOD solution.  Codegate's solution, based on its mobileworker software which can be configured specifically for logistics companies, was piloted with 52 drivers in 16 Speedy locations over a four month period.  The pilot was implemented quickly and smoothly and has resulted in a full roll out of the solution which began in November.
"The accuracy of the data which our drivers are now able to capture helps our accounts team to resolve our customers' queries quickly and efficiently," continued Fleming.  "Disputes will be reduced as we can now provide data that shows exactly who signed for what equipment, where, and crucially, record the condition of that equipment."
On arrival at a customer site, the Codegate ePOD solution allows Speedy drivers, using the Motorola MC55 mobile device, to scan the unique barcode on the purchase or hire contract, automatically linking the transaction details to the contract details.  The driver is then prompted to record the condition of the equipment he is delivering or collecting by entering the details onto the MC55 of any scratches or damage that may have occurred during transport.  Any damage can be captured via the MC55's imaging capability.
The driver then asks the recipient of the equipment to provide an on screen signature.  The data collected by the driver, including the signature, is then transmitted to Speedy's data centre via the MC55's GPRS connectivity.  At the same time the MC55's GPS capability enables the exact location of the signature to be captured and time and date stamped.
Codegate has further tailored its mobileworker software to allow the driver, once he has carried out the obligatory demonstration of the equipment, to conduct a customer quality feedback survey by obtaining answers to four adaptable questions:  Was the delivery/collection on time?  Was the equipment supplied as expected?  Was it in good working order?  Has the customer taken possession of operating instructions and Health & Safety notes?
In order to meet Speedy's requirement to make ePOD data available to its customers, Codegate feeds relevant customer facing data to the 'My Speedy' extranet which customers access to obtain information relevant to their account.  Additionally, Codegate has also designed and developed several web portals to which captured ePOD data is fed.  This can be accessed by authorised Speedy employees to quickly and easily resolve customer queries.
To satisfy Speedy's specific mobility requirements, mobileworker has been integrated with CoPilot navigation software, ensuring that Speedy's drivers have access to route navigation to and from sites and Codegate's own real-time tracking software for vehicle location and route analysis.
SatNav from CoPilot and Codegate's own real-time tracking software will allow Speedy to leverage its investment in an integrated ePOD solution by improving the productivity of its drivers, reducing travel costs and the wear and tear of its vehicles through the elimination of unnecessary journeys.  Vehicle location will deliver the ability for Speedy to send the nearest driver to a customer site where an urgent delivery or offhire is required.
Additonally, Codegate's solution includes SOTI remote device management software which will make it easy for Speedy to manage all of the MC55s which are in the process of being rolled out.
"We are confident that once the integrated mobility solution from Codegate has been fully rolled out it will deliver numerous business benefits which will include:  improved customer service through the quick resolution of customer queries, a reduced number of customer calls to our Shared Service Centre, customers will be able to monitor their accounts via the 'My Speedy' extranet, the ability to quickly and easily direct drivers to customers who require urgent deliveries or offhires, and reduced admin time as paper based PODs will no longer need to be scanned.  There is no question that Codegate is helping us to meet our mobility objectives," concluded Fleming.
Got a story? Email news@theconstructionindex.co.uk