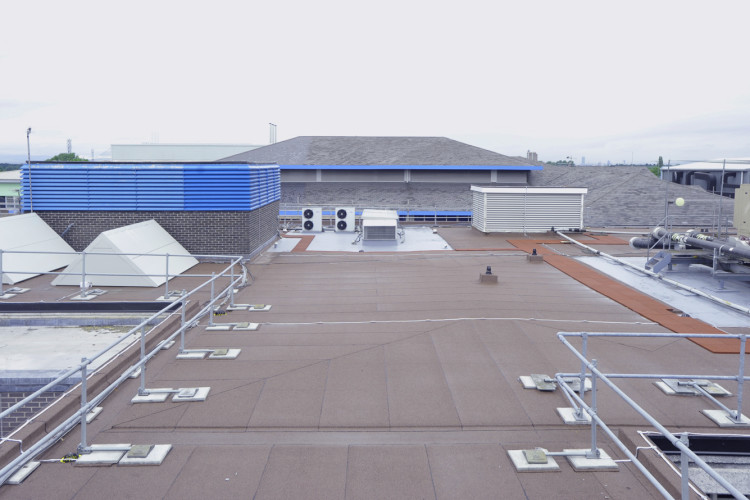 Gradient Flat Roofing had to overcome numerous complex technical challenges to complete the project at Manchester's Wythenshawe Hospital and install new single-layer insulation across the 8,600 mt2 roof.
The roof was refurbished in three separate phases and the insulation design for various parts of the roof had to accommodate many difficult factors. These included the presence of numerous items of heavy plant, pipework and trunking, rooflights and the difficulties posed by low cladding and the upstands which cover many of the roof areas.
"This was an extremely complex type of project, but one which we have over 25 years of experience in solving successfully," explains Gradient's National Field Sales Manager, Steve Adams. "We were able to work around all the difficulties and provide a highly effective insulation solution that meets both the project and Building Regulation requirements.

Gradient worked closely with the other parties involved to design the most appropriate solution. This was carefully tapered to provide many different falls required across the roof and ensure effective drainage. Gradient was then also able to develop that solution in order to accommodate any unexpected difficulties which arose during the installation procedure.
"Each section of a Gradient single-layer solution is designed to fit a specific location on the roof and then manufactured in our factory and delivered to site ready to install," adds Steve. "On a refurbishment project like this it's common to come across unexpected problems, but our manufacturing process allows us to change the design of individual insulation sections to suit whatever we come across. We can then deliver these to site knowing that they're right for the project. Compared to using a traditional multi-layer solution which has to be built up on-site, this provides a far more effective and reliable solution and also speeds up the installation process." 
IKO PLC's LCMS20 self-adhesive underlay and self-adhesive, high-performance, SBS modified polyester reinforced cap sheet brown was used as the top waterproofing layer.  LCMS20 cap sheet was chosen for its fire retardant mineral properties.
Got a story? Email news@theconstructionindex.co.uk