Following the success of last year's event, the organisers are confidently predicting more visitors, more new (and returning) exhibitors and more business done at this year's UK Concrete Show.
Many features that proved popular last year will be repeated again at next month's event, including a live "BIM for Concrete" interactive visitor 'experience', a "Technical Advice Clinic" and live demonstrations.
This year the organisers have moved the show dates from February to 21st–22nd March to avoid clashing with school half-term holidays and the competing distractions of a domestic home-life. With luck, the show might even enjoy better weather as well (though most of it takes place indoors).
The show is also moving from its old venue in Hall 5 to Halls 17 and 18 which, according to the organisers, will "fit the show perfectly". Car parks are conveniently located just a short walk away and there will also be a nearby outdoor demo arena where exhibitors can demonstrate their products.
No fewer than 210 product categories will be represented at the show and this year 180 exhibitors – 55 of them first-timers – will be displaying their products and services.
Here we offer a mere foretaste of the delights that await visitors to new month's UK Concrete Show.
MK Andrews
MK Andrews – which claims to be East Anglia's largest concrete pump supplier – will be displaying its new 42m, five-section Putzmeister concrete pump at the UK Concrete Show.
With over 35 years in the business, Andrews specialises in tricky, or long line, pumping jobs. Its new five-section machine, with radio remote control, allows the operator to open the boom and place concrete inside low-headroom buildings with ease. The company says it is ideal for large floor slabs.
Probst
Probst Mechanical Handling says it will have "plenty of new products" on display at next month's UK Concrete Show.
Among the products will be a number of grabs and the new 600kg Stone Magnet.
The Stone Magnet is a vacuum lifting device designed for lifting and placing heavy masonry products such as kerb-stones and slabs.
The battery-operated Stone Magnet has a 580mm x 280mm suction plate with a special seal system that is exchangeable within seconds without the use of tools.
Powered by a rechargeable 12V battery, the Stone Magnet can be used in conjunction with any type of lifting equipment.
The Probst product range also includes several mechanical devices for lifting heavy components such as manhole covers, as well as kerbs and slabs.
Camfaud
Following its acquisition in 2016 by US firm Brundage-Bone – and the subsequent merger with fellow UK concrete pump specialists PCP and
South Coast Concrete Pumping – Camfaud Concrete Pumps can now
claim to be a truly national concrete pump hire company.
The company now operates from depots across England, Scotland and Wales and claims to be able to supply customers "from Land's End to John O'Groats".
The Camfaud fleet now comprises approximately 150 mobile boom pumps in all sizes up to 63m boom length. In addition, the company has approximately 150 static pumps, including a fleet dedicated to the geotechnical sector and a separate fleet to supply building and civil engineering projects.
As well as concrete pumps, Camfaud offers stationary placing booms, concrete pumping pipelines, concrete agitators, grout mixer pumps and ancillary equipment.
Camfaud works across all sectors of the construction industry and supplies small, medium-sized, national and international contractors.
Camfaud pumps have been involved in many major UK construction projects and the company says it is currently working on most of the ongoing, high-profile road, rail, energy and water projects as well as many high-rise office and residential developments.
Formwork specialist Peri will be exhibiting its latest developments in digital design technology, alongside its well-known Duo formwork products, at the UK Concrete Show.
Peri says that its digital portfolio "ranges from virtual reality to cloud-based systems" and has been developed in response to the increased prevalence of complex structures as developers and architects push the boundaries to create striking new buildings.
According to Peri, "2D technical drawings alone are not sufficient any more.
"Clients need to envisage how their structure will be formed before the first concrete element is even poured," says the company.
Peri says that its range of digital products and services offers clients the opportunity to visualise exactly how the firm's formwork systems can "transform the intangible into reality".
Also featured on the Peri stand at next month's show will be the new Duo lightweight formwork system, launched a year ago.

Designed as a formwork lining that can be reused up to 100 times, the Duo system has already been used on numerous projects where it has helped to minimise the amount of waste generated on site.
No Duo component weighs more than 25kg, so the system can be installed easily and without the use of mechanical lifting equipment.
Elkem
Elkem Microsilica is a highly reactive pozzolanic material that gives concrete a dense microstructure, lower permeability and higher electrical resistivity.
The company's stand at next month's UK Concrete Show will feature the full range of products designed for UHPC, sprayed concrete, high-strength mixes, dry formulated mortar, precast, ready-mixed and architectural applications.
Recent notable projects where Elkem's Microsilica additives have been used include Crossrail tunnel linings and underground spaces where both wet Emsac 500SE slurry and dry 920D powder were used.
The company is also supplying material to the Thames Tideway scheme.
Addex
Surrey-based Addex Group is a specialised supplier of dust management equipment for the construction industry.
The company is displaying a number of specialist products at the UK Concrete Show, ranging from on-tool extraction devices to large area extraction systems, including a range of mobile dust blockers for removing airborne dust that hasn't been captured at source.
Addex also offers the Arbortech brick and masonry saw for low-dust cutting and removal of bricks or blocks in new-build and renovation projects. It is approved for use on heritage sites.
Other products on display include the Portamix "Hippo" and "Pelican" which are designed for mixing and applying epoxy, latex and resins and making self-levelling easier, cheaper and faster.
Skako
Danish firm Skako is presenting its range of concrete production equipment at the UK Concrete Show.
Its Atlantis and Rotoconix mixers and Conflex concrete bucket conveyors offer "a unique and up-to-date" solution to concrete production, says the company.
Skako mixers produce homogenous concrete in short cycle times thanks to their patented shovel design, Skako explains.
The Conflex bucket conveyor travels at up to 4.5m/sec – extremely fast, according to Skako, which adds it is therefore ideal for transporting concrete long distances.
The company is also displaying its Skakomat 600 SQL control system which can be tailored to either precast or readymix plants, or even retro-fitted to existing equipment.
Betonblock
Betonblock says that its powder-coated steel moulds offer a neat solution for any contractor with some leftover concrete to dispose of: pour it into the mould and make "highly functional concrete blocks".
The moulds produce large, stackable, blocks that firmly interlock with each other without the need for bonding material, thanks to studs on the top and recesses in the base.
Suitable for both permanent and temporary use, Betonblocks are used by more than 3,000 customers in 35 countries worldwide, says the company.
Different sized blocks can be made using partition plates to mould half, quarter or one-third blocks or even angles. The steel moulds are easy to open manually, says Betonblock.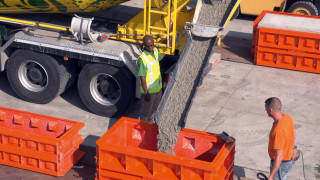 Kelly Tanks
Kelly Tanks will be displaying its concrete washout system at next month's show. This is a simple and cost-effective plant for treating concrete wash-water on site, recycling the water and containing the solids.
Using this system, concrete mixer-trucks can be cleaned out easily and cheaply, says Kelly. Key benefits include quick and easy set-up, simple maintenance, and reduced offsite disposal costs.
Get FREE Tickets to The UK Concrete Show - 21-22 March 2018 in Halls 17 and 18 of the National Exhibition Centre in Birmingham.  
This article was first published in the February 2018 issue of The Construction Index magazine, which you can read for free at epublishing.theconstructionindex.co.uk/magazine/february2018.
UK readers can have their own copy of the magazine, in real paper, posted through their letterbox each month by taking out an annual subscription for just £50 a year. See www.theconstructionindex.co.uk/magazine for details.
Got a story? Email news@theconstructionindex.co.uk