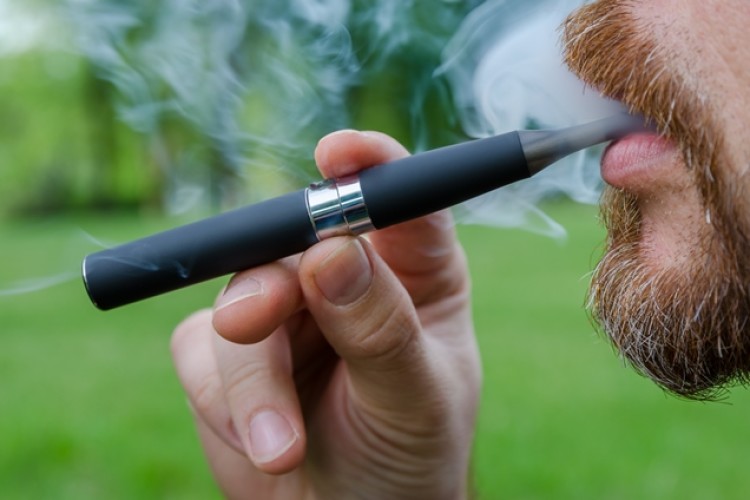 Contractors Willmott Dixon and Skanska, plant hire group Hewden and machinery manufacturer JCB are among construction industry companies that have adopted policies that consider e-cigarettes to be no different from tobacco rolled in paper.
Is this the right approach? Where does your company stand?
In April the Welsh government published a health white paper that included proposals to ban the use of electronic cigarettes (e-cigarettes) in enclosed public places. Ministers said they were responding to concerns that the devices normalise smoking and undermine the ban on traditional tobacco smoking.
There are currently no legislative restrictions in the UK on where e-cigarettes can be used, so it is up to individual companies and organisations to decide their own policies on where and when they can be used. But do you know what your company's policy is? Or that of your local pub, bar or restaurant?
The ban on cigarette smoking in workplaces came into effect in Scotland in 2006, and in England, Wales and Northern Ireland in 2007. Long before this, however, most companies had banned smoking in offices, leading to the now familiar sight of smokers clustered around doorways in all weathers.
Similar restrictions apply on many large construction sites, with some contractors banning smoking altogether, and others providing designated smoking areas and/or shelters. Site workers have become quite used to these rules – which are usually reinforced during inductions for new starters or visitors – and it is rare now to see the old stereotype of the builder with a fag hanging out of his mouth.
However, the situation regarding e-cigarettes is less clear. As the prevalence of the devices grows – and there are now an estimated 2.1 million e-cigarette users in the UK – it is becoming increasingly common to see workers, machine operators and visitors using e-cigarettes on sites, assuming they are within their rights to do so.
The industry is just starting to get to grips with the issue, and companies are beginning to formulate policies that cover e-cigarette smoking – or "vaping" as it is known. For many organisations this means simply including e-cigarettes in their existing smoking policies.
A spokesperson for Crossrail, for example, told The Construction Index that "e-cigarettes are treated in the same way as normal cigarettes, and the same restrictions apply" on all its sites; while JCB said: "E-cigarettes are treated in the same way as tobacco products: they cannot be used in offices or on the shop floor; they can be used in the designated smoking areas."
Plant hire firm Hewden has just sent out a new company vehicle policy to all employees, including a paragraph specifically stating that the same rules and regulations apply to e-cigarettes as to tobacco smoking.
"There is no ambiguity," explains Hewden sales and marketing director Jeff Schofield, who says a lot of employees have asked where they are allowed to use e-cigarettes. "It came to a head when we opened a new depot and put up a shelter for smoking," he recalls. "E-cigarette users asked if they could remain in the building.
"We have now made it clear that there is not a place in the company where it's any different to smoking: whether it is in commercial vehicles, company cars, head office, depots or yards."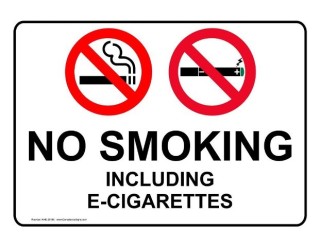 E-cigarettes are battery-operated devices that simulate the act of tobacco smoking but without the smoke. They work by creating a vapour by heating nicotine mixed with propylene glycol, glycerine and water until it vaporises. This vapour acts much like tobacco smoke, but does not contain tar, which is the most harmful ingredient of cigarette smoke.
They were invented in China in 2003 by a pharmacist who was looking for an alternative to tobacco smoking after his father died of lung cancer, and were first introduced into the UK in 2005, and were considered when the UK governments passed the legislation banning smoking in workplaces in 2006.
That ban was largely designed to protect non-smokers from the harmful effects of passive smoking by safeguarding them from breathing in tobacco smoke. Vapour from e-cigarettes does not contain the same chemicals as tobacco smoke, but medical experts are still advocating caution when it comes to vaping in proximity to other people.
For example, the British Medical Association says it has "concerns regarding the variability of the components of e-cigarette vapour", and has called on the UK governments to prohibit vaping in public places where smoking is prohibited. And it appears that the construction industry is following suit.

A spokesperson for Skanska told The Construction Index: "The BMA has provided guidance on the use of e-cigarettes at work, and Skanska's policy follows that expert guidance. While e-cigarettes may help existing smokers to give up, there is still the potential for health risks to the individual using them and to those in close proximity. Therefore, all restrictions and conditions that apply to smoking tobacco products also apply to the use of e-cigarettes."
As well as its concerns about the content of the vapour produced by e-cigarettes, the BMA – like the Welsh government – is also worried that e-cigarettes may "reinforce the normalcy of smoking behaviour".
However, the health message associated with e-cigarettes is less clear-cut than with tobacco smoking, in that they can be used as an aid to quitting. Current estimates suggest that up to 95% of people who vape are former or current cigarette smokers who are trying to give up - so prohibiting their use could be counterproductive.
Public health charity Action on Smoking and Health (ASH) ideally wants smokers to quit all forms of nicotine use, but acknowledges that many smokers find e-cigarettes helpful and more attractive than licensed nicotine reduction solutions like patches and inhalers. "There is evidence that they can be effective in helping smokers quit and little evidence that they are being used by 'never smokers'," the organisation says.
It adds: "In the absence of evidence of significant harm to bystanders, ASH does not support the inclusion of electronic cigarettes in smoke-free laws which would completely prohibit their use in enclosed public places."
ASH has produced guidance designed to help companies decide whether to permit or prohibit the use of e-cigarettes on their premises, based on identifying what the company is trying to achieve. While emphasising its stance that "current evidence would not support legislation to prohibit their use in workplaces on the basis of the harm caused by their secondhand vapour", the charity understands that firms might have other reasons for restricting their use, for example projecting a clean and "healthy" image or promoting good role models.
ASH says that one common rationale for restricting or prohibiting the use of e-cigarettes is to support compliance with smoke-free legislation and voluntary policies. This is because there are reasonable concerns that if people are allowed to use them in places where the law prohibits smoking, or where no-smoking policies are in place, they may be mistaken for actually smoking.
"Of course, it is entirely a matter for the owner, manager or person in control to decide what is to be permitted on their premises or in their vehicles," says ASH, but cautions that vaping should be covered explicitly in employment policies and that employees could challenge any disciplinary action arising from using e-cigarettes outside a designated smoking area. "To avoid this risk, employers could assign a separate area for e-cigarette users, well away from the designated smoking area," it advises.
This is something that is also recommended be the Health & Safety Executive (HSE). "HSE's advice is that an employer needs to consider e-cigarettes in the wider context of risk in the workplace," it says. "If an employer decides to prohibit the use of e-cigarettes in the workplace but allow for vaping breaks or provide areas where employees can use e-cigarettes, the employer needs to ensure that those who use e-cigarettes are not put at risk of harm from second-hand tobacco smoke."
Business consultant Qdos Consulting agrees. "Because there has been little research into the long-term effects of inhaling nicotine vapour from e-cigarettes we can't say for sure if they cause cancer, either for the person inhaling them or for the passive inhaler," it says. "Our advice would be that, until further research on the effects of electronic cigarettes is available, employers should treat those employees who use electronic cigarette devices in a similar way that they would those employees who smoke tobacco cigarettes.
"If they already allow cigarette smoking breaks then they should continue to make these available and adopt a no smoking policy on workplace premises and in vehicles for all smokers either electronic or tobacco based. We would, however, recommend that you offer support to your employees trying to give up smoking and don't force e-cigarette users to stand with the smokers."
This is the approach that contractor Willmott Dixon has applied, providing separate shelters for smoking and for vaping, and changing its no smoking policy to a "smoke- and vapour-free" policy. "This issue has caused more queries and questions from the workforce than when we introduced major changes to the work at height legislation," comments Willmott Dixon group head of health, safety and environment Mark French. "It is because it's something that's personal to the individual, rather than being legislation that affects the way they carry out their work."
French's experience suggests that this is becoming a hot topic among construction workers, and one that contractors, clients and suppliers need to address promptly if they haven't already done so.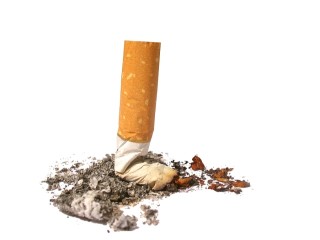 This article first appeared in the July 2015 issue of The Construction Index magazine.
Click here to read it free online
To receive your own hard copy of the magazine each month, UK subscriptions cost just £35 a year. Find out more at www.theconstructionindex.co.uk/magazine
Got a story? Email news@theconstructionindex.co.uk