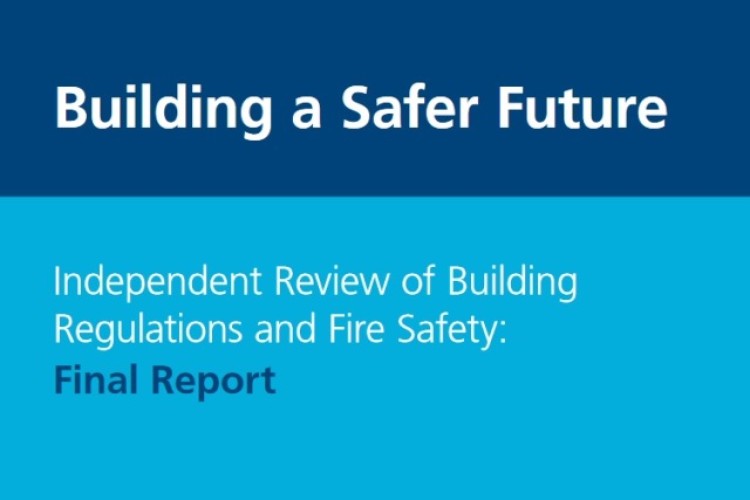 Support for banning a wide range of building products has been voiced by the Construction Industry Council (CIC) in its response to a government consultation on the matter. The CIC represents 36 professional bodies in the sector, including architects (RIBA), engineers (ICE) and surveyors (RICS).
In her report, Building a safer future, published in May 2018, Dame Judith Hackitt wrote: "The new regulatory framework must be simpler and more effective. It must be truly outcomes-based (rather than based on prescriptive rules and complex guidance) and it must have real teeth, so that it can drive the right behaviours." She added: "Prescriptive regulation and guidance are not helpful in designing and building complex buildings."
The bold lettering is hers but the building professions, it seems, do not entirely agree.
The CIC says in its response to the Ministry of Housing, Communities & Local Government that combustible materials in cladding systems should be banned. The ban should not be restricted to just high rise residential buildings. It recommends certain exceptions but it also calls for restrictions on the use of plastic window frames, for example.
"It would be highly impractical for an outright ban on the use of all combustible materials in all elements," the CIC says. "Our approach would be for regulations to have a prescribed list of elements where combustible materials are acceptable."
CIC says the ban should apply to the entire height of the wall and not just to high-rise residential buildings (HRRBs).
"The ban should be drawn wider than HRRBs and should apply to all buildings over 18 metres in height; and any building above one storey in which vulnerable people gather." These would include care homes and hospitals, for example, where evacuation in the event of a fire might be slower than elsewhere.
It adds: "Buildings are often subject to change of use. There is a case to argue that current requirement B4 in the Building Regulations, which covers the prevention of external fire spread, already, prohibits the use of combustible cladding on any building."
It says: "Combustible cladding should not be used at ground level where there is a risk of ignition from external sources (such as bin fires and barbecues). Combustible cladding should not be used in any way adjacent to a building exit; or where fire spread may prevent escape via a single staircase; and the use of combustible cladding on external walls below 18m in height could pose a wind-borne fire hazard to adjacent buildings."


To the question as to whether a ban should cover the entire wall construction, the CIC answers no. It says: "The specification of what is meant by the 'entire wall construction' needs to be carefully defined.
"The ban should only cover sheathing boards; insulation; and the outermost cladding products in the external wall construction; not the building's primary structure which should have adequate fire protection (see Building Regulations Requirement Part B3) and also meet requirements with respect to fire spread across surfaces. There is a case to consider whether the ban should also extend to the inner leaf of the external wall (A2-s1, d0 classification)."
The CIC says the ban should also cover window spandrels, balconies, brise soleil, and similar building elements.
It also says there is "a case to consider that expandable foam used in external wall construction should have a fire resistance rating of at least 120 minutes".
There should be exemptions for a limited number of wall system components, the CIC says, where there is no practical alternative to their use. It adds: "There should also be exemptions for products where the risk of external fire spread caused by their use is so minimal that it would be a disproportionate measure to ban their use. This would include double glazing; gaskets; sealants; internal wallpaper and paint… Timber window frames should also be exempted as they do not contribute to fire spread. Plastic frames should be banned unless used in conjunction with other materials that will retain the glazing in place during the early stages of a fire."
The CIC also has views on how the bans might operate says: "We recommend that the list of exempted elements needs to be exhaustive and not open to interpretation. The policy would need to be reviewed and updated regularly to allow for innovation. There is an argument that the ban should apply to specific product types rather than being subject to a long list of exemptions but such an approach would require to be reviewed and updated regularly."
Dame Judith Hackitt, a former chair of the Health & Safety Executive, was commissioned by the government to undertake a review of building regulations in the light of the Grenfell Tower fire last year. There was a bit of an outcry when her 156-page report did not specifically recommend a ban on flammable building envelope products. The Ministry of Housing, Communities & Local Government then published proposals off its own bat to revise the building regulations to ban the use of combustible materials in the inner leaf, insulation and cladding that are used in external wall systems on high rise residential buildings.
The CIC's response represents a consensus of members arrived at through various workshops and meetings and through the sharing of papers and draft responses.
The full CIC response can be viewed by clicking here.
Got a story? Email news@theconstructionindex.co.uk