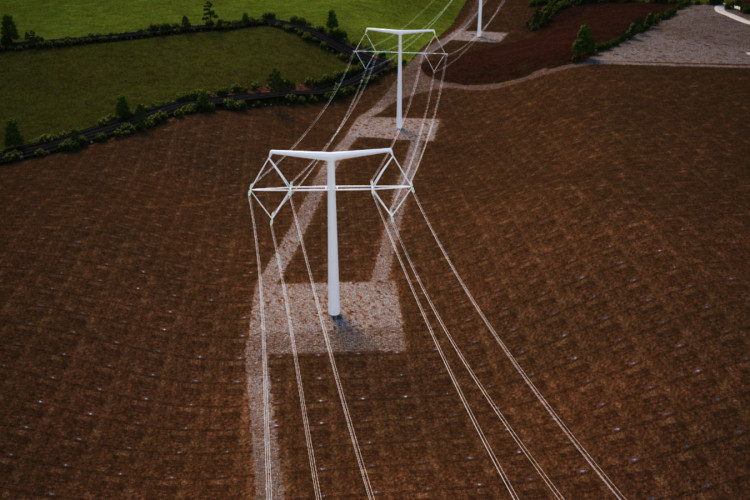 Six of the new-style high-voltage pylons are being built at National Grid's training academy in Nottinghamshire for completion by Summer 2015.
The design for the new style of pylon was the result of an international competition held by the Department of Energy & Climate Change, the Royal Institute of British Architects and National Grid.  The unanimous winner from the 250 entries was the T pylon.
Since the competition in 2011 National Grid has continued work with Bystrup, the Danish-based architecture, design and engineering practice that won the competition. The design was based on a monopole structure with a T-shaped cross arm. The lay-out of the cables (or conductors) and insulators in a diamond formation enabled the height of the pylon to be lowered to just 35m.
A prototype of the structure was built and tested in Denmark, but now the complete family of T pylon designs will be built in the UK.
There will be a stretch of six pylons at the Eakring Academy, including five of the designs for the T pylon. The different designs meet the different operational needs in the field such as turning corners or terminating overhead lines and taking them underground.

The contract to install the foundations and erect the T pylons at Eakring was awarded to Balfour Beatty, which has now completed piling. Work to form the bases will be completed in January 2015. Specialist steel manufacturer Mabey Bridge,will be making the six prototype T pylon structures for the test line at its factory in Chepstow, South Wales. Assembly and erection is expected to take place in spring 2015.
Energy and climate change secretary Edward Davey said: "Love them or hate them, pylons will carry electricity to homes across the country for many years to come. While there are plans for cables to be buried under our most beautiful landscapes, we also need to keep consumer bills as low as possible – which means that pylons still have a vital role particularly  for  rural communities, and it's important that we move with the times and make sure they're as good looking and efficient as possible. The  T-pylon is a  model for the future and it's great to see the design becoming reality."
David Wright, National Grid's director of electricity transmission asset management said: "The test line has a major role to play in the successful delivery of the T pylon. It will enable us to develop construction techniques before we use the T pylon on a new transmission line and we will be able to train engineers on maintenance and cabling of the pylons – all vitally important with such a new design."
The T pylon is not set to replace the familiar steel lattice pylon but it is an alternative option that National Grid will be able to offer communities when building new transmission routes.
Got a story? Email news@theconstructionindex.co.uk