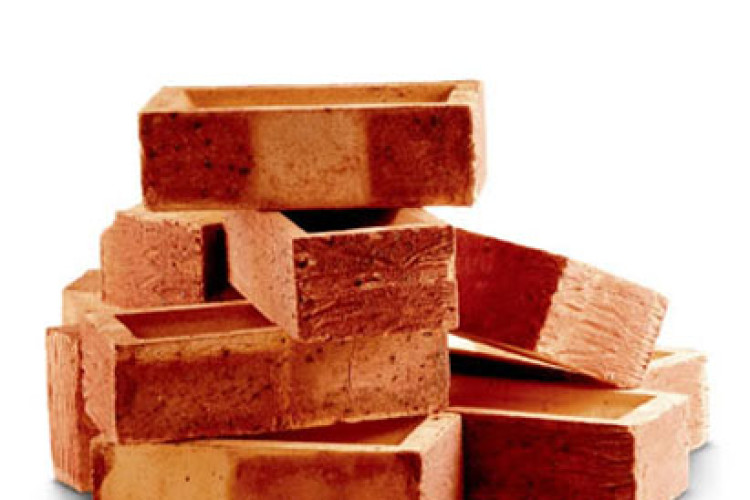 The latest monthly survey of construction purchasing managers reveals a solid growth in activity in July, underpinned by the fastest increase in residential work for just over two-and-a-half years.
Supply chain pressures continued but input cost inflation moderated from the nine-month high seen in June.
At 55.8 in July, up sharply from 53.1 in the previous month, the seasonally adjusted IHS Markit/CIPS UK Construction Purchasing Managers' Index (PMI) signalled the fastest rise in overall construction output since May 2017. Survey respondents commented on improving demand conditions, higher volumes of new project starts and, in some cases, a degree of catch-up from the bad weather earlier in the year.
House building was the best performing category of construction activity in July, with the latest upturn the strongest since December 2015. Commercial work also picked up at the fastest pace for just over two-and-a-half years. Civil engineering activity increased only moderately, albeit at a sharper rate than in June. Construction companies noted that a lack of work to replace completed projects (particularly railway infrastructure work) continued to hold back growth in the civil engineering sub-sector.
July data pointed to the strongest increase in total new orders across the construction sector since May 2017. Survey respondents noted that a general improvement in client demand had led to successful contract negotiations on larger scale projects. Despite an upturn in tender opportunities, construction companies are cautious about the year-ahead business outlook. The degree of positive sentiment about future workloads was unchanged since June and remained weaker than the long-term survey average. Anecdotal evidence suggested that Brexit-related uncertainty continued to hold back business optimism in July.
Meanwhile, the latest survey indicated that rising sales volumes helped to boost job creation in the construction sector. The rate of employment growth was the fastest since December 2015. Input buying also expanded at the strongest pace for just over two-and-a-half years. Greater purchasing activity led to the sharpest decline in supplier performance since July 2017.
Input cost inflation eased to a three-month low in July, but remained strong in comparison to its post-crisis trend. Survey respondents widely cited rising fuel bills and higher prices for steel-related inputs.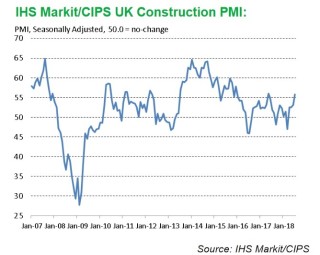 Tim Moore, associate director at IHS Markit and author of the IHS Markit/CIPS Construction PMI, said: "July data reveal an impressive turnaround in the performance of the UK construction sector, with output growth the strongest for just over one year.  While the recent rebound in construction work has been flattered by its recovery from a low base earlier in 2018, there are also signs that underlying demand conditions have picked up this summer.  New business volumes expanded at the strongest rate since May 2017, while workforce numbers increased to the greatest extent for just over two-and-a-half years.
"House building was the bright spot for construction growth in July, alongside a stronger upturn in commercial development projects. Residential activity and commercial work both increased at the sharpest pace since December 2015, which contrasted with another subdued month for civil engineering.
"UK construction companies experienced substantial cost pressures in July, driven by rising fuel bills and higher prices for steel-intensive items. Meanwhile, supply chains struggled to keep up with greater demand for construction products and materials, which resulted in the greatest lengthening of delivery times since July 2017."
Duncan Brock, group director at the Chartered Institute of Procurement & Supply, said: "Purchasing managers were busier than ever this month with a welcome surge in new orders and the fastest rise in construction work since May 2017.
"Favourable circumstances lay the foundations for success with an easing in cost pressures to a three-month low and a rekindled enthusiasm from clients to place orders held back by uncertainty. Residential and commercial building took the overall lead with the most robust performances since December 2015 and even civil engineering put on a slightly better show.
"The fly in the ointment was longer lead-times across the construction supply chain. Rising demand meant that supply chains creaked under the strain and delivery times lengthened to the greatest extent seen in 12 months. Material shortages, limited inventories and capacity pressures bore down, as constructors caught up on previous weather delays and stocked up for new orders.
"Looking ahead, though optimism remains at lower than average levels, with the biggest rise in job creation since December 2015, there's some conviction that the future is brighter, at least in the short-term. Bearing in mind the sector has experienced a number of twists and turns over the last couple of years, we must all remain watchful for any return to uncertainty as Brexit approaches."
Got a story? Email news@theconstructionindex.co.uk