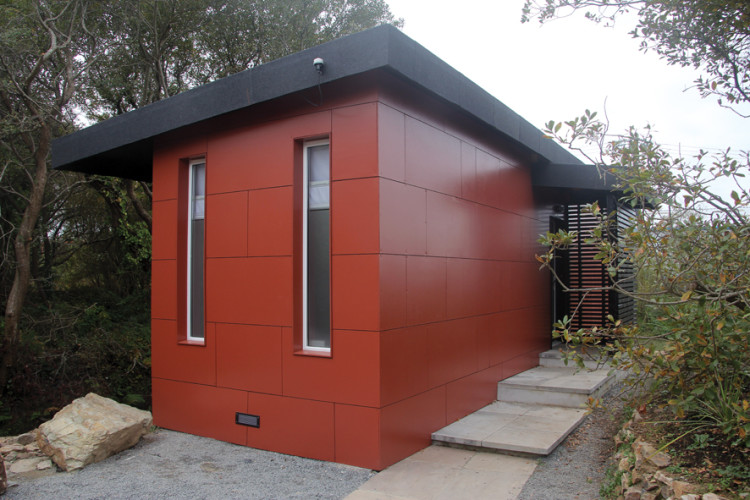 Paul Isherwood is not the first person to have noticed the potential of modular steel shipping containers to provide shelter and accommodation. But he might be among the first to suggest that they might hold the solution to our current housing crisis. Isherwood, who trained as an inorganic chemist but earns his living as a property developer, is working with Cornish firm RT Julian & Son to promote the market for container-derived buildings for commercial, industrial – and now residential – use.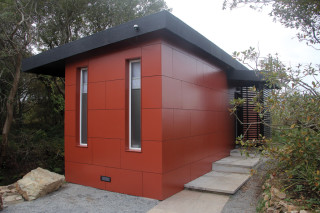 Isherwood was introduced to his business partner, Baylor Julian, by a mutual acquaintance who had noticed that the marketing skills of the former could help exploit the moribund assets of the latter. RT Julian, based in the Cornish surfing resort of Newquay, started life decades ago as a fruit and vegetable wholesaler and exporter. With the rise of the supermarkets, the company started to diversify into drinks, soon becoming a dominant supplier throughout Cornwall.
With the onset of the last recession, the current owner, Baylor Julian, sold this part of the business to fast-growing rival the St Austell Brewery and started turning his attention to the property market. It was at this point that Isherwood came on board. "We were looking at a series of run- down properties and embarked upon a programme of updating them and making them lettable," he says.
Meanwhile, at RT Julian's 5.5 acre site on the Treloggan Industrial Estate, Newquay, five old shipping containers – a legacy of the old drinks business – were taking up space. "A local builder approached Baylor and asked if he could rent one for storage. Then word got around and someone else came along; then somebody else..." says Isherwood. Spotting an opportunity, Julian and Isherwood launched Newquay Self Storage and started buying more used containers to rent out to customers.
At the same time, RT Julian started redeveloping another site in Newquay housing several dilapidated garages. These they demolished and replaced with new block-built lock-ups – again, for rent to local businesses. "We discovered that there was a demand for very small facilities," explains Isherwood. "We went against the traditional way, of offering long leases requiring personal guarantees – nobody could afford that. We started offering monthly rentals with just one month's rent as a deposit." Then, back at the Treloggan Industrial Estate, Julian and Isherwood began assembling a mini- development of retail, workshop and office units, this time using some of their shipping containers. The first four were snapped up before they were even completed and the site soon expanded to incorporate 16 units. However the real breakthrough came when a German TV company, which had been renting workshop and prop storage space from RT Julian, suddenly found itself in need of accommodation for its film crew.
For over 20 years, Cornwall has provided the location for a blockbuster German TV series based on the stories of British author Rosamunde Pilcher – a household name in Germany, though almost unknown in her native England. So popular is the series that German, Austrian and Swiss tourists have been flocking to the area, boosting the local economy by an estimated £9.5 million a year. When the crew, from TV channel ZDF, found themselves suddenly homeless, their landlord having decided to sell up, RT Julian suggested converting a number of 40ft containers into accommodation. This raised two immediate challenges: one was whether such a development would get planning permission; the other was how to ensure these units would meet the requirements of the Building Regulations – particularly Part L. "We spoke to the local council's head of planning, Phil Mason, and he could see the benefit in keeping the TV crew in the area – they were talking about having to relocate somewhere like Dorset – so we put in an application," says Isherwood. The application was successful: "We had to be very fleet of foot, but containers have an advantage when it comes to planning: they're moveable. That's why we like them," he adds. Getting the containers to meet the requirements of Part L also required some ingenuity. "The problem with a steel box is the dew-point," says Isherwood. "Usually, people pack loads of mineral wool or foam behind an internal wall, but even when they use vapour barriers, they still get condensation on the inside of the container, and it starts rusting." Isherwood's solution was to use external insulation – in this case, a French-made product called Actis Hybrid – which is fixed to the outside of the container and then protected with a rainscreen cladding.
From the outside, the finished units look less like containers and more like conventional volumetric buildings. But their steel shell makes them far more robust than traditional modular buildings. "They can be stacked eight high – that's over 100 tonnes on top of the bottom container," says Isherwood. Since the first container buildings were let at Treloggan, other people have started showing an interest – including a couple of London boroughs, keen to tackle their growing housing crisis – says Isherwood. Closer to home, RT Julian is currently in discussion with another developer with the aim of creating a joint venture, with the partner company providing the land and RT Julian providing the units. These homes, if permission is granted, would have wall and roof U-values of around 0.17W/m2k and would be let at a 'fair' rent or made available for purchase through shared equity as part of a mixed-use development. Isherwood reckons the homes would cost only two-thirds the cost of building a traditional new home.

Thinking outside the box
Shipping containers are strong, plentiful and cheap. Many – known as "single-trippers" – have only been used once before becoming available on the secondhand market.
Being modular and stackable, containers offer intriguing possibilities for designers. One devotee is South London-based architect Carl Turner, who has used these versatile components in several projects. Turner's most recent scheme is Pop Brixton, a community project to provide affordable commercial, leisure and workshop space, built in partnership with developer The Collective on behalf of Lambeth Council.
Turner says containers have few real drawbacks, apart from limited space and proportions. "But this also gives the space its own look and feel," he says. RT Julian, at its commercial development in Newquay, has overcome this problem by welding adjacent boxes together and cutting out the dividing walls – in one case, combining nine containers to provide 3,000ft2 of internal space for a surf-board factory.
Unlike RT Julian's buildings, Turner has made no attempt to disguise the provenance of his units. There are 60 at Pop Architect Carl Turner is using containers at his Pop Brixton development in south London Brixton and they still look like containers, at least from the outside. "Inside, the containers have approximately 100mm of sprayed insulation applied onto an internal 50mm x 50mm softwood frame. This provides Building Regs elemental U-value compliance," says Turner.
Pop Brixton has planning consent for five years and a three-year lease with Lambeth Council. The site is earmarked for permanent development. But whether long- or short-term, both Turner and RT Julian believe that the humble shipping container is a better alternative to conventional volumetric buildings – which Isherwood dismisses as "ticky-tacky boxes". Turner says: "For short-term projects containers are ideal as they are affordable, and modular which means they can be delivered to site pre-fabricated, vastly reducing lead times, disruption and noise on site. We have also used 10-year-old recycled containers, so it's good for the environment as it's essentially a waste product. "We can convert a container cheaper than buying a Portakabin and create something bespoke, better insulated and, we believe, more appealing than a Portakabin."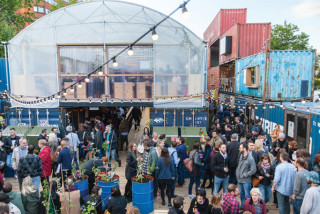 This article first appeared in the November 2015 issue of The Construction Index magazine. To read the full magazine online, click here.
To receive you own hard copy each month in traditional paper format, you can subscribe at
http://www.theconstructionindex.co.uk/magazine#
Got a story? Email news@theconstructionindex.co.uk