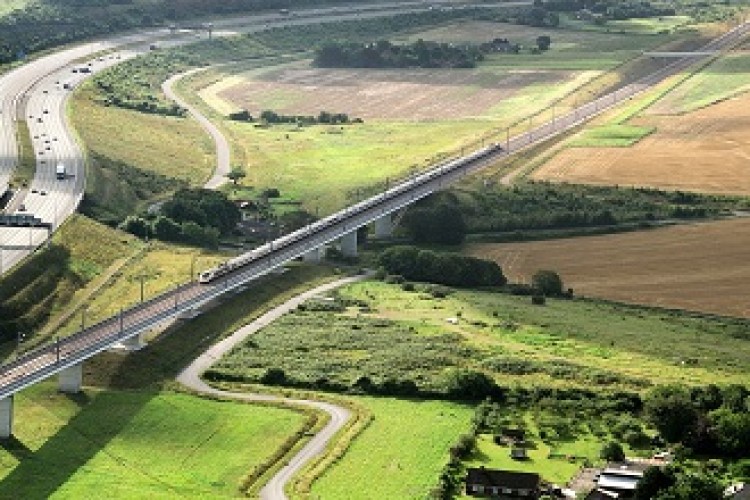 They have been working on the project design for several years with no absolute certainty, until a statement from the prime minister in February, that it would ever actually go ahead.
Even then, the coronavirus pandemic might have had the potential to scupper government spending plans. As it is, current chancellor of the exchequer Rishi Sunak seems to recognise the value of public spending on capital works as an economic stimulus.
The total value of civil engineering work released today amounts to just over £12bn, of which £8.5bn is in the hands of foreign or foreign-owned companies. Of the 12 main contractors involved, only Sir Robert McAlpine is a private British company, while Kier, Balfour Beatty and Costain are British listed, with multi-national shareholders. The other eight have parents registered in mainland Europe.
The SKS JV of Skanska, Costain and Strabagis responsible for the section of line nearest to London – S1: Euston Tunnels & Approaches, and S2 Northolt Tunnels. These were together valued at £1,840m in August 2017. Today they are valued at £3.3bn.
The C1 package of HS2 – running from 20km to the west of central London through the Chiltern Hills is in the hands of Align, a joint venture of three international and privately-owned infrastructure companies, Bouygues Travaux Publics SAS, Sir Robert McAlpine and VolkerFitzpatrick, and its design partners Jacobs Engineering and Ingérop-Rendel.
This is a 21.6km section that includes the 3.4km Colne Valley viaduct and a 16km twin-bored tunnel under the Chilterns with  five ventilation shafts. Initially valued at £965m, the current price is £1.6bn.
Align project director Daniel Altier said: "This is a complex project. However, we have delivered some unique innovations to address the engineering challenges relating to both design and planned construction of the tunnel, the tunnel shafts and the viaduct. It's both rewarding and exciting to get the construction element of the project under way."
Sir Robert McAlpine managing director Tony Gates said: "The notice to proceed is, of course, welcome news not just for Sir Robert McAlpine, but for the country as a whole. This is an investment not just into vital infrastructure, but into the creation of thousands of jobs for UK workers. The skills and experiences those working on the project will pick up will be hugely important for helping tackle future engineering challenges.
"As we tackle an ambitious plan, which includes a landmark viaduct and twin-bored tunnel, we have an opportunity to not just demonstrate the technical excellence that marks out this country's construction sector, but also the seamless collaboration between parties required to deliver Europe's largest infrastructure project."
Bouygues Travaux Publics director Jean-Pierre Margolin added: "I am delighted with how the Align team has come together to develop the design and planning in close coordination with all stakeholders involved for what will be an iconic element of HS2. Each company involved in the Align JV is proud to be playing its part in delivering Europe's largest infrastructure project."
The Eiffage Kier joint venture, recently joined by two new partners Ferrovial Agroman and BAM Nuttall to form EKFB JV, is responsible for the construction of an 80km section of HS2 phase one (lots C2 and C3) between the Chilterns to Warwickshire. It includes 15 viaducts, 5km of green tunnels, 22km of road diversions, 67 overbridges and 30 million cubic metres of excavation.
The total value of this section, including the design and development work already completed is currently put at £2,269m. (The value had been £1,340m when they were first appointed in August 2017.)

Since the start of the design and development phase in 2017, EKFB JV has conducted scheme design and some ground investigation works. This includes the creation of a heave monitoring site near Warwickshire to assess ground movement. The site has also been used to develop a platform that ties together data from independent systems to present integrated, real-time reporting and insights, which will reduce cost, environmental impact and improve the productivity and safety of operations, the contractor believes.
Eiffage Kier has already trained 300 new entrants to the construction and engineering industry through its Training Hub sponsored by the CITB construction skills fund and delivered by Bucks College Group.
The appointment of BAM Nuttall and Ferrovial Agroman strengthens the JV (35% Eiffage; 35% Kier; 15% Ferrovial Agroman; 15% BAM Nuttall) as they are currently delivering the central section of the HS2 enabling works as two thirds of the Fusion joint venture (along with Morgan Sindall).
Kier chief executive Andrew Davies said: "We are pleased that the government has confirmed NTP [notice to proceed] for the HS2 project, allowing us to progress onto the next phase of works in delivering this vital infrastructure project. We have been successfully delivering the design and development phase since 2017 and working with our new partners BAM Nuttall and Ferrovial Agroman alongside Eiffage we will collectively bring invaluable knowledge and expertise throughout delivery to play our part in the most sustainable high-speed railway of its kind."
Benoît de Ruffray, chairman and CEO of French contractor Eiffage, said: "Eiffage and its partners welcome the UK government announcement for the new high speed line HS2. We are very proud to contribute to this project which has become possible thanks to the collaborative approach set by HS2 Ltd since 2017. Whatever difficulties countries are currently facing, we stay confident in the fact that we will overcome the crisis and successfully deliver this ambitious project."
BAM Nuttall chief executive Stephen Fox said: "The notice to proceed for HS2 is extremely positive news, particularly at this difficult time for the country. BAM Nuttall is proud to be involved in this transformational scheme and we look forward to bringing our expertise to this key infrastructure project. BAM Nuttall is delighted to be working in collaboration with Eiffage, Kier and Ferrovial and all other HS2 partners to deliver the inspirational vision set out by HS2."
Karl Goose, managing director of Ferrovial Agroman UK & Ireland, added: "This decision comes at an extremely important time for the UK. It is a fantastic opportunity for us to build on our HS2 enabling works experience and bring our expertise in infrastructure – high speed rail delivery in particular - to deliver further works for this vital scheme. This partnership is a deeply positive and definite step for us, our client, the supply chain and the UK, especially in light of the current global climate."
Elsewhere up the line, closer to Birmingham, the BBV JV of Balfour Beatty and Vinci is raring to go on section N1 and N2, currently worth a combined total of £5bn. (The value had been £2.5bn when they were first appointed in August 2017.)
The scope of works for BBV comprises extensive earthworks, ground engineering, viaducts and tunnels along a 90km stretch between the Long Itchington Wood Green tunnel in the south to the West Coast Main Line tie-in near Litchfield in the north with a major junction into central Birmingham at Curzon Street.
Balfour Beatty chief executive Leo Quinn said: "HS2 is a transformational infrastructure scheme, underpinning both the economic resilience and future growth of the nation, during these unprecedented and challenging times.
"Notice to proceed provides certainty for many businesses up and down the UK, and will drive investment in skills and capability for current and future generations."
He said that preparatory works would start 'imminently' but main construction would 'commence in earnest' in the second quarter of 2021.
Got a story? Email news@theconstructionindex.co.uk