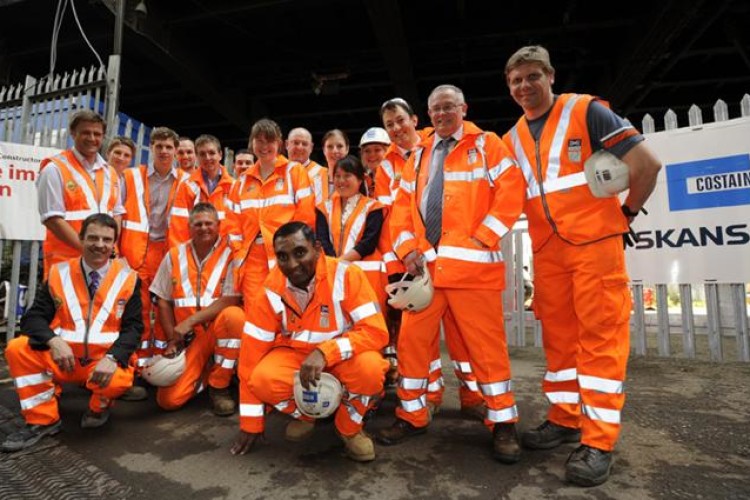 When complete in 2017, Crossrail will offer a new, high-frequency rail route starting at Maidenhead in the west through central London and out to the east, forking to Shenfield, near Brentwood in Essex and to Abbey Wood in southeast London. The central section through the capital will require the driving of major new tunnels under the city. 
When entering the tunnel, overground trains will start descending several hundred yards before the portal. It is on this gradient that the Costain-Skanska team at Royal Oak is now working. 
The initial stage is to create diaphragm walls on either side of the route. This involves excavating a deep trenched panel followed by creating the wall structure within it. 
"The diaphragm wall is pretty much a huge retaining wall, around 200 metres long and around 27 metres deep at its maximum," explains Project Manager, Dr Vicknayson Thevendran. Once the two diaphragm walls on either side of the route are completed, bulk excavation commences between them which is twenty metres wide over the length of 200 metres. You then build a slab at the bottom of it and lay the tracks on top." 
The main problem facing the 100-strong team on the site is extremely tight working conditions. One side of the site is just three metres from the 630-volt live track for London Underground's Hammersmith and City Line, while the other side is bounded by the A40, a major road artery for Transport for London. 
The proximity of other transport links creates complexities when handling the inevitable paperwork, says Vicknayson. "We need to submit every document to Crossrail, Network Rail, London Underground and, on instances where we're close to the A40, we need to liaise with Transport for London." 
Work on the diaphragm walling began in late August and is planned to be completed just before Christmas. 
Got a story? Email news@theconstructionindex.co.uk