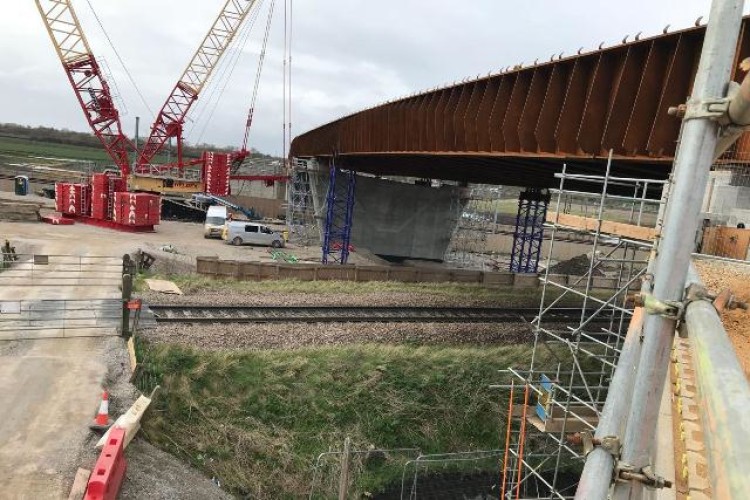 "Working under tricky conditions such as building on a floodplain and near a national heritage site has meant costs have increased by £13m, which we're working with our contractor to minimise," the council said.
The southern bypass around Ely provides a new link between Stuntney Causeway and Angel Drove. It includes a 300-metre long river bridge, founded in poor ground. VolkerFitzpatrick began construction in January 2017 and the road was expected to open by late summer 2018. Opening has now been pushed back to October.
Ground conditions have been even worse and more unpredictable than expected. Building across a flood plain and poor fenland soils has resulted in large amounts of additional work and material being needed.
The depth of the foundations needed for the river viaduct is two thirds the height of nearby Ely Cathedral, which is much more than had been expected. Also, as Ely Cathedral is a national heritage site, a specially designed viaduct needed to be created, which has given the team significant challenges, the council said. The viaduct includes a separate walkway allowing the public to cross the river.

However, the eastern, central and western embankments built are now in place. The bridge abutments and central pier over the railway are also complete.
Cllr Ian Bates, chairman of the county council's Economy and Environment committee, denied that better planning could have kept costs under control. He said: "Ely Southern Bypass has been a much wanted scheme for more than 20 years and there is no doubt it will ease congestion in Ely. We all took the brave decision to procure the contract early to get the scheme off the ground and the cost of the scheme is the reality of building in such a difficult area. Although this increase in costs is disappointing, we are clear the costs would have been much the same if we had waited, but we wanted to push ahead and get the road built as soon as possible. If we hadn't taken that decision, the project would have been delayed a further 12-18 months and funding may have been lost.
"We have a good working relationship with our contractor and construction is progressing well. We're all working hard to achieve the best result and get the new road open as soon as possible." 
Got a story? Email news@theconstructionindex.co.uk