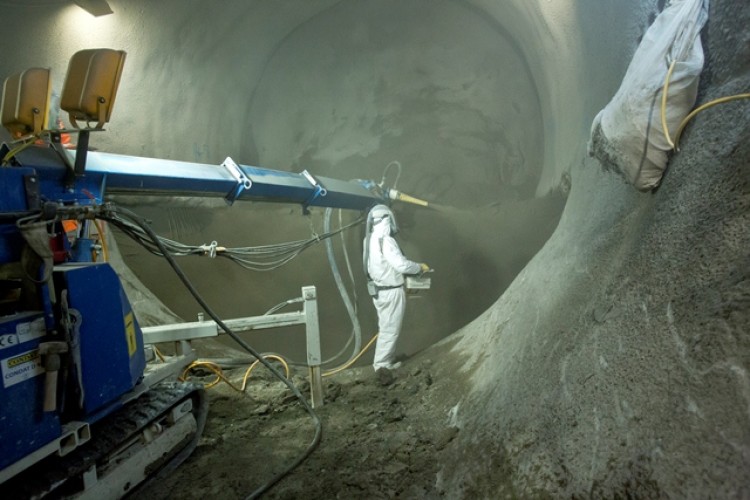 Like two Leviathans desperate to get home, tunnel boring machines (TBMs) Phyllis and Ada are powering their parallel paths under central London at ever increasing speeds.
Phyllis achieved a weekly distance record in early March of 217m. That's 136 concrete rings in tunnelling speak.
Ada, who started from the Royal Oak portal slightly later than her hefty sister, has recently emerged from the box for Crossrail's Paddington Station and has already put 2km of tunnel behind her. In all, a third of Crossrail's western tunnel sections between Royal Oak and Farringdon have now been completed.
Phyllis arrived at Bond Street station in the week before Easter, having installed her 2,000th tunnel ring; Ada is following closely behind.
Crossrail's new Bond Street station is an ambitious, mainly subterranean design that will see the creation of two separate but interconnected ticket halls. The eastern ticket hall is under Hanover Square. The Crossrail western ticket hall, under Davies Street, will link with London Underground's existing Central Line Bond Street station. The combination of Crossrail and London Underground will create a transport interchange that will see 225,000 passengers daily.
TBMs are a magnificent means of creating tunnels, but to mine the cavernous station areas, more labour-intensive techniques are needed. At Bond Street, in addition to the Crossrail tunnels, 1.2km of passenger, service and platform tunnels are being created, requiring the excavation of 220,000m3 of material. There are currently 500 workers toiling on site.
It's a job that calls for 55,000m3 of liquid concrete, 16,000 tonnes of steel and the installation of 20km of cabling and 7.5km of piping and ductwork.
It also requires the specialist skills of spray concrete liners (SCLs), who are in high demand across the rail project. Major SCL operations are taking place at Stepney Green, Whitechapel, Finsbury Circus and Tottenham Court Road as well as Bond Street, and SCL work is also about to start at Farringdon.
Crossrail's purpose-built Tunnelling & Underground Construction Academy in Ilford, which opened in 2011, is going some way to fill demand for specialist tunnelling skills and is projected to train more than 3,500 people.
"We are offering more than 400 apprenticeships and a large number are SCL," says a Crossrail spokesperson.
BAM Ferrovial Kier has the contract for the early access shafts and sprayed concrete lining works for Bond Street station.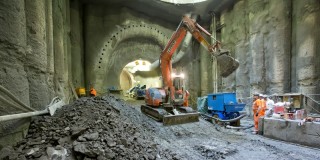 Above ground, crowds of shoppers flow ceaselessly around the hoardings, oblivious to the fact that, just metres below them, an intense, carefully choreographed programme of work is under way.
The Crossrail trains, when they start rolling in 2018, will be stopping on the eastern side of the project under Hanover Square. So it is on the eastern ticket hall part of the site that work is under way to construct 270m-long platform tunnels, 10m in diameter.
To support the excavation a secant/contiguous piled wall has been constructed. And, above ground, extensive temporary structural steelwork has been installed to support a Grade II listed office building.
Piling starting at the end of 2011 when a total of 462 piles were sunk around the site perimeter of the eastern ticket hall, the longest of which was 60m.
This has enabled the construction of two 25m-deep circular shafts that provide access to track level. These shafts are supported by five intermediate concrete slabs that will later be removed, opening up a large cavernous space for escalators. Crossrail calculates that 6,600m3 of concrete is being used for temporary works on the eastern ticket hall, including shaft props. The amount of concrete used for the main box is 21,000m3.
And now, approximately 26m below ground, the intricate matter of spraying the concrete lining onto the platforms and service tunnel surfaces is under way.
The plan, currently working well, is to pipe the concrete down to the tunnels. But should there be a problem, or a blockage in the pipe, a crawler crane is on standby in the shaft. This also acts as a back-up as part of the project's rescue strategy, should it be required.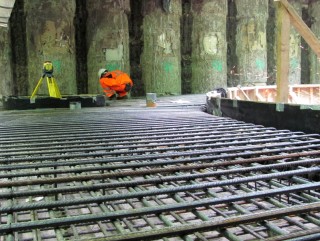 A small reception chamber has also been constructed to allow access to the cutterhead of TBM Phyllis. Ada, bringing up the rear, will break through into the circular shaft and rest up for a spot of maintenance before continuing her journey to Farringdon.
Work on the underground tunnelling sections is being carried out in a 24-hour operation, in four shifts. But elsewhere on the Bond Street project, hours are restricted between 8am and 8pm on weekdays, so as not to disturb the Mayfair residents.
Just looking down on the western ticket hall excavation in Davies Street, tucked away behind Bond Street station, gives a sense of the tightness of the project, which is being undertaken by Costain/Laing O'Rourke JV.
Surrounding the site are iconic Mayfair buildings and mansion blocks; behind it is the West One shopping centre, with which the site is sharing a single delivery route. To the side is Grays antiques centre, home to more than 200 Mayfair antique and art dealers, who are severely allergic to vibration and noise.
To further complicate matters, the Jubilee Line passes directly under the excavation. At its closest point, the excavation will be 10m above the crown of the Jubilee Line tunnel.
The delicate neighbours are protected by a 1.2m-thick diaphragm wall installed around the perimeter. A total of 37 diaphragm wall panels were installed, the deepest at a depth of 50m. In addition 63 piles were installed.

The internal bearing piles support plunge columns; tension piles line the Jubilee Line.
But prior to all this preparation work, it was necessary to dismantle the old University of Arts building that was standing on the site. This threw up a few surprises of its own.
"The building came down pretty well to ground level, but then we found 43 foundation pads. This was a surprise because they weren't on any records," says Chris Pateman, Crossrail's Bond Street project manager. "So we had to break them out, which took four days out of the programme."
These irritations are now in the past as the western ticket hall descends ever deeper. Designed to a depth of 25m, or seven levels, the excavation is taking rapid shape thanks to a carefully coordinated top-down construction programme.
On this side of the project, excavation of the 30m x 70m box is being carried out in phases, side by side with the slab construction. Work began on the first slab at level minus one in December 2012, and the entire slab is now complete.
Pateman explains that two-thirds of each floor slab have to be completed before the slab is strong enough for excavation to begin on the level below.
The Easter break came at a good time for the project. Or rather, work was neatly programmed around the break. The two-thirds of the slab at minus 2 level was poured just before and left to cure over the Easter period. After roughly 10 days it is strong enough for excavation to start at minus 3 level.
The final third of the floor is excavated by three mini excavators working with a bulldozer in a tightly packed and segregated area.
All being well, the level minus 5 slab (the lowest slab) is expected to be completed by October of this year.
This side of the project is seeing the TBMs first, with Phyllis passing just south of the western ticket hall. Ada is scheduled to pass through the walls of the unexcavated ticket hall box soon afterwards.
As well as the need to ensure that the excavation is adequately supported, the project has to guard against dangerous gases. To this end, all plant has been fitted with diesel particulate filters to reduce carbon monoxide emissions. And petrol disc cutters have been banned from all basement areas because of the risks posed by flammable fuel. And, as would be expected, special emergency breathing apparatus has been installed in the tunnels.
In the cramped space of the western ticket hall, where the excavators work side by side in highly constricted movement patterns, an alert system for workers has also been introduced.
The worker alert system, called MyZone, consists of a receiver that fits under the back of a hard hat, and vibrates to warn the wearer should any hazards have moved into close proximity. Given the noise on site, this can be a useful tool.
"We're trialling the system currently, but anything that helps with safety has to be a good thing," says Pateman.
Safety managers, superstitiously touching wood, say the project is approaching one million man hours without a single reportable accident.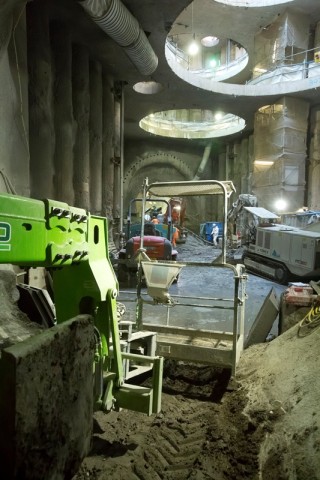 About Bond Street station
More than 155,000 passengers currently use Bond Street tube station daily. Once Crossrail opens in 2018, daily passenger numbers are projected to swell to 225,000.
A 19,000m3 property development by Great Portland Estates is scheduled to start construction from 2015 around the eastern ticket hall on the northwest corner of Hanover Square. GPE's proposals include two new buildings, together with the refurbishment of the Grade II listed Georgian building at 20 Hanover Square. This scheme has already cleared the local planning authorities.
A further development above the western ticket hall at Davies Street is also planned (pictured below) but has yet to get permission.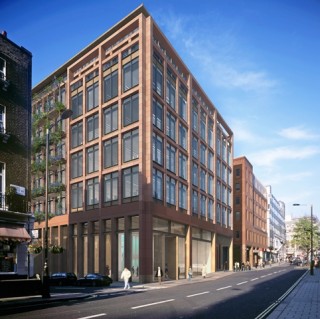 About Crossrail
Crossrail is the largest infrastructure project in Europe, employing more than 7,000 people and involving more than 40 worksites. As the project progresses, the workforce is expected to grow further.
The £14.8bn scheme will deliver a 118km rail link, connecting Maidenhead and Heathrow in the west with Shenfield and Abbey Wood in the east via 42km of rail tunnels. There will be 37 new stations, including eight new underground stations.
Eight tunnel boring machines will dig new rail tunnels under London. Each tunnelling machine weighs 1,000 tonnes and is, in effect, a 148m-long factory. Five of these TBMs have so far set out.
Crossrail's central section, between Paddington and Whitechapel, will open in 2018. It will carry up to 24 trains an hour during peak periods. Each train will carry up to 1,500 passengers.
Got a story? Email news@theconstructionindex.co.uk