The new rail line running north-south through the capital is designed to increase network capacity and reduce journey times. A journey from Kingston to Tottenham Court Road would be cut from 46 to 29 minutes and from Dalston to Tottenham Court Road would be cut from 27 minutes to just eight minutes.
Passengers on mainline trains travelling in to Waterloo would also benefit as suburban services would be diverted into a new tunnel under London.
It could be running by 2030.
A recent consultation to refine the route showed strong support for the scheme with more than 80% expressing support. On the options consulted, the majority of respondents support an extension from Alexandra Palace to New Southgate. There was also strong support for a station at Kings Road, Chelsea, as well as support for two potential station options in Hackney – Hackney Central and Dalston Junction.
Based on the consultation responses, TfL and Network Rail have now identified a preferred route for safeguarding, with a north-east alignment via Dalston, but with a safeguarded spur to Hackney Central that could be extended further eastwards at a later date. The plans are to be lodged with government. This 'regional route' would travel down into Surrey and up into Hertfordshire (see map below).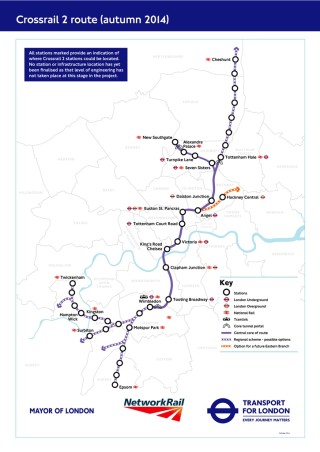 The Department for Transport (DfT) will consult on proposed changes to the safeguarding, updating the previously safeguarded Chelsea-Hackney line plan, which dates back to 1991.
Crossrail 2 is estimated to cost around £20bn. Working jointly to TfL and DfT consultants PricewaterhouseCoopers (PwC) are undertaking a funding and finance feasibility study. PwC's report examines a range of funding options, and will be published before the chancellor's autumn statement. TfL and the mayor of London, Boris Johnson, believe that the wider UK economic and transport benefits also support the case for a government contribution to the cost.
Subject to the outcome of the consultation process, the secretary of state for transport will issue a safeguarding direction for Crossrail 2 in 2015.
Subject to this, the next steps will be a consultation on a single preferred route option and station/worksite locations from September 2015. More detailed design will then be needed and an application for powers to build could take place in 2017 with the railway being operational by 2030.
Mayor of London Boris Johnson said: "Crossrail 2 is a vital project not just for the capital, but also for the regions from which people travel in to London on packed trains each day of the week. With London's population soon to surpass its previous 1939 peak of 8.6m, and with more people travelling by Tube and rail than ever before, we need additional rail capacity to support future growth. For the capital to remain globally competitive there needs to be continued investment in our transport network and that's why we have to get cracking on planning for Crossrail 2. It's an essential infrastructure project that will deliver thousands of new homes and jobs, as well as helping to keep our great city moving."
Got a story? Email news@theconstructionindex.co.uk