The economic analysis was conducted by KPMG for Transport for London and Network Rail, as ammunition in lobbying the Treasury ahead of the forthcoming spending review.
The report says that economic growth could be boosted right across the country and not just in London
Crossrail 2 will run underground through new 36km twin-bore tunnels between Wimbledon and Tottenham Hale and New Southgate, joining with the existing National Rail networks in Surrey and Hertfordshire. It would release capacity on some of the most congested railway lines into London allowing additional trains to operate into Waterloo and Liverpool Street during peak periods. As many as 11,800 more seats could be available on Network Rail services from Hampshire and Surrey into Waterloo during the peak, as well as those offered by Crossrail 2. Areas with significant growth potential, including Cambridge, Stansted, Portsmouth, Basingstoke and Southampton could all benefit, the report says
Analysis based on the Crossrail supply chain shows that small and medium sized enterprises (SMEs) could benefit from more than £5bn of spend and that Crossrail 2 could add over £1bn to the West Midlands economy, over £200m to the North East and up to £170m to the Scottish economy.
Michele Dix, TfL's managing director for Crossrail 2, said: "This report sets out what Crossrail 2 can deliver not just for London but for the rest of the southeast and the country as a whole. This transformative new railway will help drive growth in jobs and housing and add billions of pounds to the UK economy as well as providing much needed extra rail capacity to meet the needs of our rapidly growing population."

Chris Curtis, Network Rail's head of Crossrail 2, said: "This report highlights that Crossrail 2 is the best long term answer to meeting the growing demand for rail travel across the region. As well as opening up new regional connections across London, this new railway will deliver significant extra capacity for services into London Waterloo from Surrey, Hampshire and beyond and into London Liverpool Street from Hertfordshire and Cambridgeshire supporting economic growth from the Solent all the way to the Wash."
Alasdair Reisner, chief executive of the Civil Engineering Contractors Association, added: "The economic benefits of Crossrail 2 will be felt across the length and breadth of the UK, potentially supporting 60,000 full time jobs in the supply chain and providing a boost to UK engineering, construction and manufacturing sectors. Improving the way manage our vital infrastructure, through visibility of investment and workload enables investment in skills, equipment and innovation, reducing delivery costs and making savings for the taxpayer."
TFL and Network Rail are hoping to get necessary powers and funding in place to start construction by around 2020 and have the new line operational by the early 2030s.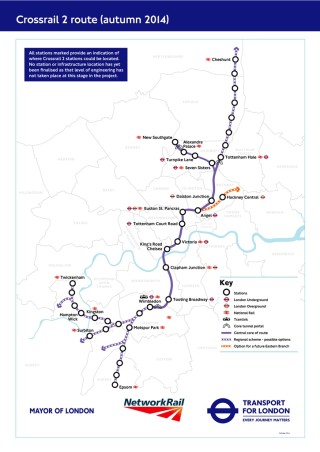 Got a story? Email news@theconstructionindex.co.uk