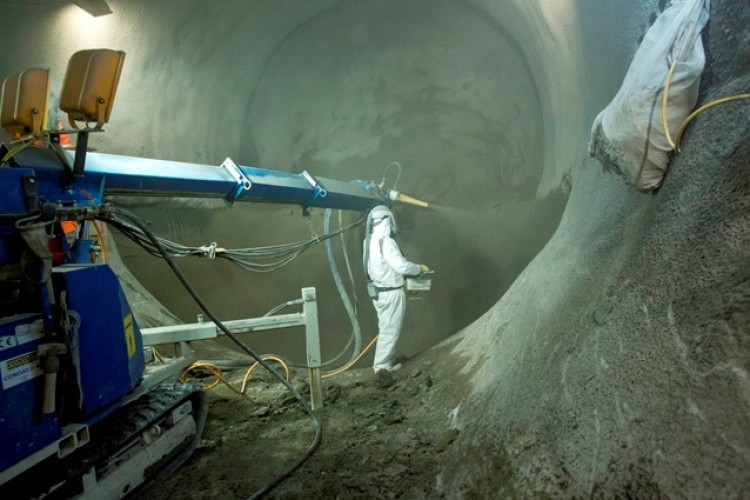 Specifically, the guidance addresses the failings that were identified as contributory causes to the death of concrete sprayer René Tkacik on the Crossrail project. Mr Tkacik died in March 2014 after he was hit by a tonne of freshly applied shotcrete at Crossrail's Fisher Street site. As previously reported, the subsequent inquest heard that there were no exclusion zone barriers in place to keep the danger zone clear.
The new BTS best practice guide on Sprayed Concrete Lining (SCL) Exclusion Zone Management brings together a number processes and methods designed to prevent injury from falling materials.
The document was developed by Crossrail with the aim of developing a unified solution to managing exclusion zones around the use of SCL. Several companies involved in SCL work on Crossrail also contributed to the guide.
Balfour Beatty Civil Engineering tunnelling manager Roger Bridge, immediate past chair of the BTS, said: "The SCL Guidance Document is a positive achievement for the UK tunnelling industry and underlines the entire sector's commitment to best practice and the promotion of safety onsite. At the BTS we are focussed on ensuring information of this nature is promoted and available for all to benefit from. There have been a number of tragic incidents with the use of SCL over the past few years and whilst all parties endeavour to operate as safely as possible, a defined methodology is a tremendous leap forward to ensuring consistent protocols, agreed and acknowledged as best practice, are adopted by all."


He continued  "I hope that the document and the guidance it offers, is adopted across all UK projects, which is why it is being made available to the wider tunnelling industry and not just BTS members. With the present review of BS6164, the British Standard for health & safety in tunnelling, underway, the BTS hopes that this document, or certainly parts of it, will form an integral component in its revision."
The document is free to download from the Good Practice Guides section of the BTS website www.britishtunnelling.org.uk. 
Got a story? Email news@theconstructionindex.co.uk