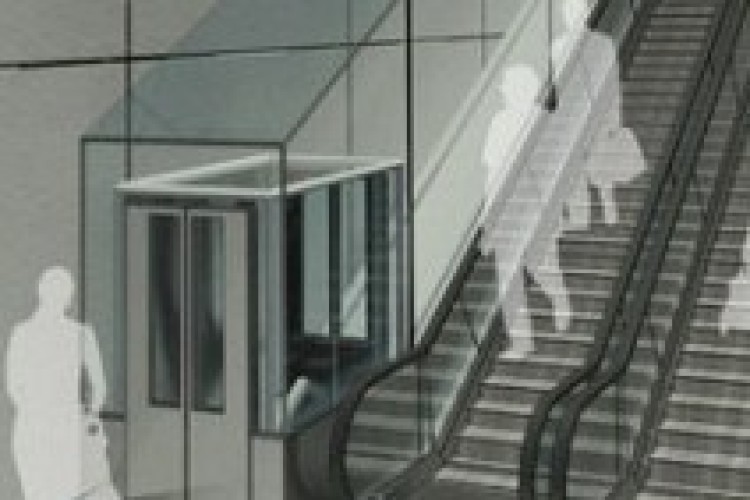 Four innovative incline lifts will run alongside escalators at Farringdon and Liverpool Street Crossrail stations where it is not possible to install vertical lifts. London Underground will also install an incline lift at Greenford station by 2014.
The lifts will be supplied and installed by Finnish firm Kone, which is also supplying 50 conventional vertical lifts under a £45m contract. Kone will also maintain the lifts for 22 years under the contract.
Crossrail procurement director Martin Rowark explained: "All Crossrail stations in central London will have step-free access from street to train. The new incline lifts offer an added benefit by allowing groups travelling together to have passengers with wheelchairs, buggies or large baggage to take an incline lift while friends and family take an escalator directly alongside. These incline lifts will allow Crossrail to provide full step-free access at Farringdon and Liverpool Street stations where the platforms will sit below existing buildings, preventing the installation of traditional vertical lifts."

London Underground programme director of stations Miles Ashley added: "Greenford station will benefit from the first of the five incline lifts and represents an innovative approach in providing our customers with improved access. Incline lifts simply afford us with better opportunities to facilitate access where more traditional lift arrangements prove impossible to accommodate. Working jointly with Crossrail on this major lifts procurement has resulted in significantly better value for LU and TfL and will ensure that we increasingly deliver world class levels of reliability to our customers."
Bidding against Kone for the contract were Otis, Fujitec, Stannah and Schindler.
Under current plans 29 of Crossrail's 37 stations will have step free access including the six new central London stations as well as the busiest above ground stations.
Crossrail lifts will be at:
Liverpool Street - eight lifts including two incline lifts
Farringdon – seven lifts including two include lifts
Bond Street station - six lifts
Whitechapel – eight lifts
Tottenham Court Road - six lifts
Paddington – six lifts
Custom House – two lifts
Emergency and service shafts – six lifts.
Got a story? Email news@theconstructionindex.co.uk