Earlier this year, cofferdam walls were installed in a section of the Royal Docks above the tunnel to allow contractors to access the tunnel from above. However, this work had to be completed and the dam removed by the first week of September to allow ships to pass through the dock ahead of a trade exhibition at ExCeL London.
Sections of the Connaught tunnel underneath the Royal Docks in east London were in a poor condition. Parts of it were narrowed during the 1930s so that the dock could be deepened to accommodate larger ships with brickwork removed and steel segments installed.
Contractor Taylor Woodrow (Vinci) has now removed this material and put in place a larger, stronger structure in preparation for the start of Crossrail services in 2018.
Following three months of work around the clock, the work has now been completed, the dam walls have been removed and the dock has been re-opened.
A cofferdam the size of a football pitch was installed and 13 million litres of water were drained from the Royal Docks. This allowed workers to deepen, widen and strengthen the central section of the tunnel so that it can accommodate new Crossrail trains.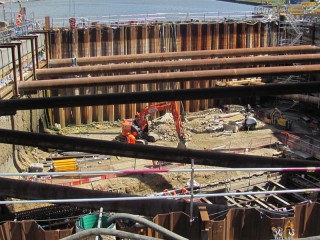 The tunnel was built in 1878 and has not been in passenger use since December 2006. It is the only existing tunnel that will be re-used for Crossrail.
Crossrail chief executive Andrew Wolstenholme said: "In refurbishing this Victorian rail tunnel, the team at Connaught has had to think on its feet and overcome some unique challenges. It is a source of great pride that our engineers and everyone on the project continue to deliver, often in difficult and complex circumstances."
Connaught tunnel project manager Linda Miller, said: "It was a race against the clock to get the work completed and the dock re-flooded, so it's great news that we've got it finished ahead of schedule. It's been a fantastic effort by the whole team to get the job done safely, quickly and effectively."
As well as widening and deepening the central section of the tunnel, the work at the site will include laying new tracks, waterproofing, installing water pumps and cleaning 135-years of coal and soot from the bricks.
Crossrail has produced a timelapse video of the project (below).
Got a story? Email news@theconstructionindex.co.uk