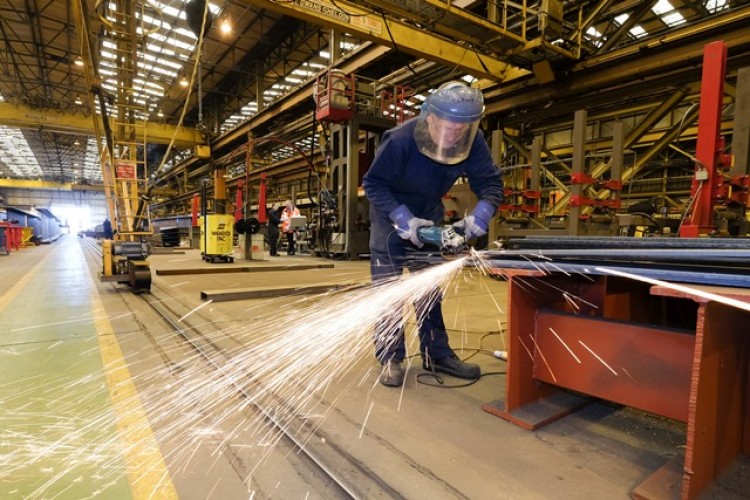 Cleveland Bridge reported profits of £2.5m for 2015 on turnover up 53% to £51.5m.
In 2014, by comparison, the Saudi-owned company had made a loss of £7m on £33.4m turnover, and in 2013 it lost £2.9m on £33.4m turnover.
Contracts secured for 2016 and 2017 are expected to lift turnover to around £55m this year and maintain the company's profitability. These include an extension to the M74 motorway in Scotland, the redevelopment of London Bridge Station and the A6 Manchester Airport Relief Road.
The company, which is owned by Al Rushaid Petroleum Investment Company, is already working on the Forth Replacement Crossing, fabricating the bridge's north and south approach roads.
Cleveland Bridge is also supporting the widening of the A1 in North Yorkshire with the fabrication of steel girders to support the construction of bridges across the main carriageway at Scotch Corner.  The project includes production of six pairs of girders, the heaviest pair weighing 88 tonnes.

The company has also been active in the rail industry supporting projects at Paddington and Bond Street stations.   Cleveland Bridge fabricated and supplied 800 tonnes of plunge column steelwork for the Paddington Station extension and 750 tonnes of plunge column and structural steel work for the new ticket halls at Bond Street.
Managing director Chris Droogan said: "The efforts of the new management team, together with the commitment of our workforce and the support of our owners have enabled the business to return to profit. 
"Cleveland Bridge UK Ltd has been a cornerstone of the British steel industry for more than 150 years and we are building on that legacy and global reputation by implementing innovative practices and production methods that will deliver further growth in UK and international markets.
"Infrastructure investment, in the UK and internationally, continues to provide long-term opportunities for the facilities, skills and experience of the company.  Through continued investment and increased activity in our international sales functions, Cleveland Bridge UK Ltd aims to maintain its profitability and secure our position and reputation for high quality and timely project delivery."
Got a story? Email news@theconstructionindex.co.uk