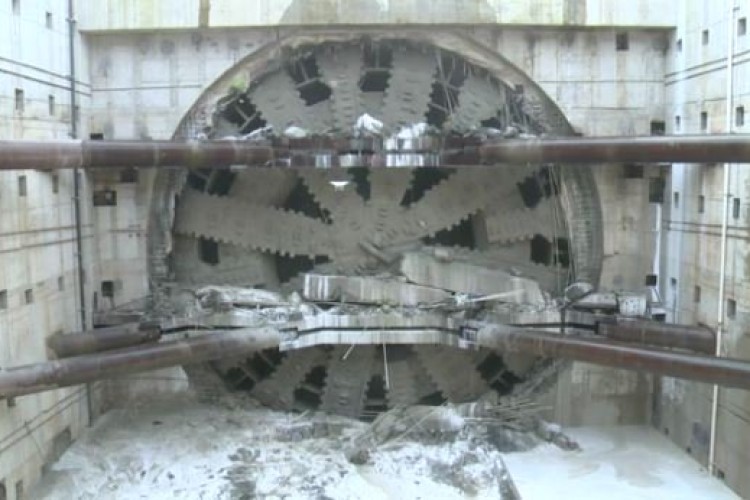 Bertha – said to be the world's largest earth pressure balance tunnel boring machine - has been digging the SR 99 tunnel to replace the Alaskan Way Viaduct. Her five-storey-tall cutterhead broke through the pit's five-foot-thick wall in a dusty and noisy operation streamed live online and on local news.
"We were always confident that we would successfully complete the tunnel drive," Seattle Tunnel Partners project manager Chris Dixon said. "The dedication and commitment of everyone on the Seattle Tunnel Partners team has been exceptional, and we wouldn't be at this milestone without the hard work of our crews. We look forward to continuing this outstanding progress through project completion."
The tunnel is being built by Seattle Tunnel Partners, a joint venture of Dragados USA and Tutor Perini. Bertha was built by Hitachi Zosen Sakai Works in Japan.
The tunnel is 9,270 feet long – 1.7 miles -  and tunnelling ended 64 years to the day since the viaduct it is replacing first opened to traffic.
Work now continues inside the tunnel as crews work toward early 2019 opening. STP still has significant work to complete before the tunnel opens. Crews must finish building the double-deck highway within the circular walls that were built by crews inside the tunnelling machine. Mechanical and electrical systems, plumbing and safety features also must be installed.


The next several days will be spent removing steel support braces that stand between Bertha and the interior of the 90-foot-deep disassembly pit. When the braces are gone, crews will drive the machine into her final position and begin cutting her into pieces for removal. As owner of the machine, the contractor will determine which pieces could be salvaged for use on other projects or recycled.
Bertha spent more than two years broken down, In December 2013, STP stopped mining after measuring increased temperatures in the machine. After an investigation, damage was discovered to the machine's main bearing. Crews completed repairs and resumed mining in December 2015. Work continued for a month or so, but was then halted before restarting in late April last year. The cause of damage to the tunnelling machine is in dispute and is currently in litigation.
Tunnelling began at the end of July in 2013, when Bertha announced on Twitter: "About to start tunneling. I should say something profound, something Neil Armstrong-ish. Fortunately, I'm out of characters. Let's dig." The first of 1413 permanent rings was installed two months later: "Finished installing the tunnel's first permanent ring yesterday. My reward? I get to work all weekend. Fortunately, I love my job."
She no longer writes personal tweets, but it her account marked the arrival in the pit with "We have #BerthaBreakthrough!"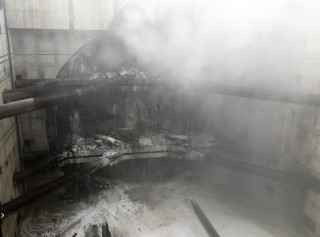 Got a story? Email news@theconstructionindex.co.uk