Let's face it: a construction site is seldom the most inclusive of working environments. Racial minorities, women, gay and lesbian people – in fact workers from any minority group – have always been given a rough ride.
Today there is legislation forbidding discrimination against minorities which, technically at least, has swept away the excesses of institutionalised discrimination. But it was only just over 10 years ago that the Disability Discrimination Act (1995) outlawed discrimination against one of the most overlooked and commonly disadvantaged minority groups in the workplace.
Unlike the victims of discrimination on grounds of race or gender, the disabled could be excluded on grounds of health and safety, productivity or simply the inconvenience to the employer. Now, employers are required to make allowances for disabled employees and, wherever possible, give them the same opportunities as able-bodied employees.
Of course there are practical constraints: clearly, if you're blind you won't be operating an excavator or a crane. But what if you're deaf? If your sight is good and you have no serious physical handicaps, what's to prevent you doing any construction job as well as the next person?
The answer, of course, is good old-fashioned prejudice which means you're still unlikely to find deaf people working on a construction site – unless, that is, Eguizabal Construction happens to be the main contractor. Then nearly everybody will be deaf.
London-based Eguizabal was set up in 2002 by Thomas Salomone, himself profoundly deaf since birth. Salomone's deafness is hereditary; his father came to England from his native Malta as a nine-year-old in the 1940s as there was no provision for deaf education in Malta at that time.
Salomone senior wanted his son to have the best possible start in life so he sent the young Thomas to Mary Hare Grammar School for the Deaf, a boarding school just outside Newbury in Berkshire. "The years I spent there were the best years I had in education," he says.
"As a child I could hear noise with hearing aids," explains Salomone, "but as I grew up I noticed the little residual hearing I had gradually disappeared - which didn't bother me as I had already adapted to my deafness as a little boy".
It was at this school that Salomone was bitten by the construction bug: "I became fascinated watching a construction company build a new accommodation block at the school [and seeing] it being built from the ground up," he says.
Leaving school at 16, Salomone enrolled on two courses: an engineering diploma and, at the same time, a bricklaying and plastering course at the local technical college. Having gained his National Diploma, he went to the University of Derby to study for a BSc in construction management, graduating with honours.
But despite his academic success, Salomone struggled to find work. Given the choice, employers always chose the hearing candidate. Eventually Salomone was offered a job with a major house-builder – a breakthrough, but with a sting in the tail. It was here that Salomone first came up against construction's less enlightened element.
"The way they treated me and didn't allow me to prove myself forced me to hand in my notice and set out to start up my own building business," he says.
Salomone set up on his own in 2002 and quickly had to learn to defend himself and stand on his own two feet: "I starting with small jobs which helped me to gain confidence working with clients and other tradesmen on projects. Eventually the projects grew as I built up a network of tradesmen I could rely on. I also helped deaf tradesmen by giving them the opportunity to quote for certain works on my projects.
"Years later I have built up my business into a construction company employing a large number of tradesmen, with a large proportion of the workforce being deaf," he explains.
Eguizabal Construction (the company name, by the way, is the maiden name of Salomone's wife Ana, who comes from northern Spain) now employs 20 permanent tradesmen plus 10 self-employed tradesmen working on an ad hoc basis.
The majority of the workforce is deaf, but not by design, says Salomone. "We are open to anyone who is qualified but we have found that good tradesmen with normal hearing find it easier to gain employment compared with good deaf tradesmen struggling to find employers willing to give them a chance," he says. "Inevitably, some of these tradesmen have found their way to our company and found employment with us."
Whether or not this makes Eguizabal unique, Salomone is unable to say. "However, in all the years I have worked, I have not come across another company that is similar to ours and undertakes projects the same size as the ones we undertake," he says.
Although the deaf tradesmen working for Eguizabal undoubtedly enjoy a supportive working environment, the company itself is operating in an industry where deafness on a corporate scale is virtually unknown.
Competing for contracts in competition with contractors unencumbered with such a handicap, Eguizabal is at a disadvantage.
"Deafness is a big obstacle to finding work, but we have overcome this by building up a reputation and our work comes from recommendations," Salomone says. "Prospective clients are usually nervous but we always invite them to view our projects and see our team at work which usually puts them at their ease."
Not surprisingly, Salomone believe his company puts more effort than most into satisfying its clients: "We have to work harder to prove ourselves and achieve targets as we believe this is important to show our clients that we take our projects and clients seriously," he says.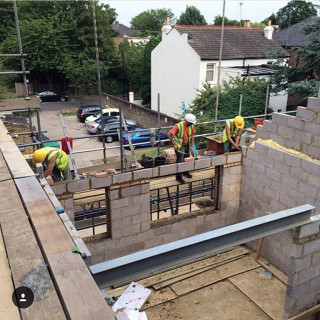 "I have been trying to raise deaf awareness in the construction industry and trying to show that deaf workers are not stupid or incapable of undertaking building work. As deaf people often jokingly say, there is nothing wrong with their mental or physical capabilities its just their ears that are not working".
Eguizabal consequently attaches huge importance to establishing business relationships with its supply chain. "We work closely with three large subcontractors who don't employ deaf tradesmen but we all work together quite well and have undertaken several projects together," says Salomone. The companies to whom he refers are piling specialist Van Elle, groundworks contractor CJM and BBS Plumbing.
Eguizabal also works closely with brickwork, roofing and hard landscaping contractor Scorpio Building Contractors, also owned by Salomone and employing a high proportion of deaf workers.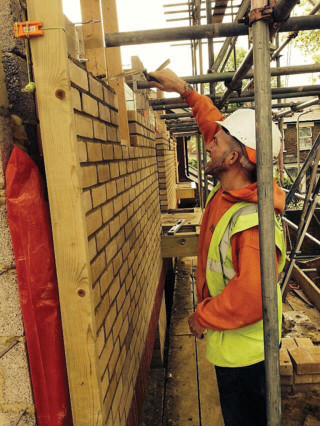 When it comes to working in the wider construction industry, the proverbial elephant in the room is of course communication. Hardly any of the people Eguizabal works with understand British Sign Language, and most of Eguizabal's staff can only understand what others are saying by lip-reading.
Curiously, this doesn't appear to be an insurmountable problem for the supply chain. Jeff Salisbury, site manager with groundworks contractor CJM, is currently working with Eguizabal on a basement excavation for a new student accommodation project in Nottingham. He says working with deaf colleagues is relatively problem-free:
"The first couple of times I struggled a bit in meetings," he says. "It can be difficult to keep up when everybody else is communicating in sign-language. But now – I don't know – somehow I can get by OK. When I'm talking to someone, I always look straight at them and speak very clearly so they can read my lips," says Salisbury. "You might have to write stuff down occasionally, but most of the time there's no problem."
Salomone acknowledges that remote communication can be tricky, but again, there are solutions available. "We interface with the rest of the supply chain thanks to SMS messaging, emails, and more recently using a video call facility called Sign Live," he explains. Users of Sign Live make phone calls which are relayed to the other party via a remote sign language interpreter who relays the information being said and signed to both parties to the conversation.
A more immediate problem for site workers is health and safety. With so many potential hazards on site, deaf workers can be at much greater risk than others. "We have had to adapt our policy on how to alert the workforce in the event of a fire," says Salomone. "Everyone also has to work in pairs in locations that are not visible, but otherwise we take the usual measures for health and safety."
But, he adds: "Deaf people, having had to compensate for not being able to hear, are actually medically proven to be much more alert to dangers and have enhanced observation skills. On several occasions I've known deaf workers to spot the hazards or potential accidents before workers of normal hearing do," he says.
Despite the evident success Eguizabal has had in promoting deaf workers in construction, the struggle to change attitude still has some way to go, admits Salomone:
"This industry can be quite hostile and you need to have a thick skin to work in it," he says. "But to be fair I have noticed an improvement, especially at the management level where there seems to be a better understanding and awareness."
Sadly, it's a different story out on site, where attitudes remain mired in prejudice and ignorance: "We have yet to see an improvement with the workmen," says Salomone. "There is a better understanding and attitude coming from the new generation of tradesmen in their 20s. But some of the eastern European workmen - through no fault of their own - come from countries with extremely poor or non-existent equal opportunities.
"We face a struggle to make improvements with workmen coming from such varied backgrounds and from countries where language, education and cultures can create barriers faced by anybody who's not an able-bodied white heterosexual male," he says.
• Visit http://signlive.co.uk/ to find out how the Sign Live video call facility works
Deafness is no laughing matter
Thomas Salomone's first job in construction was with a major house-builder - which he declines to name, confirming only that it is still very much in business.
The company's willingness to give Salomone a job was sadly not matched by the treatment meted out to him by colleagues.
"Everyone who I worked for treated me as if I was stupid and once I was even told that I was only given this job because they had to give jobs to a certain number of disabled people," he says. "I was hungry to learn but when I asked anyone questions, they just told me not to worry and just to stick to what I was doing.
"I also experienced verbal abuse from the workforce," he continues. "Bricklayers on the scaffolding would wave at me then sign to me using made-up signs for the amusement of their colleagues." Salomone says he took it in his stride and tried not to let it bother him. But he found that even his more considerate colleagues had little patience with his deafness.
"When I tried to communicate with people, they made no effort to understand me. They'd just say "What? I don't understand. You need to speak properly". Then, when I started to write what I was trying to say on a notepad instead of waiting for me to finish they'd simply walk off."
This sort of treatment was fairly typical 10 or so years ago, says Salomone, who also observes that women, and "other people who did not fit into the usual category", were routinely treated with the same lack of respect. Sadly, he believes that deaf workers who succeed in landing a job in construction today are just as likely to come up against this sort of prejudice.
Support for deaf workers
Eguizabal Construction works closely with CITB to provide apprenticeships and the company currently has an apprentice electrician training towards a NVQ Level 3 under the guidance of a mentor who is also deaf. "We aim to give at least two apprenticeships every year," says Salomone.
Salomone is especially proud of James Kendall, a trainee bricklayer with Eguizabal's sister company Scorpio Building Contractors, who was nominated for, and won, a CITB award last year.
Despite this, Salomone says there appears to be no official support structure in place for disabled workers in construction. "There's no network in place as such, but I do receive emails from other deaf construction workers asking for advice on how to set up their own business," he says.
He is also frequently contacted by deaf workers asking for advice on how to gain a CSCS card, something that is often very difficult. "The revision literature and software can be problematic for some deaf people as their first language is British Sign Language and their understanding of written English is not of a standard where they can understand the questions and answers," he says.
"They often ask me if I know where they can get revision materials on a CD with a sign language interpreter signing the questions and answers in a box in the corner. Sadly there is nothing like this yet, but hopefully it will happen one day; the revision literature already comes in a wide variety of languages to cater for workers coming from Europe so it's only fair they do the same for British Sign Language users."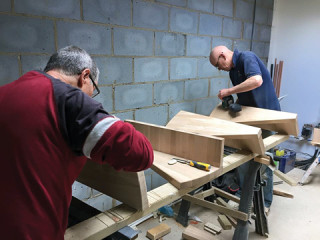 Got a story? Email news@theconstructionindex.co.uk