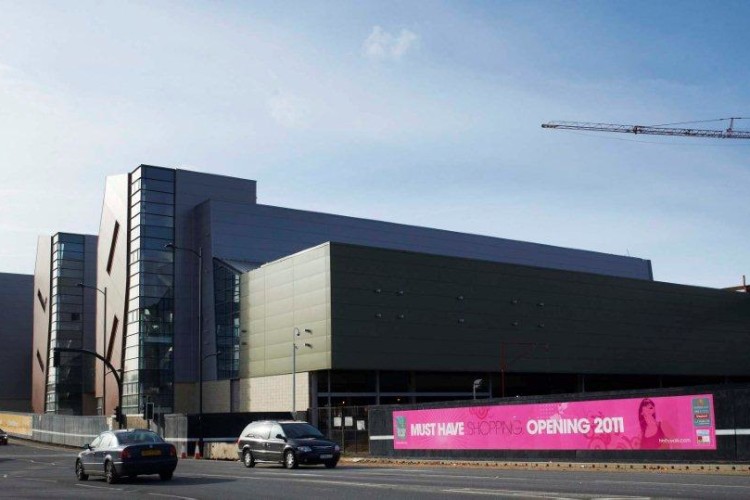 Less than ten months after getting the scheme back on site, Trinity Walk has reached a major milestone with the developers Sovereign Land, AREA Property Partners and Shepherd Construction handing over the keys to Debenhams for a new 96,000 sq ft anchor department store.
Debenhams will now commence fit out of its new state-of-the-art store.
The handover is a very tangible demonstration of the immense progress that has been made on the 500,000 sq ft scheme since the consortium rescued it from the receivers in December 2009 and started construction again in February 2010. The achievement is all the more remarkable when set against the general economic climate and the dramatic tightening of the shopping centre development pipeline.
One of only three new shopping centres due to open in the UK next year, Trinity Walk is set to move Wakefield up the retail hierarchy, rising 42 places to 57th in the CACI Retail Footprint rankings, creating a strong comparison retail destination. Trinity Walk has already attracted and signed a strong line-up of leading high street brands which will open alongside Debenhams next year - including a 117,000 sq ft Sainsbury's, Topshop, Topman, Dorothy Perkins, Burtons, Republic, JD, Bank, Menkind, H&M, New Look, Next, River Island and Peacocks, as well as Carphone Warehouse, Orange - and most recently, Fragrance Shop - it will propel the city centre to subregional destination status.
Chris Geaves, Director at Sovereign Land - joint developer and development manager of Trinity Walk, said: "We have come so far in the last 10 months.
From securing the purchase to getting the construction team back on site to handing over the department store to Debenhams. It's a fantastic testament to how hard everyone has worked and the massive levels of enthusiasm and commitment among the team.  What's really exciting is to see that same enthusiasm now being transferred to the retailers. Debenhams will be the first modern department store for Wakefield and demonstrates the way in which the city is being transformed."
Phil Monaghan, Head of Acquisitions at Debenhams, said: "'Having taken possession at Trinity Walk for fitting out we now look forward to the store opening in spring of next year.  We are extremely pleased with progress on lettings and believe that the combination of a well designed scheme with a strong retail line up and excellent car park and public transport facilities will greatly enhance Wakefield city centre."
Got a story? Email news@theconstructionindex.co.uk