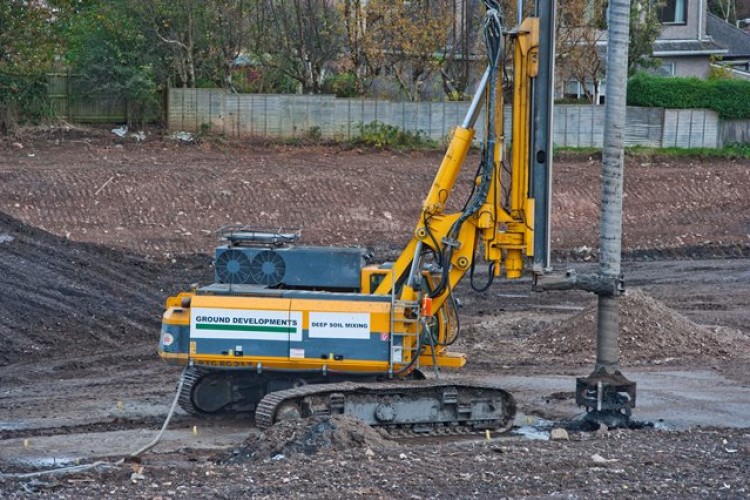 Livingston-based civil engineering contractor Ground Developments Ltd (GDL) is stabilising the ground at an old quarry site in Dundee, which is being developed for student housing.
As part of GDL's involvement in the development of land at Hillside Halls, Yarrow Terrace in Dundee, deep soil mixing is providing a solution for challenging ground conditions of the former quarry that needs remediation to depths of around 17 metres. 
Project director Andrew Warneford explained: "The former quarry at Hillside Halls was backfilled in the 1950s in an uncontrolled manner. This presented a significant issue for the proposed development because these soils were likely to settle significantly when a load was imposed by the new housing, roads and sewers.
"Naturally, excess settlement below the proposed structures is unacceptable to the client, their engineer and statutory bodies. Our designed solution to improve the formation by means of deep soil mixing delivers an increased soil bearing pressure and eliminates the potential for excess settlement."

Following the improvement of the formation soils with their deep soil mixing technique, GDL is using its soil stabilisation and earthworks solution to upfill the site to design levels. This will provide a structural earthworks platform that permits the use of a nominal depth, standard stiffened foundation.
GDL said that its approach was a cost-effective alternative to traditional piling techniques.
Commercial director Kevin Mackenzie added: "We have deployed our deep soil mixing techniques for a number of our clients, but this is one of our largest projects to date.  In the coming year we intend to actively pursue other applications for the use of this specialist technique, specifically on projects with poor formation at depth and were strict settlement criteria needs to be met."
Got a story? Email news@theconstructionindex.co.uk