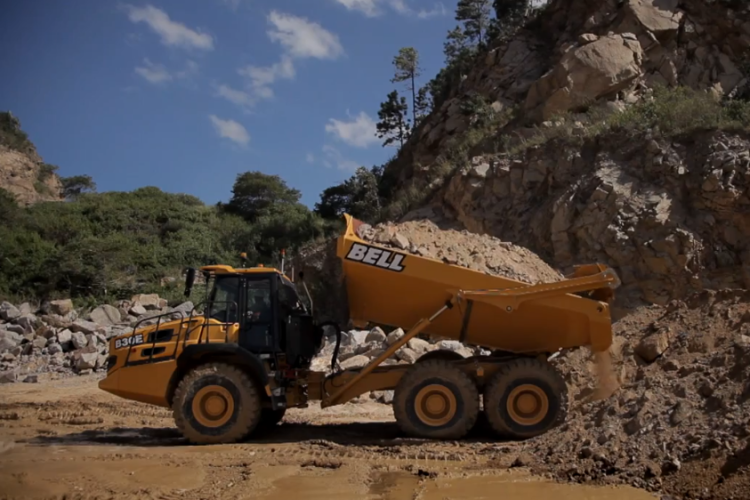 The job of primary separation will be undertaken by a Stelex Hercules trommel screen, which will share the quarry face area with a number of large excavators, namely a 75-tonne Liebherr 954HD in faceshovel configuration, a JCB JS360, a Volvo EC460, a Komatsu PC700LC-8 and a 50-tonne Hyundai 520.
On a smaller scale, Dig-a-Crusher will be demonstrating examples from their range of excavator-mounted crushing and screening attachments.
Dumpers and loaders
A range of front-end loaders and dumptrucks will also be operating around the site.
The Bell range will be represented by a 40-tonne articulated dumptruck and a 27-tonne front-end loader, while Doosan will be showing off the latest version of their 40-tonne ADT, with its improved rear-axle design, together with a DL450 loading shovel.
Case will also be demonstrating a loading shovel, the latest 24-tonne 1021F, along with a 37-tonne CX370C backhoe, while sister company New Holland will be operating a 270 loader and a 36-tonne excavator. Volvo will provide a 40-tonne ADT on hauling duty, together with an L150 wheel loader, and, similarly, Komatsu will be operating a WA480LC and another 40-tonne ADT in the form of their HM400-3.
Other loading shovels operating in the face and rock processing demo areas will be provided by Hyundai with a 770 and a 780, Liebherr with an L586 and JCB with a 456ZX.
Crushing and screening
Once again, the most extensive crushing and screening demonstration is provided by the Terex Group in the form of Powerscreen and Terex Finlay.
Powerscreen will be operating an XA750 primary jaw crusher feeding a Warrior 2400 screen, while a second demo will comprise an XH320X impactor, Warrior 1400X and XA400S secondary jaw crusher.
Terex Finlay will have a J1480 jaw crusher feeding a brand new machine, the J1170, together with a four-way-split 684 screen, which is also being shown in the UK for the first time . Both demos will be supported by machines from Terex Equipment.

Tesab will be demonstrating a 1012TS impact crusher with an integral double-deck pre-screener, which will be feeding a tracked stockpiling conveyor. McCloskey will be showing an 144R closed-circuit impact breaker feeding an S190 triple-deck screen and tracked stockpiling conveyor.
Meanwhile, from the other side of the world, Precision Screen of Australia will be demonstrating an 80-tonne 20 x 8 horizontal screen.
Sandvik will have a major presence with two working demonstrations in close proximity to their stand: the first, a QH cone crusher feeding a QA450 four-way-split screen; and the second, a QI240 impactor with a QA331 screen.
Nearby, Ace Plant will be operating a dust-suppression system which is fitted with a quick-fill device that allows the unit to be filled without the intervention of the machine operator. In addition, Ace Plant will be showing a machine-mounted, multi-spray dust-suppression unit.
Compacts
At the compact end of the plant spectrum, Tiger Crushers will be demonstrating a 5.5 x 2.5 towable crusher with a jaw opening of 400 x 350, and Cleveland Land Services will be on haul road maintenance duty with a CLS Laser-Grader with a 1.5m wide blade.
A regular in the Hillhead recycling demo area, Baughans will be operating two models from their range, the Jobber crusher and the Middi screen. Also, Engcon will be showing off the versatility of their Tiltrotator buckets alongside Herbst Machinery, who will be demonstrating a mini-screener and compact crusher.
German manufacturers Hammel will be presenting a VB950DK shredder which can be used in a variety of applications, and Northern Ireland-based Maximus Crushing & Screening will be demonstrating a pair of machines, a triple-deck 22 x 5 screen feeding a 16 x 5 scalping screen.
Terex Finlay reappear in the recycling demo area with a brand new recycling crusher, the I100 impactor, which will be available for delivery later in the year. Alongside it will be a J1170 jaw crusher with a hydraulic release mechanism specially designed to deal with the vagaries of C&D waste material. Both Terex Finlay demonstrations will be run for 30-minute periods, four times a day.
Finally, JCB will again have a major presence in the recycling demonstration area where they will be supporting several of the crushing and screening demonstrations as well as presenting their own demonstration routine. The range of machines on show will include: a 22-tonne ADT; JS360, JS260 and JS220 excavators; 456 and 426 front-end loaders; and a pair of telehandlers.
Hillhead 2012 takes place at Tarmac's Hillhead Quarry, near Buxton, Derbyshire, England, from 19–21 June 2012. For further information visit: www.hillhead.com.
Got a story? Email news@theconstructionindex.co.uk