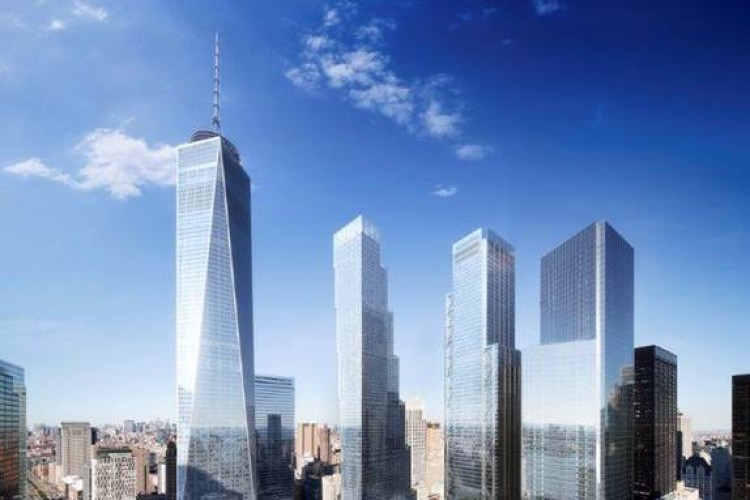 The tower will rise to 408 metres, framing the 9/11 Memorial Park alongside One WTC, 3 WTC and 4 WTC.
From the 9/11 Memorial, the building appears as a tall and slender tower just as its three neighboring towers, while the view from TriBeCa is of a series of stepped green terraces. 
The 80-storey building is being developed by Silverstein Properties and will serve as the new headquarters for 21st Century Fox and News Corp, who will occupy the lower half of the tower.

"The completion of the World Trade Center will restore the majestic skyline of Manhattan and unite the streetscapes of TriBeCa with the towers downtown," said Bjarke Ingels, founding partner of the project's architect, BIG. "To complete this urban reunification, we propose a tower that will feel equally at home in TriBeCa and the World Trade Center. From TriBeCa, the home of lofts and roof gardens, it will appear like a vertical village of singular buildings stacked on top of each other to create parks and plazas in the sky. From the World Trade Center, the individual towers will appear unified, completing the colonnade of towers framing the 9/11 Memorial. Horizontal meets vertical. Diversity becomes unity."
Silverstein Properties chairman Larry A Silverstein added: "While we have a lot of work ahead of us, I am thrilled to partner with 21st Century Fox, News Corp and Bjarke Ingels Group in creating a new architectural icon on what will be Downtown's fully restored skyline."
The base of the building makes use of the maximum area of the site, housing TV studios and 9,290m2 of retail space over multiple levels. The 3,530m2 lobby is connected to the WTC transit hub, providing direct access to 11 subway lines and to rail services. There will be a public plaza at the foot of the building and access to 32,516m2 of shopping and restaurants in the adjacent transportation hub and concourses.
The new building will include open workplaces, amenities and informal meeting spaces. Large stairwells between the floors form cascading double-height communal spaces throughout the headquarters. Facilities may include basketball courts, a running track, a cafeteria and screening rooms. The amenity floors are located so that they feed directly out onto the roof-top parks.
Got a story? Email news@theconstructionindex.co.uk