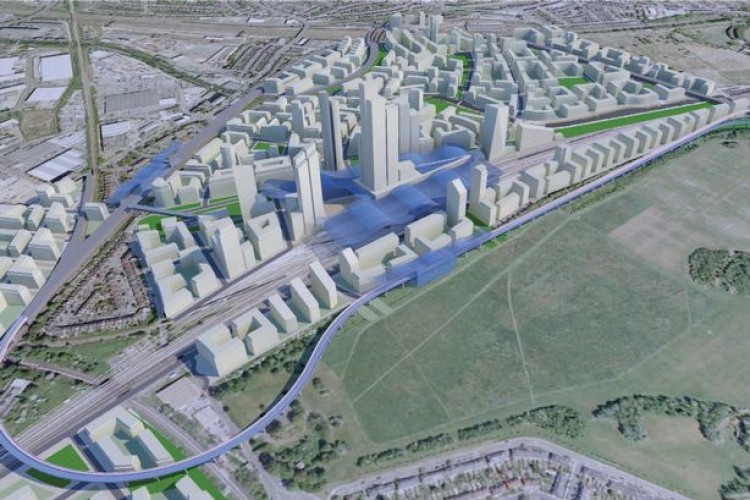 A massive regeneration scheme covering 950 hectares in the Acton area, straddling the boroughs of Hammersmith & Fulham, Brent and Ealing, could provide nearly 14% of Greater London's employment needs up to 2031, the Mayor's Office believes.
Mayor of London Boris Johnson has put forward proposals to the London Assembly for a special development corporation to be established for the area.
A new railway station for HS2 and Crossrail is due to be constructed at Old Oak Common by 2026. It will be the size of Waterloo, handling 250,000 passengers a day. It will be 10 minutes from the centre of London and 10 minutes from Heathrow. To maximise regeneration opportunities presented by this development, Mr Johnson has proposed the development of the Old Oak & Park Royal Development Corporation (OPDC), which could be up and running by April.
Mr Johnson said: "This is one of the biggest and most exciting regeneration schemes for decades and will rival the impact that the Olympics had in east London. With the city's population skyrocketing towards the nine million mark we need to squeeze every drop of potential out of this opportunity and a mayoral development corporation will drive forward the delivery of the homes and jobs that London is crying out for."


An extraordinary plenary of the London Assembly yesterday considered the mayor's formal proposals to designate the mayoral development area at Old Oak and Park Royal. The mayor will now write to the communities secretary Eric Pickles stating his intention to create the Old Oak & Park Royal Development Corporation.
It is expected that legislation to establish the Old Oak & Park Royal Development Corporation will be laid before parliament in early 2015 and that the corporation will come into existence, with full planning powers over the entire site on 1st April 2015.
The proposed OPDC will cover the area encompassing the Park Royal Industrial Estate, Stonebridge Park, Park Royal Cemetery (Acton Cemetery), the core development site at Old Oak, North Acton Underground Station, Willesden Junction underground and overground stations and Wormwood Scrubs Common.
Got a story? Email news@theconstructionindex.co.uk