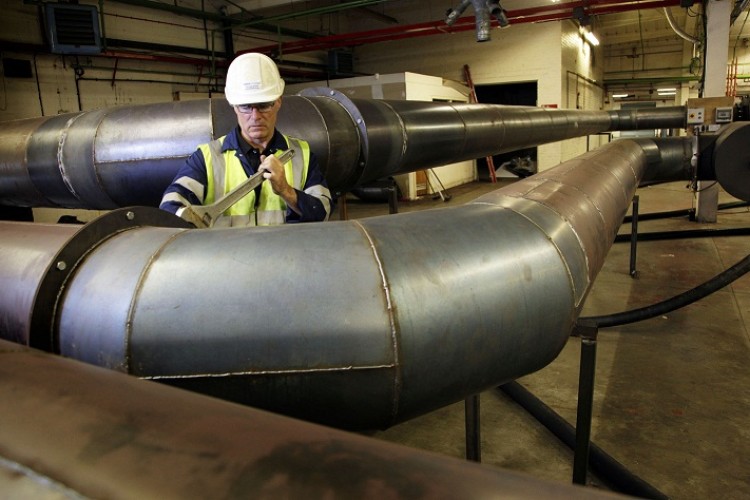 The four generators are being installed while the banking facility is 'live' and fully operational.
Representatives from main contractor Skanska Rashleigh Weatherfoil (SRW) and the end client – a major City institution – travelled to Dieselec Thistle's Glasgow facility to witness five days of continuous testing of the equipment, worth in excess of £3M.
During this process the four 11kV generators, each capable of delivering 2mVA of power, were run individually at full load for eight hours and then synchronised and run together to deliver the full power.
This rigorous test procedure was essential to demonstrate that the generators, once installed in their central London location, will be capable of delivering consistent, reliable power to maintain their mission critical systems.
"Data centres store huge amounts of very valuable and sensitive information" explains Pedro Araujo, Dieselec Thistle's London solutions director. "They require extreme resilience in their power infrastructure because if they lose power they can lose millions in revenue in a matter of minutes.  "They see the value in investing in new power generating systems to ensure that this doesn't happen", he adds.
Data centres require far higher levels of power than most comparable buildings – often having power densities more than 100 times that of a similar-sized office building. Much of the power is required to run the cooling plant which is essential to prevent the computer systems overheating.

"Witnessed" live-load testing is increasingly demanded by clients who need absolute assurances that their back-up power supply will safeguard their assets in the event of a mains power cut. "This equipment is business-critical for the client" says James Britt, SRW's senior project manager.
The four new generators replace five old models currently located three basement levels below the client's building. While these are decommissioned and the new equipment installed, back-up power is being provided by temporary generators housed in a neighbouring building.
The 50-week project is due for hand-over in November and throughout the project the data centre has remained occupied and fully functioning, with SRW carrying out most of the work out-of-hours.
"This is a specialist niche market and we're one of only a very few national contractors currently capable of delivering a full turnkey package of this complexity as principle contractor whilst ensuring that the client can continue with their day to day business without interruption during the construction phase" comments Britt.
"I have worked with Pedro and Colin on previous projects but this is the largest to date and Dieselec Thistle is a key member of our supply chain. They have a strong track record in this type of project, and their experience is critical as the room for error is minimal. This gives contractors like SRW the confidence we need to ensure the clients demands are met throughout the supply chain". 
Got a story? Email news@theconstructionindex.co.uk