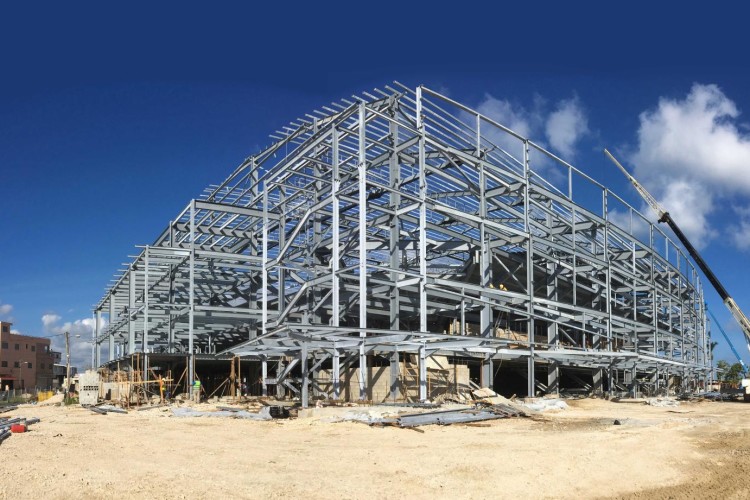 The B$32.9m (£12.7m) arena is being built in Belize City. A total of 750t of steelwork was made by Reidsteel in Dorset for the 39,000 sq ft complex, including a roofing system spanning 60m, together with all the terraces for approximately 4,000 seats and all the suspended floors consisting of a galvanised composite metal decking system suitable for cast-in-situ concrete. The structurally optimised steel frame included hot-rolled sections hot-dip galvanized for protection from the elements and for ease of maintenance. A glazing package that also included curtain walling and aluminium framed windows was also packed for export and shipped to Belize. All were built to withstand hurricane force winds of 160mph.
The complex, which is due for completion in December, will include international standard volleyball and basketball courts, stands, running tracks, a skateboard park, gym and football pitch. The Belize Civic Centre Sports Complex will also be able to accommodate large entertainment concerts and venues under one roof. 
The exterior offers the community free access to a sports park that includes a 45m running track, a five-on-five football field, various basketball courts and an amphitheatre for exterior performances. 

Project engineer Pepe Olivier said: "The new national arena is one of the biggest projects of its kind in Belize and will help transform the country's sporting and cultural life. The contractor turned to us as we have a demonstrable history of exporting to Belize, Central America and the Caribbean.
"Our business model means that we can carry out the structural design, drawing and fabrication under one roof at our Christchurch site before containerising the finished structure for shipping to its destination. Demand for this type of service continues to rise from clients worldwide, including many outside of Europe who see the value in a seamless service."
The government of Belize has funded the sports centre project. It is being developed by Belize Infrastructure Limited and designed by the architects at International Environments.  

Got a story? Email news@theconstructionindex.co.uk