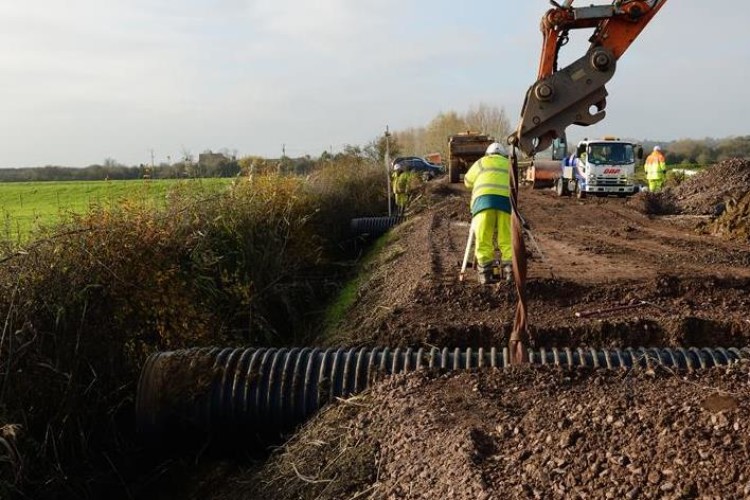 Muchelney, on the Somerset Levels, experienced its worst flood in 90 years during the storms of early 2014 and was subsequently so cut off from surrounding villages that for two months it was only accessible by boat.
In the aftermath of the storm, main contractor Skanska developed a raised access road for Somerset County Council to assist access to the village during future floods.
As part of the road's design, Skanska and its consulting engineer Atkins installed more than 500 metres of Polypipe's 900mm Ridgistorm-XL large diameter pipe system to form a stormwater management solution. The system was engineered to a stiffness class of SN4 to meet local ground conditions.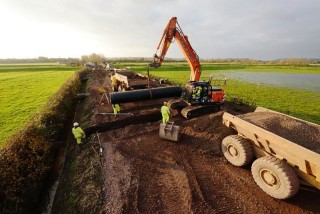 Designed to run perpendicular to the newly raised access road, the Ridgistorm-XL system is buried underneath the road at intervals to convey floodwater from one side of the road to the other. This will stop the road, which was raised by 1.2 metres, acting as a dam and prevent the road from flooding – enabling the road to be used during and after a flooding event similar to those of 2014 to provide access to Muchelney.
Skanska project manager Roger Ingram said: "Having worked closely with Somerset County Council, we know how big an impact last year's floods had on the area. We're pleased to have been able to install a solution that will provide vital access to Muchelney in years to come thanks to the expertise of key manufacturers in the project, such as Polypipe."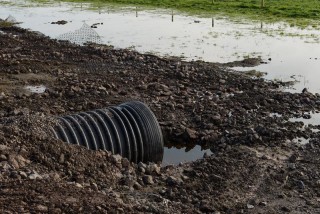 Got a story? Email news@theconstructionindex.co.uk