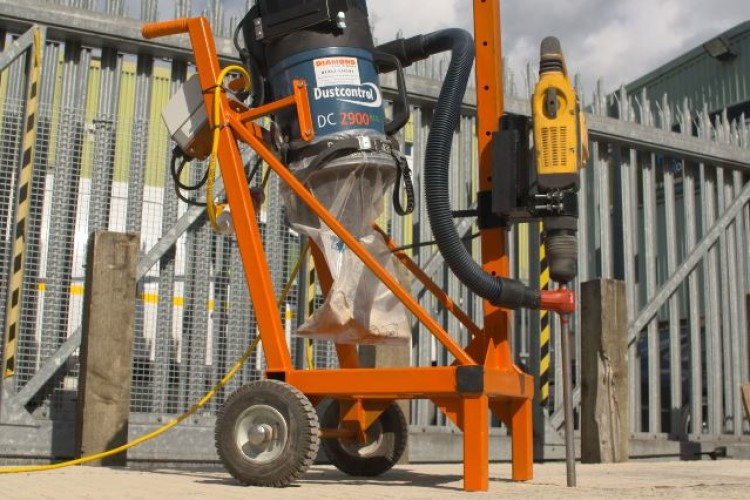 Concrete cutting specialist Castle & Pryor hopes that its Sindrilla device for rotary percussive drilling will save millions of construction workers from permanent nerve damage that is caused by vibrating tools.
The drill is mounted into a frame and then weighted and guided by a drill mast. At the press of a button, the drill turns on and lowers itself to start drilling. A vacuum unit draws up the dust.
Morgan Sindall's team is using the drill to pin shuttering to existing concrete at Heathrow Airport. Andrew Swann, Morgan Sindall's aviation project manager, said: "I see the concept of this machine as an innovative solution to completely eliminate HAVS exposure to the operatives who carry out the PQ pan drilling task.  On an airfield project, this task can account for anything up to around 50% of the total time of exposure to HAVS – so this will help us to significantly reduce the risk of operative exposure within a project.
"The unique design is quick and easy to manoeuvre around, meaning that a high number of holes can easily be drilled in a shift. The built-in dust vacuum extraction unit also significantly reduces the exposure to and risk posed by silica dust.
"All in all, this piece of kit eliminates exposure to hazards of occupational health whilst still being efficient and effective. Hopefully, we can also apply this design and modify to suit other standard tasks to keep reducing the risk of occupational health hazards on our future projects."
Got a story? Email news@theconstructionindex.co.uk