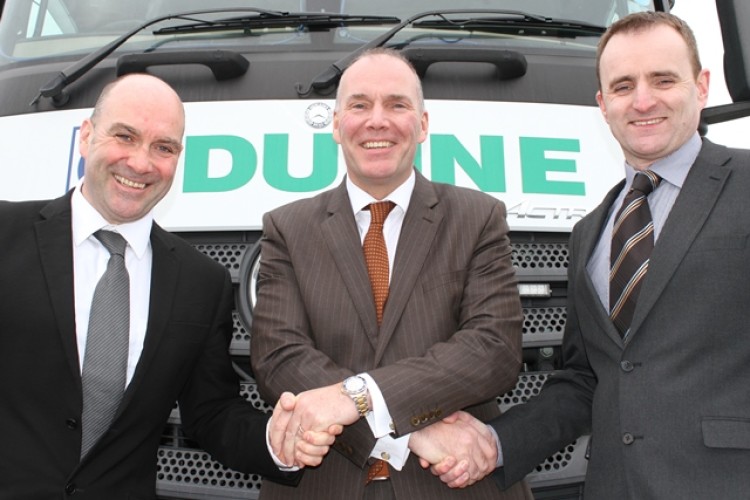 Administrators from FRP Advisory took the keys to the business on Tuesday 19th June 2016 and all employees were sent home
A Dunne Group employee has told The Construction Index that the company has ceased operations. All colleagues were sent home this morning (19th June 2016) and keys were handed over to the administrators.
Of the 540 employees, 524 have been let go at various locations around the country. Just 16 have been retained at head office to help to close down the business.
One of the employees described the move as "out of the blue". He said: "I was aware that there was a little bit of a cashflow porblem but I didn't see this coming."
Dunne Group was founded in 2001 in Bathgate as a concrete specialist and while its core business remains in the reinforced concrete civil and structural market, the scope of its construction services has widened over the years, with operations in Glasgow, Leeds, Dublin and London.
It also has a plant hire division, called CLR, which has a substantial fleet of cranes, excavators, access platforms, trucks and concreting equipment. These will now be sold by the administrators to help pay off creditors.
The company is wholly-owned by 49-year-old civil engineer Gordon Dunne, who is originally from Ireland. He was in the office on Monday and gave no indication to employees of what was about to happen the following day.
Dunne Group's most recently filed accounts show that in the year ended 31st October 2014 it made a pre-tax profit of £756,000 on turnover of £54.8m, up from £37.1m the previous year. The company's growth has been fuelled by a £35m concrete package on the 100 Bishopsgate skyscraper project in the City of London for Brookfield Multiplex, with whom it also worked on new Southern General Hospital in Glasgow. Two other  high profile projects in London had also been behind the rapid growth – at Newington Butts and One Blackfriars.
Most of the job losses are in London, with all 311 employees let go; 13 job losses are in Leeds; and 200 in Scotland.
The next accounts for the year to 31st October 2015 were due to be filed by 31st July 2016. The administrators said that the 2015 accounts would show growth in turnover to £74m and the 2016 forecast was £96m.

Finance director Andrew Love left the company on 24th June.
CLR operations director John McCormack left a few weeks before on 18th May.
Joint administrator Tom MacLennan said: "This is a sad loss for the construction and building industry. The business faced substantial trading losses on some contracts, leading to severe cashflow pressures.
"Additionally, rapid expansion led to pressure on working capital and a requirement for significant additional funding that was not available.
"Given these issues, the joint administrators have had to cease trading, resulting in 524 employees being made redundant.
"A team of 16 staff will be retained to assist with the closure process and realisation of the business' assets. Our priority is to work closely with all agencies and services to ensure employees receive every support and assistance at this very difficult time."
Working with Tom MacLennan as joint administrators are Iain Fraser and Geoff Rowley.
Construction union Ucatt is urging its members that work for Dunne to remain on site regardless of instructions from Dunne head office while the union seeks to put pressure on the main contractor and/or client to ensure they are paid for their work.
Steve Dillon, regional secretary of Ucatt Scotland, said: "Contractors and clients approved and appointed Dunne Group to undertake work on their projects. They should have made financial checks to ensure the company was stable. It should not be the workers who have to pick up the bill for the companies collapse."
The five subsidiaries of Dunne Group are: Dunne Building &Civil Engineering Ltd; Dunne Developments Ltd; CLR Plant Hire Ltd; Dunne Concrete Flooring Ltd and Conforce Ltd.
Got a story? Email news@theconstructionindex.co.uk