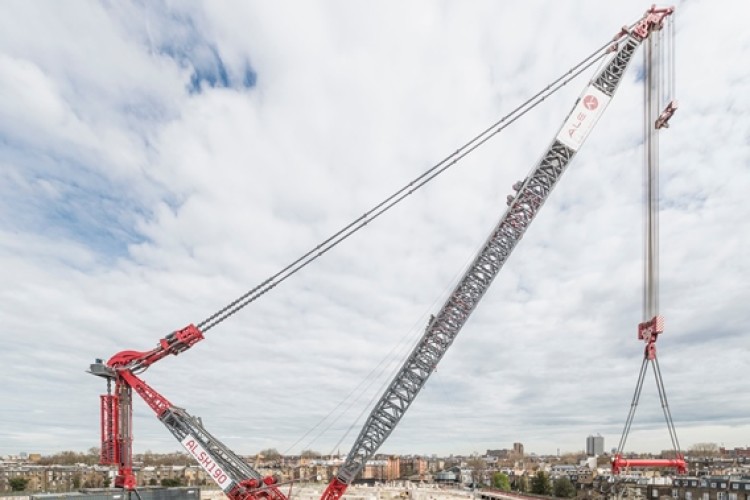 ALE has been helping Keltbray remove concrete foundations beams to clear the site of the old Earl's Court exhibition complex. Developer Capital & Counties Properties (Capco) has a masterplan to build 8,000 new homes as well as a new High Street and a five-acre park on the site.
The Earl's Court project is now moving to the next stages of site preparation, ahead of the construction of new homes.
ALE used its 4,300-tonne capacity AL.SK190 crane to lift out 61 portal beams, which weighed between 100 and 1,500 tonnes. The beams had supported the old exhibition halls over London Underground's cut-and-cover District Line tracks.
The beams were lifted using the AL.SK190 between March and October overnight in 'engineering hours'. During the project ALE performed what is claimed to be largest single lift undertaken in UK history by a land based crane when lifting the heaviest beam – 1,500 tonnes – in just 150 minutes in June.
Having a huge crane positioned in a single location for the entire operation meant that less site space was taken up, less time was lost moving cranes around and less ground bearing pressure was placed on London Underground's tunnels. And as the crane can operate in higher wind speeds than regular big cranes, the operational window was widened.

ALE design engineering manager Jon Mallory said: "We are proud to be involved in such a landmark project and provide an innovative solution to match. By choosing this crane, that could remain in one lifting position, it delivered a more favourable engineering solution that was one-of-a-kind and more cost and time-efficient.
"The effective co-operation and communication between all parties involved and the team effort all-round contributed to the successful, timely and safe completion of the project."
Now the final lift has been executed, ALE is dismantling the crane.
A full report on the work of ALE and Keltbray at Earl's Courts in the May 2017 issue of The Construction Index magazine, pages 33 to 37. It is available online at theconstructionindex.co.uk/magazine/may2017
Got a story? Email news@theconstructionindex.co.uk