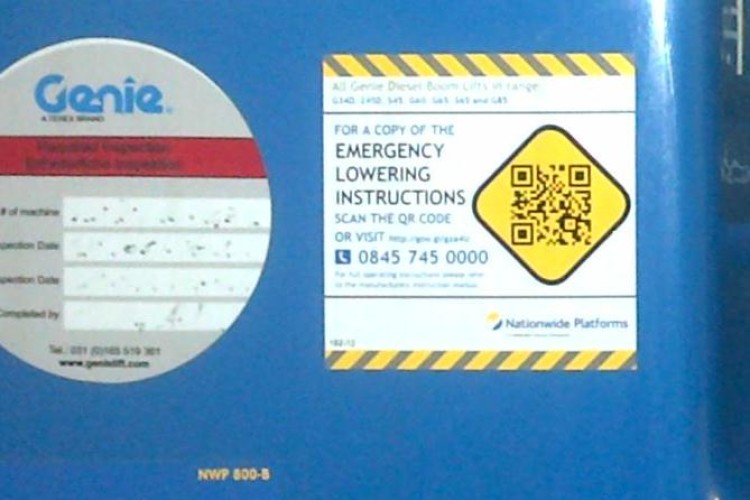 Making documentation available in this way is in addition to the printed material that is already supplied.
QR codes are barcode-like images that can be scanned by most smart phones or tablet devices. Web content designated by the creator of the code then appears.
The vast majority of equipment in the Nationwide Platforms fleet has already been fitted with QR code stickers linked to online emergency lowering guidance for each distinct model or group of equipment models across the UK. Almost all units in the fleet are expected to feature the codes by the end of the year, including those purchased by the business in 2013.
The stickers are fitted on the base of the machine.
In addition to offering a practical tool, it is also hoped the initiative will have the wider effect of improving awareness around the importance of familiarisation with safety procedures.
Director of QHSE Mark Keily said: "Improving the way we manage welfare and wellbeing means improving the way we engage with all of those who come into contact with our products or services. With that in mind, we're proud to have harnessed the power of technology to give our customers even more opportunities to get the guidance which could truly make a difference in an emergency situation."

Operations director Peter Douglas added: "The use of powered access is widely recognised as the safest and most effective means of working at height across the world. As the UK's market leader it's our goal to build upon that and achieve new feats in safety, whether that comes through innovation, investment or simply taking the lead in making a difference.
"Now, not only do we hope that our customers can reap the benefits directly, but also that the rest of the access sector can follow our path and help truly establish this pioneering, best practice approach right across our industry."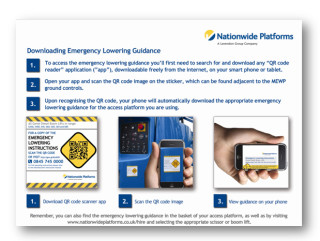 Guidance on using QR codes to download emergency lowering guidance from Nationwide Platforms is provided on the Nationwide Platforms website and with its machines.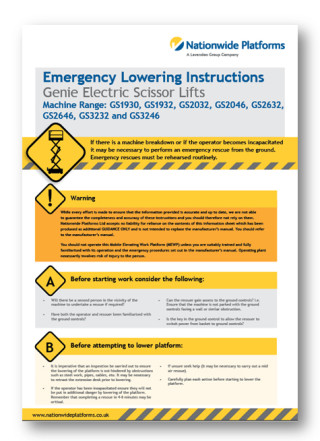 Emergency lowering documentation, such as the example shown above, has been made available for download via quick response codes found on the majority of platforms in the Nationwide Platforms fleet.
Got a story? Email news@theconstructionindex.co.uk