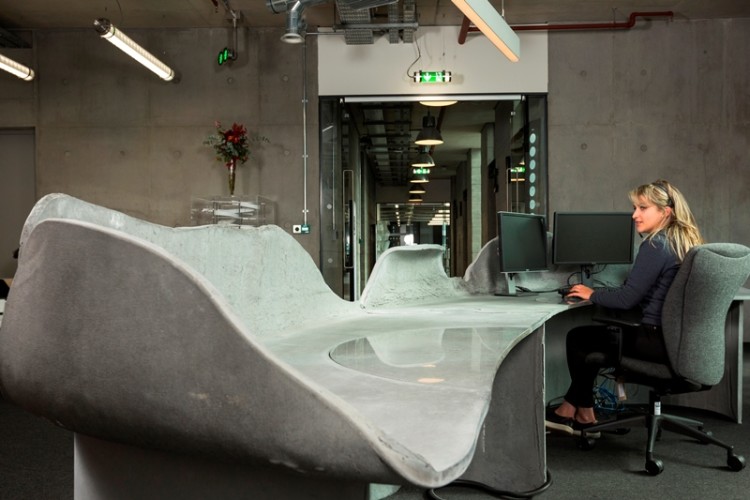 The reception desk at AKT II in the White Collar Factory in East London incorporates cutting edge developments in concrete.
It uses ultra-high-performance concrete with fibre reinforcement, which enables it to have fluid curves and embedded texture. Lightweight concrete and water-repellent technology were also used in the creation of the desk to make quite the statement.
AKT II, formerly Adams Kara Taylor, was subject to a £3.75m management buyout in 2011 from WYG, which had acquired it in 2006.
AKT II design director Ed Moseley said:  "We have recently moved into new offices at the White Collar Factory, a cutting edge office building in terms of its approach to sustainability and modern office design. There is a lot of exposed concrete, polished finished pillars and timber slats in formwork showing exemplar work in traditional concrete construction approaches.


"Within these surroundings we wanted visitors to get a feeling of innovation, experimental, and cutting edge material use, reflecting our approach to design, combining tradition with innovation to maximise a material's potential.
"The reception desk showcases what high performance concrete can do and how fabric formwork can be used in shape generation and high quality exposed finishes- it combines function, innovation in material and fabrication and performance as a traditional desk space. It's a working area but a stylish working area."
AKT II was supported in the creation of the desk by the Cemex global R&D team in Switzerland. "Collaborating with AKT II on this project, gave us the opportunity to push the boundaries of the innovative technologies we have been developing. We were able to present concrete in a new light and explore new fabrication techniques that, when combined together, produced an element in which one would not expect to find such material," said Cemex R&D chief Davide Zampini.
Got a story? Email news@theconstructionindex.co.uk