He will be responsible for getting the £850m Swansea Bay Tidal Lagoon built, which will be the world's largest tidal power plant, if it happens.
TLP submitted a 5,000-page application in February for a development consent order (DCO) under the Planning Act 2008.
The project involves the construction of a 9.5km-long sea wall around Swansea Bay to create a lagoon in the Severn Estuary. Turbines would harness the movement of the tide to capture enough renewable energy to power more than 120,000 homes for 120 years, the developers say.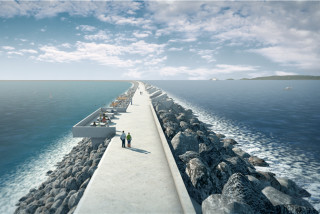 TLP has also recruited power systems engineer Peter Wright as its senior electrical engineer.


Steve Hollingshead was 'director of human capital' at Laing O'Rourke from May 2013 until November 2013. He began his career with Taylor Woodrow Construction, joined R O'Rourke & Son in 1989 and became construction director in 1991. After the acquisition of Laing Construction in 2001 he became managing director of Laing O'Rourke London & Southeast.
In 2010 he moved to Australia to head up Laing O'Rourke operations there, before returning to the UK last year.
TLP chief executive Mark Shorrock said: "With the public examination process now underway in Swansea, our focus is on developing the team that will lead the construction of Swansea Bay Tidal Lagoon and subsequent lagoons that together will generate up to 10% of the UK's electricity requirements. Steve has a fantastic track record both here in the UK and throughout the world. His appointment is a reflection of our commitment to recruiting and retaining the very best people to lead this new industry for the UK."
Mr Hollingshead added: "Given the significant forecast reduction in the UK's capacity to meet demand for electricity from the end of 2015, I believe that now is the right time for the UK to consider harnessing one of our major natural resources, the sea. Tidal lagoons make economic, environmental and social sense by offering renewable energy at nuclear scale. I am delighted to be a part of the Tidal Lagoon Power team and share the vision for the roll-out of tidal lagoon infrastructure, in the UK and worldwide."
Got a story? Email news@theconstructionindex.co.uk