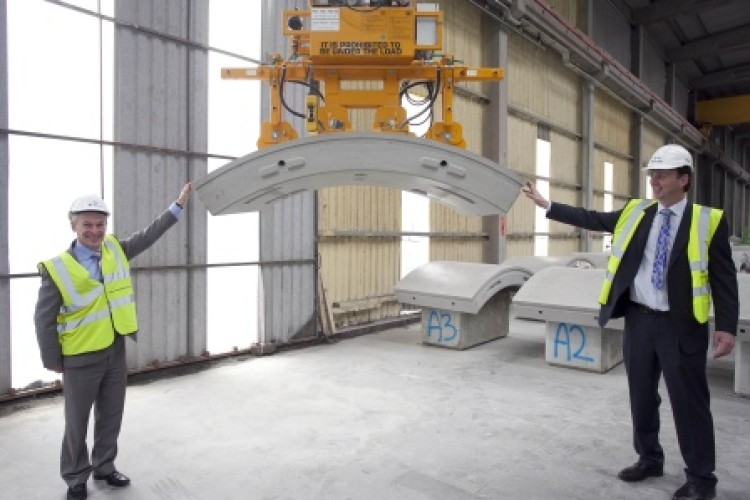 The company is also investing approximately €3m (£2.4m) in technology for the production of precast concrete tunnel segments.
The jobs have been created to support its export-led growth. Exports account for more than 75% of the company's total sales.
"A central part of the Government's plan for jobs and growth is creating a powerful engine of indigenous, export-focused companies," said Ireland's minister for jobs, enterprise and innovation Richard Bruton. "Manufacturing must be a particular focus as we seek to create the jobs we need, and last week we announced the establishment of a manufacturing development forum which will report back within six months on specific measures which we can take to develop this sector.

"Today's announcement that Shay Murtagh Precast has expanded to create 41 new jobs is great news for Mullingar and the surrounding region. Through continued implementation of the Action Plan for Jobs, I am determined to ensure that we can see more announcements like this around the country over the coming years," he added.
"The tunnel infrastructure sector has been a key area of focus for our company over the last number of years and we are delighted to be in a position today where we have not only created 41 new jobs, but more importantly secured the jobs of our existing 75 employees," said Shay Murtagh Precast managing director Ciaran Murtagh. "We have invested a lot of energy in a strategic and focused expansion into the UK infrastructure market. This solid expansion plan has provided our company with a platform for the future and we look forward to continued support from Enterprise Ireland in our ongoing pursuit of new and exciting opportunities."
Enterprise Ireland's Head of Construction Brendan Flood added: "Shay Murtagh Precast is a prime example of innovation and modern management applied to a traditional business to secure solid growth, international success and valuable local employment.  Shay Murtagh Ltd's continued growth, in spite the difficulties in the wider construction sector, is a credit to the strong management team and Enterprise Ireland looks forward to continuing to support the firm in its pursuit of further international, export-led growth."
Got a story? Email news@theconstructionindex.co.uk