The new crane will now hoist 2,100kg at maximum radius of 60m, which is 250kg more than its predecessor. Maximum capacity is eight tonnes. Free-standing hook heights of up to 71.4m can be achieved using the modular 120 HC, 170 HC or 256 HC Liebherr tower systems.
With the new erection concept for the jib, the load hook and trolley remain on the jib pivot section during transport. This eliminates the erection work for the trolley. The hoist and trolley travelling ropes can also be reeved with little effort, Liebherr says, providing benefits for jib erection in the air. Improved quick-release fastenings on the cab and switchboard platform allow the compact head to be split quickly to reduce the erection weights. And the quick-release electrical connections ensure that the switchboard and cab can be connected quickly without errors, says the manufacturer.
The Liebherr 37kW frequency converter hoist gear is included in the basic version and allows empty hook speeds of 135m/min. A 45kW frequency converter hoist gear is available as an option. The frequency converter hoist gear is only used in two-line mode. Empty hook speeds of up to 177m/min can be achieved.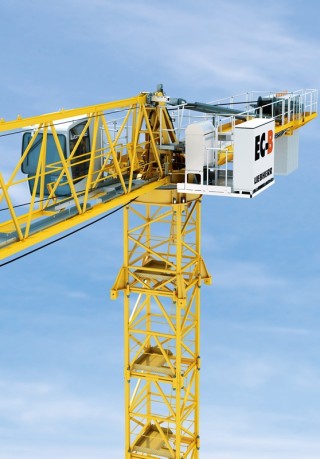 Got a story? Email news@theconstructionindex.co.uk