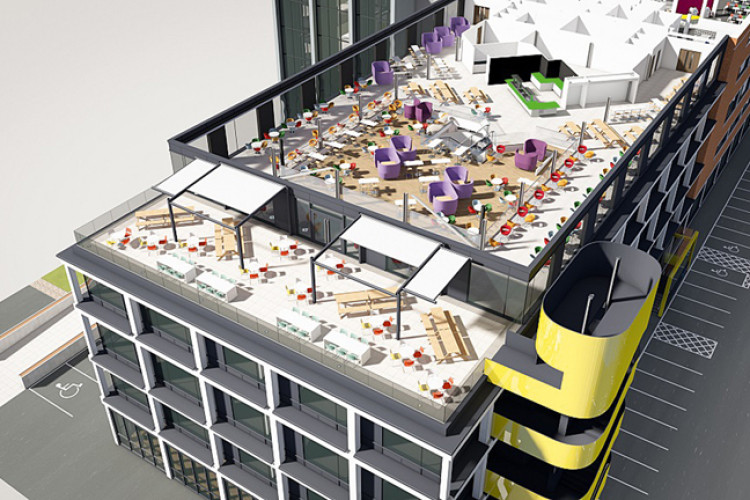 The fit-out sector can be a cut-throat business with traditionally fierce competition and relatively high risks. But for the second year in a row, the top 20 fit-out specialists appear to be prospering despite relatively low levels of growth in the commercial property market.
Total revenue has surged by more than 20% to £3,717m (2017: £3,060.3m) and total pre-tax profit for the top 20 has rocketed from £68.9m a year ago to £97.9m – an increase of more than 42%.
ISG continues to dominate the sector; it is by far the biggest player in the market, with annual turnover of £1.7bn – almost three times that of its nearest rival, Overbury.
Since its takeover by US-based investment group Cathexis two and half years ago, ISG has de-listed from the AIM, becoming a privately-owned business.
Fit-out is one of a number of revenue streams within the ISG portfolio and is the second-biggest contributor to group revenues after the UK construction division.
In 2017 ISG's fit-out business contributed £395.9m to the £1.7bn group turnover (compared to the construction division's £480.1m) and delivered a pre-tax profit of £11.1m – down slightly from last year, although overall group pre-tax profits almost doubled from £4.8m to £9.1m.
But ISG's presence in the fit-out sector is more pervasive than these figures would suggest. It also has a specialist UK retail business and a retail fit-out consultancy, Realys, which together contributed £263m to group revenues in 2017 and made a pre-tax profit of £6.7m. They both operate semi-autonomously but considered together with the commercial fit-out business they confirm ISG's dominant position in the industry.
By this token, perhaps, Morgan Sindall should take the crown – because two of the top 10 fit-out contractors in our sample, Overbury and Morgan Lovell, are members of the Morgan Sindall Group.
The larger of these two, Overbury, takes second place on our table of the top 20, with revenues of £664.1m (up almost 19% from £541.8m last year). And it is far and away the most profitable of all, with a pre-tax profit of £34m – almost a 50% increase on last year's £22.9m – and a healthy 5.3% margin.
Like ISG, Overbury's largest market is the London property sector; this delivered 82% of revenues last year. The company says that the higher education sector has started to provide a larger share of its workload, though the bulk of its contracts remain in the retail banking, government and local authority sectors.
Key contract wins during the year included three tranches of the government's Hubs Programme – a national framework for the Government Property Unit – which will provide a four-year pipeline of work.
Overbury has also won a place on a £250m four-year framework for improvements to the Metropolitan Police Estate in London, a 42,000m2 fit-out for the Cabinet Office in Canary Wharf and a 5,300m2 fit-out for Amazon in Cambridge.
Overbury's sister company, Morgan Lovell, is a much smaller operation, though its turnover of £90.1m in the year to January 2018 puts it at number eight in the rankings.
Morgan Lovell's turnover of £90.1m is fractionally down on last year's £91.8m but pre-tax profit edged up from £5m to £5.8m, boosting its operating margin from 5.4% to 5.9%. It ended the year with £28m-worth of confirmed work on the order book and although this is 23% less work than it had under its belt at the close of 2016, the company is still confident of continued growth this year.
Manchester-based Styles & Wood, number three in the rankings last year but, now in sixth place, is under new ownership having been acquired in December 2017 by venture capitalist Central Square Holdings for £42.5m.
In March of this year, Styles & Wood's shares ceased trading on the London Stock Exchange and the business merged with furniture, fixings and fittings supplier Southerns, which was already owned by Central Square.
S&W chief executive Tony Lenehan, now CEO of the new combined entity, said: "The combination of both businesses creates a truly unique offering within the property services market."
The latest figures available for Styles & Wood are for the 12 months to 31st December 2016. Turnover was down 12% to £100.3m but pre-tax profit remained the same as the previous year, at £3.8m.

Tony Lenehan, a former director at Carillion's property services division, is credited with turning Styles & Wood around after the business made a £500,000 loss in 2013.
Third place on the table is now occupied by BW Interiors – which also changed ownership during 2017 when CEO Steve Elliott and four fellow directors bought a 60% majority stake in the business from co-founders Craig Foster and Mark Richards. [It has since been rebranded as BW: Workplace Experts.]
In the 12 months to 31st December 2017 the business increased turnover by 50% to £151m and doubled its pre-tax profit to £4.1m (2016: £2m).
Finance director Andrew Bradley said the business had had its "most successful year ever" and began 2018 with its strongest-ever order book, having "secured 77% of our budgeted turnover for the year".
He added: "Looking forward, the brand is well placed to continue to trade strongly and capitalise on a strong business economy."
Another strong performer was Willmott Dixon Interiors, which not only increased its revenues by over a quarter but also recorded the biggest increase in pre-tax profits of all 20 companies in our sample. The profit figure more than doubled to £8.3m on a turnover of £128m (2016: £101.2), a margin of 6.5%.
Willmott Dixon's profit margin was not the biggest in the top 20; that distinction goes to Belfast-based Portview Fit-Out, which in the year to December 2017 made a pre-tax profit of £5.5m on revenues of £43.1m – a margin of nearly 13%.
After paying its enormous £7.6m tax bill, however, the picture looks rather different and Portview ended the year with a net loss of £2.1m.
The tax bill was, however, a one-off and having settled its account with HMRC and secured a "significant" investment from its holding company, Portview is bullish about its future.
Only one of the top 20 fit-out contractors last year recorded a pre-tax loss. That was Claremont Group which, despite increasing its turnover in the year to August 2017 by 31.7% (from £37.5m to £49.4m) recorded a loss before tax of £300,000. The previous year the company made a £600,000 pre-tax profit.
Despite starting the year with its biggest-ever order book, including a major £8.4m contract for TalkTalk in Salford which the firm completed in 20 weeks – on time and to budget – the overall picture was marred by two spectacularly disastrous contracts.
One, a scheme in Reading, lost the company a total sum of £350,000 while the other, a foray into the unfamiliar market for high-value residential work ended up in the courts.
"For the first time in 40 years, we find ourselves in litigation which has proved to be both expensive and extremely distracting," said executive chairman Mike Gardner. "We have accounted for worst-case in our accounts," he added.
While many specialist contractors will feel Claremont's pain, joint managing director Tim Frankland remains upbeat: "With renewed focus on our core strengths of true design and build, we continue to perform well, invest in our people and win awards for our work," he said.
This article was first published in the July/August 2018 issue of The Construction Index magazine, which you can read for free at http://epublishing.theconstructionindex.co.uk/magazine/july2018/
UK readers can have their own copy of the magazine, in real paper, posted through their letterbox each month by taking out an annual subscription for just £50 a year. See www.theconstructionindex.co.uk/magazine for details.
Got a story? Email news@theconstructionindex.co.uk