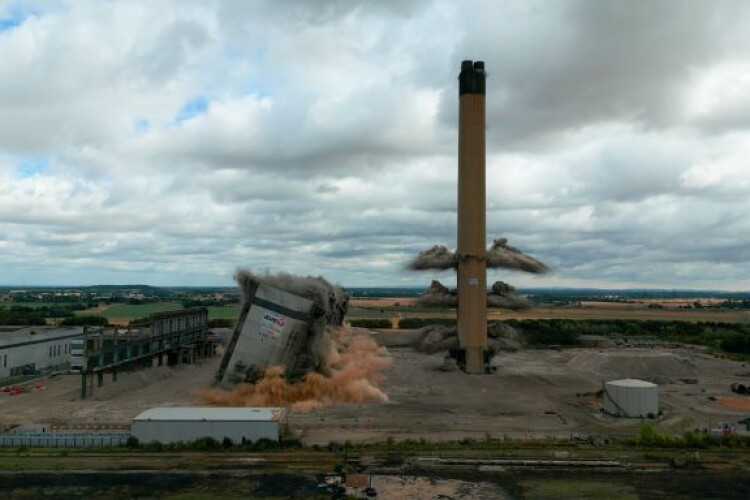 The demolition saw two structures collapsed in a controlled manner with the use of "high-speed" explosives. The 50,000-tonne steel framed Boiler House and a 20,000-tonne, 200m tall reinforced concrete chimney were collapsed over a 10 second period, with the "once-in-a-lifetime event" captured by aerial imaging & surveying specialists Sky Revolutions.
The structures were previously part of the decommissioned Eggborough Power Station Plant that closed in 2018. Once heralded as a landmark in Eggborough, the former structures, which were built in the 1960s, had reached the end of the operational life.
The demolition will make way for the regeneration of the area into industrial warehouses.
Eggborough power station was bought by St Francis Group in 2019, with a plan to demolish the power station and build warehouse units in its place.
Demolition of the site started in 2020.
In July 2021, about one mile of redundant railway track was donated and moved to the Wensleydale Railway.
Demolition of the power station, carried out by Birmingham-based DSM Demolition, started in August 2021 when four of the eight cooling towers were demolished, followed by demolition of final four cooling towers in October.
March 2022 saw the coal bunker building known as 'Bunker Bay' demolished, followed in July by a section of the boiler house known as 'DA Bay'.
Demolition of the chimney stack and the main boiler are the final explosive demolition at the site.
Got a story? Email news@theconstructionindex.co.uk