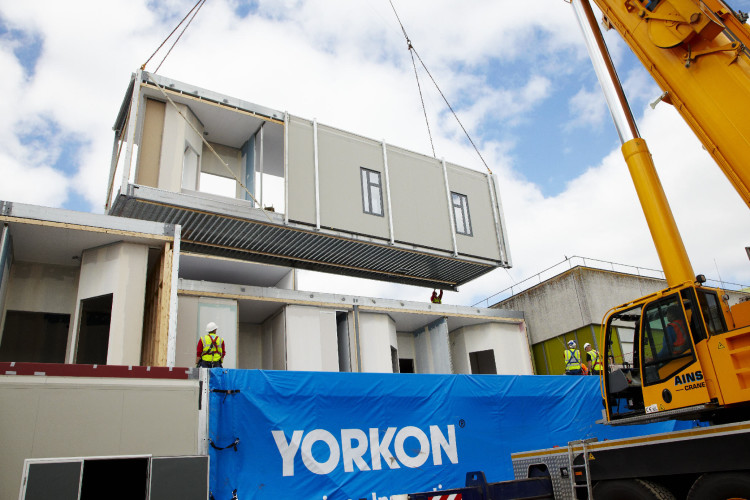 The project is a £20m ProCure21 contract awarded to Principal Supply Chain Partner, Kier Eastern.  Modules for the new paediatrics department, elective care centre and surgical ward have been manufactured off site and installed by Yorkon in a £10m sub-contract. 
In order to reduce the programme time for the new building by around six months, to the benefit of patient care, Kier took the decision to use an off-site solution.  The approach also allowed an existing ward building on the site to remain in use until just days before the first modules arrived on site. 
Designed by Tangram Architects, the three-storey building will provide an elective care centre, 68 inpatient beds, consultation and treatment rooms, nurses' stations, two isolation beds, administrative offices, a school room, children's dining room, utility room, stores, toilets and ancillary rooms.
Commenting on the use of off-site construction, Paul Kenworthy, Contracts Manager at Kier Eastern, said, "A team from Kier visited the Yorkon production centre and one of their completed projects at the outset, and were impressed with the quality and approach.  Modular construction is providing a fast track site solution, safer working conditions and a considerable reduction in waste sent to landfill."
"The logistics of the project, particularly for the two module delivery phases, required careful planning between the Trust, Kier and Yorkon, and I am pleased to report, it went very well."
David Johnson, Director and General Manager of Yorkon, said, "This is one of the most challenging healthcare projects we have undertaken to date.  The shape of the site demanded a very complex modular layout, this is a highly constrained site, and there is only a short window for construction."
148 steel-framed modules up to 14m long and 3.3m wide, and each weighing up to 12 tonnes, were delivered and installed in a total of 17 days.  The units were partially fitted out off site, including internal partitioning and first fix M&E services.
The new Yorkon pre-installed concrete floor has been used in all the modules – the first time this award-winning technology has been used for a complete building.  It is an innovative off-site solution ideal for high traffic areas and to accommodate sensitive hospital equipment.
The building has been designed to create an attractive and welcoming environment for staff and patients, particularly given its prominent location next to the hospital's main entrance.  It will have deeply articulated façades finished in a palette of materials, including white render, vertical bands of rainscreen cladding and curtain walling. 
The paediatric department is arranged around a large central courtyard that will provide a protected play area and sensory garden. Internally it will feature multi-coloured and patterned flooring, walls in bright colours, murals and a distinctive design for the reception and nurses' station, which as well as creating a cheerful interior, will assist in way finding. 
Got a story? Email news@theconstructionindex.co.uk