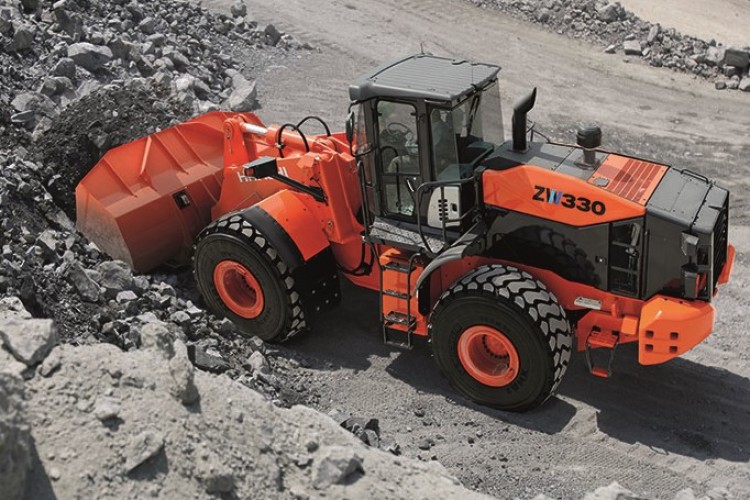 The machine will be delivered to Morris & Perry in Somerset after it has been displayed at Hillhead 2014, which takes place on 24-26 June.
The ZW330-5 is has a 12.9-litre six-cylinder water-cooled turbo engine. Hitachi says that it is easier to manoeuvre than previous models and has a new clutch cut-off system to control the timing of the clutch for smooth operation when loading, regardless of the terrain.
Other selling points are improved comfort and visibility in the cab.
Family-owned Morris & Perry provides aggregates, asphalt concrete and ready mixed concrete products to customers across southwest England. The new ZW330-5 will be used to load trucks in the stockyard, keep access roads clear and push up blasted materials at its Gurney Slade Quarry in Somerset.
Equipped with a 4.6m³ bucket, the machine is set to load more than 1,000 tonnes of materials per day, working from 6am to 4.30pm, five days a week. "We load everything with the wheel loader and it's vital to our operation," said quarry manager Dave Roberts. "It speeds up the process considerably and this size of machine works well for us – we've had wheel loaders like this on the site for about 20 years."
Morris & Perry has used Hitachi construction equipment since 1984. Its first model was a 45-tonne UH181 excavator and it currently has a ZX870LCH-3 with a loading shovel working on site. This was delivered in 2007 and has clocked up 12,000 hours.
| | |
| --- | --- |
| BRIEF SPECIFICATIONS |   |
| Model | ZW330-5B |
| Max. Engine Power | 213 kW (285 HP) |
| Operating Weight | 26,630 - 27,100 kg |
| Bucket ISO Heaped | 4,1 - 5,2 m³ |
| Breakout force | 195 - 225 kN |
| Static tipping load, straight (Standard Lift Arm) | 21,170 - 21,840 kg |
| Static tipping load, straight (High Lift Arm) | 17,510 kg |
Pictured below are Morris & Perry quarry manager Dave Roberts (centre) with Hitachi Construction Machinery (Europe) NV manager of heavy equipment sales Malcolm Edwards (left) and Mark Turnham from Hitachi Construction Machinery (UK).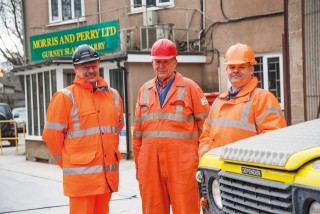 Got a story? Email news@theconstructionindex.co.uk